| | |
| --- | --- |
| 29 | types of tea at Il Foyer afternoon tea |
| 24 | hour a day In-Room dining |
| 4 | hours of live piano music 5 days a week at Il Foyer lounge |
| 1 | Chocolate Room |
Feeding All the Senses
From drinks at the Il Foyer lounge to dinner overlooking the gardens at La Veranda restaurant, Four Seasons Hotel Milano is a favourite of both travellers and locals.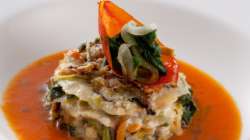 Breakfast, Japanese-Style
Enjoy a savoury repast of fish, seaweed, rice, pickles and more – all from the comfort of your room. In-Room Dining offers a variety of breakfasts from every corner of the world.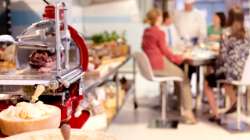 Hands-On Dining
Those seated at the Chef's Table can watch their meal as it's cooked. Cooking classes and menu tastings are another way to get in on the action.