Couples' Experiences
Wellness Devotee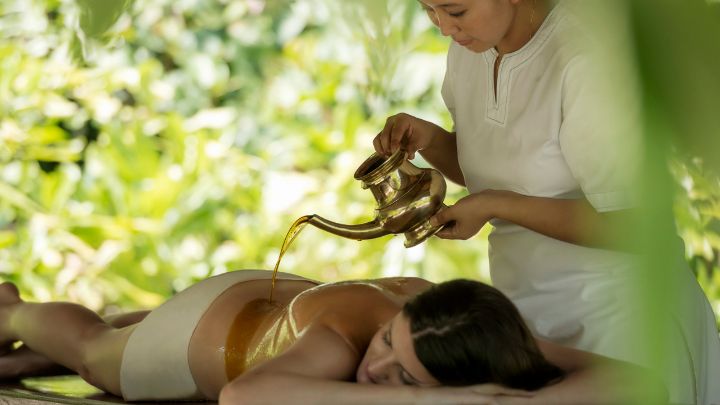 Ayurveda, India's 5000-year-old "science of life", forms the pivotal axis on which our health and wellbeing concept hinges; as one of the world's most comprehensive approaches to healthy living it works by bringing harmony to our vital energies (doshas). Stretching from the heart of the island to the middle of the lagoon, Landaa's Spa and Ayurvedic Retreat pulsates with life and wisdom, purity and health, and inspires a lifestyle change that incorporates traditional therapies, energising exercise and a nutrient-rich diet.
From one-off treatments to full Panchakarma, our immersive Ayurvedic journeys help to distance you from the strains and stresses of daily life whilst teaching you to live with insight and balance.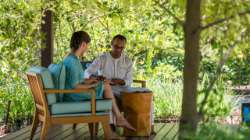 Ayurvedic Consultations
Join one of our Ayurvedic Physicians for a complimentary 30-minute consultation to determine your body type, or dosha, and receive a recommended list of individually tailored treatments, exercise, diet and lifestyle modifications to bring balance to your vital energies.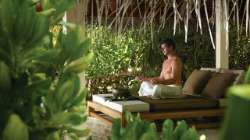 Yoga
Join our yogi for all-embracing yoga from the serenity of our over-water deck or jungle pavilion. Choose from complimentary morning sun salutations, evening meditation and aqua yoga or opt for private classes and 'enhancers' to complement specific spa therapies.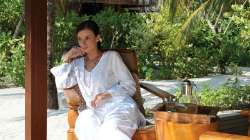 Lifestyle talks at the Ayurvedic Wisdom Centre
Set within the Herb Garden and lulled by gentle breezes and healing aromas, our Ayurvedic Wisdom Centre is an enclave of ancient knowledge and infinite wellbeing. Discover 5,000 years of wisdom distilled into one deeply restorative practice through lifestyle talks and therapeutic discussions.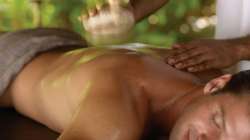 Ayurvedic Immersions
Embark on your own transformational path to ultimate wellness. Our all-inclusive one to three-week programmes are supported by our ayurvedic physicians, resident yogi, nature's pharmacy and the island's exceptional team of therapists and chefs.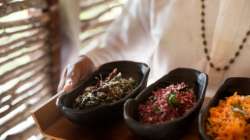 Ayurvedic Cooking Class
Take your ayurvedic journey to the next level by gaining a greater understanding of how to prepare dosha-specific dishes to help maintain physical and mental harmony.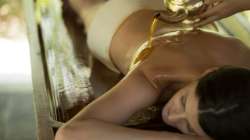 Panchakarma
Meaning "five therapies" in Sanskrit, Panchakarma is an intensive and highly personalised ayurvedic detoxification and cleansing programme designed to remove deep-rooted stress and illness-causing toxins.
Chakra Blessings
Meaning "wheels of energy" in Sanskrit, chakras govern the flow and circulation of physical, emotional and spiritual energy within our body. Our Chakra Blessings treatments help restore optimal functioning in the most blissful way imaginable. Book singly or as a series.
Boot Camp
Getting fit has never been so scenic! Our pristine beaches make for excellent resistance jogging – then let our instructors guide you through exercises to get you on the move and feeling great.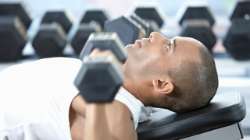 Fitness Facilities
Maintain your regime or kick-start a new one. Our inspiring island setting and state-of-the-art gym equipment offers added incentive to unwind and cardio-up, to channel serenity and build strength.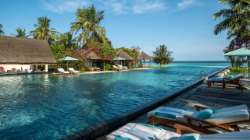 Swimming
The only Olympic-sized swimming pool in the Maldives, our 50m-infinity pool also has a swim-up bar and sundeck, and is complemented by a 20m 'floating' seawater pool, Blu sunset pool and kids pool (at Kids Club).