AyurMa invites you to reset your awareness and embark on a new path to health, harmony and happiness, where the emphasis is on loving the earth as you love yourself. Supported by the four pillars of Ayurveda, Yoga Therapy, Wellness, and Planetary Well-being – plus a multi award-winning team of Ayurvedic Doctors, Naturopaths and Yoga Therapists – discover individual and shared experiences designed to cultivate care for ourselves, others, the oceans and the entire planet.
HOURS
Open Daily

10:00 am – 9:00 pm
The Four Pillars of AyurMa
Drawing on the deep, potent roots of Naturopathy – the idea that nature has the ability to heal us and itself – our complimentary consultations, pioneering experiences, and inspiring group activities encourage greater understanding of the natural world and our role within it. Alongside our expert Doctors, join us on an island-wide discovery of collaboration, connection and custodianship, beginning with our Earth Blessing gathering every evening at sunset.

Ayurveda. All life strives towards harmony. When any elements fall out of balance, the result is chaos and disease. Ayurveda is a 5000-year-old quest for equilibrium that is accessible to everyone as a healthcare system. Think of it as an instruction manual for natural living: a great way to learn about your body and the best way to optimize it through diet, herbal remedies, and lifestyle modifications. Begin your Ayurvedic journey with a complimentary consultation to identify your unique body/mind constitution and discover simple adjustments to create more harmony in your daily life.

Like Ayurveda, Yoga is part of the Vedic Sciences shared in The Vedas, one of humanity's oldest sacred texts. Facilitated by the alumni of S-VYASA – the world's first 'University for Yoga' and pioneer of Yoga Therapy through scientific research – our condition-targeting Yoga Therapy courses address specific ailments from a medical perspective to reveal the true healing potential of this ancient art. Whether you're a newbie or a regular practitioner, meet for a chat with one of our Yoga Masters to uncover the knowledge you need to take charge of your own well-being.

Mindful self-care is the first step to taking care of others and the wider world; feeling great on the outside helps us feel at ease on the inside, making us more likely to emanate good vibes and have a positive impact. Love for the planet begins with love for ourselves. Talk to the AyurMa team about your needs and goals and receive personalized treatment and high-tech beauty recommendations to help you feel at your best.
Spa Services
What's holding you back?
Is rotator cuff pain restricting your movement? Are digestive issues dictating your activities? Do spinal pain, migraines, sleep disorder or arthritis negatively impact your life? Our team draws from many alternative systems of medicine to create bespoke programs of therapeutic care. Book a complimentary consultation to discover what we can do for you, from onsite treatments to useful knowledge that will help you continue your wellbeing journey at home.
Planetary Well-Being
Ayurveda
Immerse yourself in Ayurveda – the Indian "science of life" – to bring supreme balance to your vital energies.
Working with their yogi, nature's pharmacy and the island's exceptional team of therapists and chefs, two Ayurvedic physicians will guide you along your own transformational path to ultimate wellness.
Embark on an intensive and highly personalized, Ayurvedic-cleansing program designed to help relieve deep-rooted stress and eliminate illness-causing toxins.
Yoga Therapy
Our condition-targeting Yoga Therapy courses address specific ailments from a medical perspective to reveal the true healing potential of this ancient art
Private Yoga

A session devised uniquely for you, from bespoke postures to guided meditation and breathing techniques.
Anti-Gravity Yoga

A 'flying' practice that uses suspended hammocks to master gravity-defying poses, relieve age-related aches, release 'happy hormones' and fast-track flexibility. What's not to love?
Aqua Yoga

Low-impact saltwater pool classes derived from Hatha postures: great for increasing strength, balance and range of motion while decreasing pressure on the joints.
Aqua Float Yoga

Develop your core strength, balance, coordination and mindfulness with this challenging yet fun series of asanas performed on floating mats in our saltwater pool.
Yoga Energy Trail

Breathe, stretch, tone, strengthen and jog around 15 unique outdoor stations during this guided 75-minute session. Suitable for guests of average fitness, ages 12 and above.
Pregnancy Yoga

A wonderful way to focus on quality 'you time,' stay in shape and prepare for the birth process. Gentle adapted asanas ensure a safe experience for all experience levels.
Wellness
Meet The Team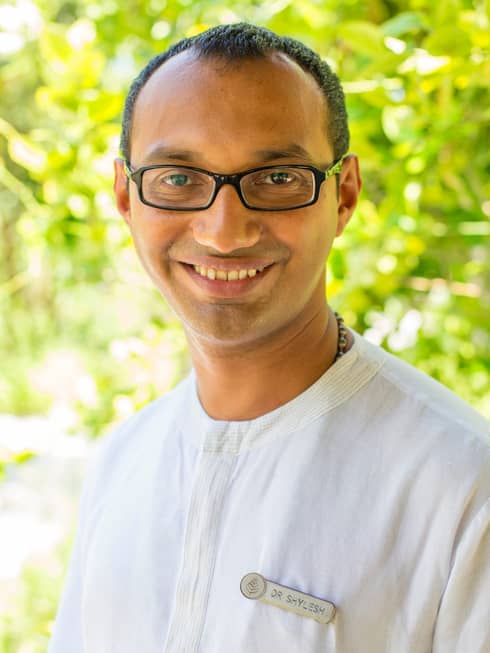 Dr Shylesh Subramanya
Director of The Spa & Ayurvedic Retreat
Dr Subramanya is a lifelong scholar of nature, lifestyles and culture. Born in Madikeri, Coorg, India, his paternal grandparents were the local healers. Following in his family's footsteps, his career in Ayurveda took off when he started organizing local health camps in small villages near his Ayurvedic college, where no medical facilities existed before. This dedication and ability to focus on the individual needs of his guests, enhanced by his travels to better understand different cultures, makes him an integral part of our personalized, lifestyle-management program.
"AyurMa is based on the interconnectedness of all life; the more we connect with the Earth, the more we heal her, and the more able she is to heal us in return."
SURRENDER TO SLEEP, NATURE'S GREAT HEALER

The healing benefits of a good night's sleep are manifold. Pave the way with our Om Supti Night Spa Ritual: a mesmerizing ritual comprising chakra healing, facial therapy and an 'Inner Peace' al fresco bath – experienced in a private jungle clearing under Landaa's glittering night sky.

Details

All-inclusive Ayurvedic Immersions

Align body, mind and spirit with nature's healing powers through Ayurveda, India's 5000-year-old 'science of life.' Our personalized treatments, targeted solutions and extended programs – all guided by expert Ayurvedic Doctors, Yogis and Chefs – immerse you in one of the world's oldest natural healthcare systems.

Details

Connect to the loving maternal heart of the AyurMa philosophy with these uniquely nurturing treatments, featuring various mind and body work sequences that tap into the energy that flows between and within us all.

Details