Expanding from Landaa's lush jungle heart into her luminescent lagoon, our Spa & Ayurvedic Retreat and Yoga Therapy Centre – named "Most Meaningful Experience" in the Condé Nast Traveller Spa Awards 2020 – offers the very best in natural well-being: from ancient sciences to modern day advancements. A truly holistic haven, the Vedic traditions of Ayurveda and Yoga sit blissfully at ease alongside rejuvenating massages and pioneering non-invasive beauty therapies.
HOURS
Open Daily

10:00 am – 9:00 pm
Favourites
All-Inclusive Panchakarma

Meaning "five therapies" in Sanskrit, panchakarma is an intensive, highly personalized, Ayurvedic detoxification and cleansing program that uses a series of five elimination treatments to help remove deep-rooted stress and illness-causing toxins over a period of 14 or 21 days.

From Yoga Therapy Courses to Anti-Gravity Yoga and Aqua Yoga, our resident yogis will help you fine-tune your body's balance and alignment.
Ayurveda Yoga Therapies
Immerse yourself in Ayurveda – the Indian "science of life" – to bring supreme balance to your vital energies.
Working with their yogi, nature's pharmacy and the island's exceptional team of therapists and chefs, two Ayurvedic physicians will guide you along your own transformational path to ultimate wellness.
Embark on an intensive and highly personalized, Ayurvedic-cleansing program designed to help relieve deep-rooted stress and eliminate illness-causing toxins.
Yoga Therapies
Spa & Beauty
Meet The Team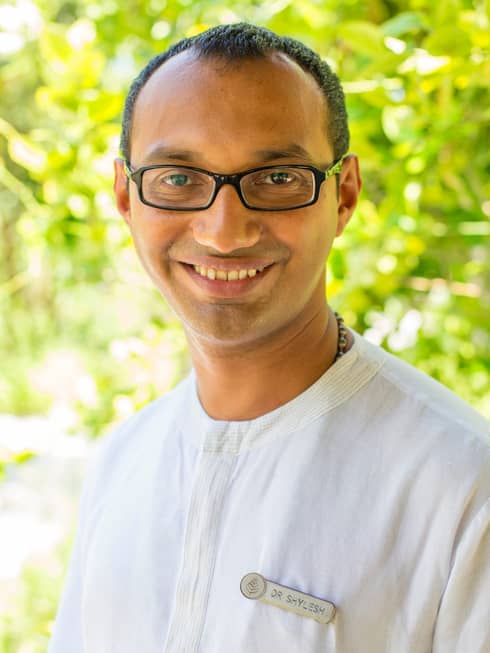 Dr Shylesh Subramanya
Director of The Spa & Ayurvedic Retreat
Dr Subramanya is a lifelong scholar of nature, lifestyles and culture. Born in Madikeri, Coorg, India, his paternal grandparents were the local healers. Following in his family's footsteps, his career in Ayurveda took off when he started organizing local health camps in small villages near his Ayurvedic college, where no medical facilities existed before. This dedication and ability to focus on the individual needs of his guests, enhanced by his travels to better understand different cultures, makes him an integral part of our personalized, lifestyle-management program.
"I don't feel that Landaa is my workplace; I feel it's my own clinic. To meet the people here makes what I do feel that much more homely, personal and connected."
Wellness Experiences
Ayurveda is not about restriction but about collective knowledge of lifestyle modifications and herbal supplements that can help to cure ailments and support a healthy balanced life.

Dr Shylesh Subramanya

Director of The Spa & Ayurvedic Retreat
Make your way to a private jungle clearing, where an outdoor bath and swinging bed set the scene for our mesmerizing Om Supti Night Spa Ritual, delicately designed to lull both body and mind and pave the way for peaceful dreaming.

All-inclusive Ayurvedic Immersions

Take one, two or three weeks to immerse yourself in Ayurveda, the ancient Indian science of life, in the remote, natural wilderness of Landaa Giraavaru as our Resort's two Ayurvedic physicians work with a yogi, nature's pharmacy and the island's exceptional team of therapists and chefs to guide you on a transfomative path to wellness.

Become one with the universe

Performed by devout and practising tantrikas, our Tantric Rituals are designed to awaken your awareness of Shiva and Shakti, the two inseparable forces of consciousness and energy present in each of us, and include a 90-minute tantric massage, herbal steam and bath.