Whether you're celebrating a special occasion or making memories with family and friends, sharing a meal is a powerful way to connect. Elevate the experience with a surprising setting: Take in a dramatic sunset with a lantern-lit family dinner on the beach in Athens, or enjoy a romantic dinner for two in a 15th-century palazzo – once the home of Leonardo da Vinci – boasting up-close views of the Duomo in Florence. Here, we share some of the Four Seasons dining experiences that will make your meal one to remember.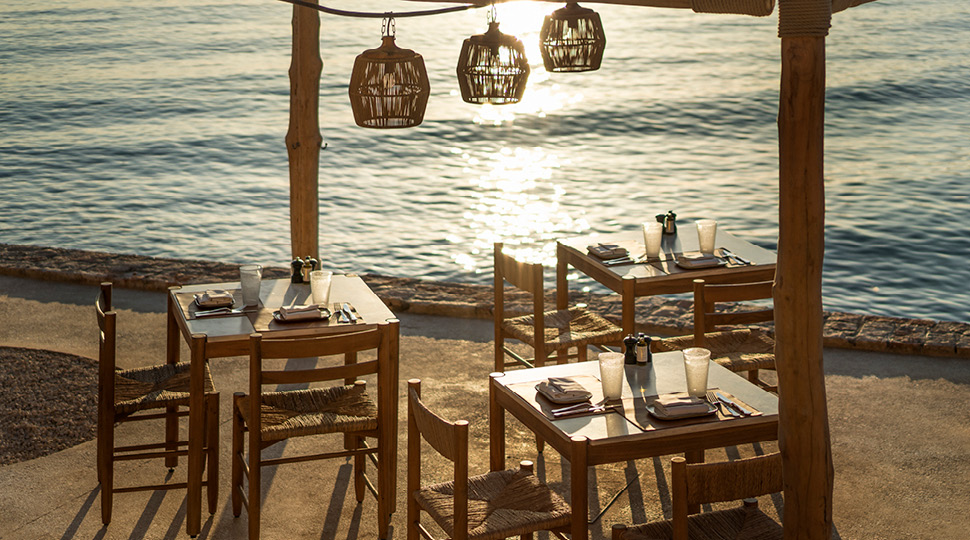 A private oasis in Athens
Discover a chic seaside paradise at Four Seasons Astir Palace Hotel Athens: Soak up the warm sun and blue waters as you stroll on golden sand, and then feast on fresh seafood at the new Pelagos restaurant – named after the Greek word for "ocean." For a memorable taste of the sun-kissed glamour of the Athens Riviera, allow the Hotel team to arrange dinner for you and your guests at Bungalows Beach, a private, lantern-lit terrace right on the water. After a day spent exploring the pine-clad peninsula or nearby historic landmarks like the Acropolis, gather with friends to sip cocktails as you watch the sun set over the glimmering Saronic Gulf and enjoy a lavish dinner prepared by a dedicated chef.
Four Seasons Astir Palace Hotel Athens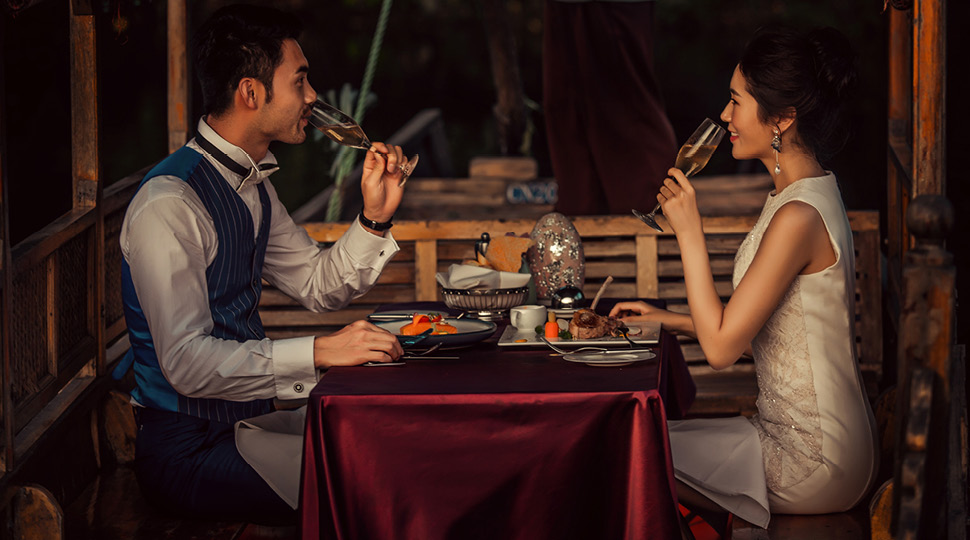 Yakatabune – Japanese pleasure boats – are a familiar sight on Tokyo's Sumida River. Popular among wealthy merchants, feudal lords and samurai warriors during the Heian era, today the small wooden ships can be identified by their red lanterns as they cruise past the city's skyscrapers and temples. For a different perspective on the city's skyline, set sail from Four Seasons Hotel Tokyo at Marunouchi on a private yakatabune. Join friends and family at a traditional low-slung table for a kaiseki (multi-course) dinner and inventive cocktails as city lights twinkle on the shore. In spring, you'll also have an unobstructed view of the sea of pink cherry blossoms lining the riverbanks.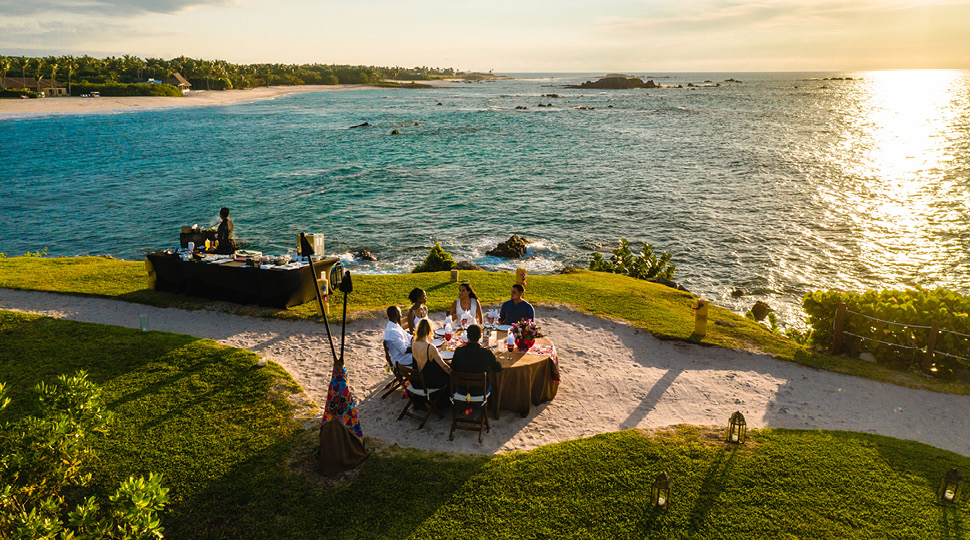 A hidden table in Punta Mita
There are plenty of places to sit down with friends and family for a private meal at Four Seasons Resort Punta Mita, Mexico, from a secluded beach spot surrounded by tropical trees to a quiet palapa set amid lush vegetation. For a dramatic setting, head to "The Rock": Perched above the Pacific, this one-of-a-kind cliffside venue is ideal for intimate celebrations and offers uninterrupted sunset views and unrivalled stargazing. Our top pick for complete privacy? The Resort's exclusive Iku Garden. Its hidden entrance opens onto a lawn tucked away on the roof of Bahia restaurant. Watch the sun set over the Pacific, and then toast your time together in this enchanting space.
Four Seasons Resort Punta Mita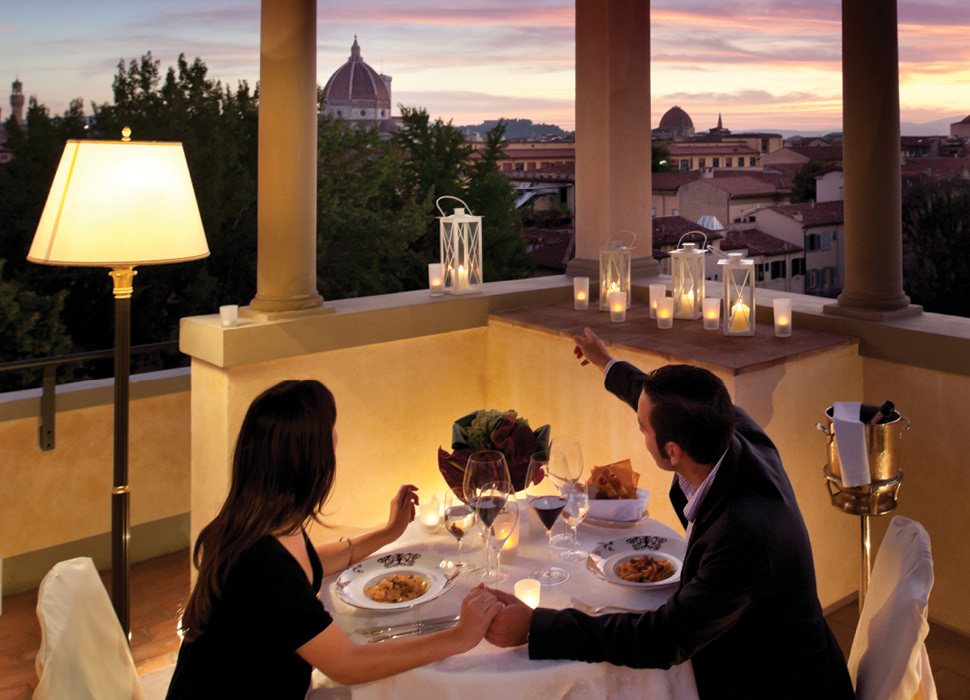 Artful scenery in Florence
In 1367, Italian architects Neri di Fioravante and Filippo Brunelleschi helped usher in the Italian Renaissance with their designs for the Cattedrale di Santa Maria del Fiore – now better known as Il Duomo – envisioning a large masonry dome atop without traditional Gothic buttresses. Today, this iconic landmark dominates the Florentine skyline, rising over the city. You'll be perfectly positioned to reflect on its magnificence during dinner in a private 15th-century palazzo just a few blocks away, arranged by the Concierge at Four Seasons Hotel Firenze. You'll get exclusive access to the historic residence, which was designed by sculptor and architect Giuliano da Sangallo and was once the home of Leonardo da Vinci – it's rumoured that the palazzo is where he painted the Mona Lisa. Sip cocktails while watching the sun set from the palazzo's fourth floor, and take in panoramic views from the penthouse terrace – including an up-close look at the Duomo's architectural details, plus glimpses of the Ponte Vecchio and Piazza della Repubblica – before sitting down to a customized four-course meal prepared and served by your dedicated Hotel chef and personal butler.
Four Seasons Hotel Firenze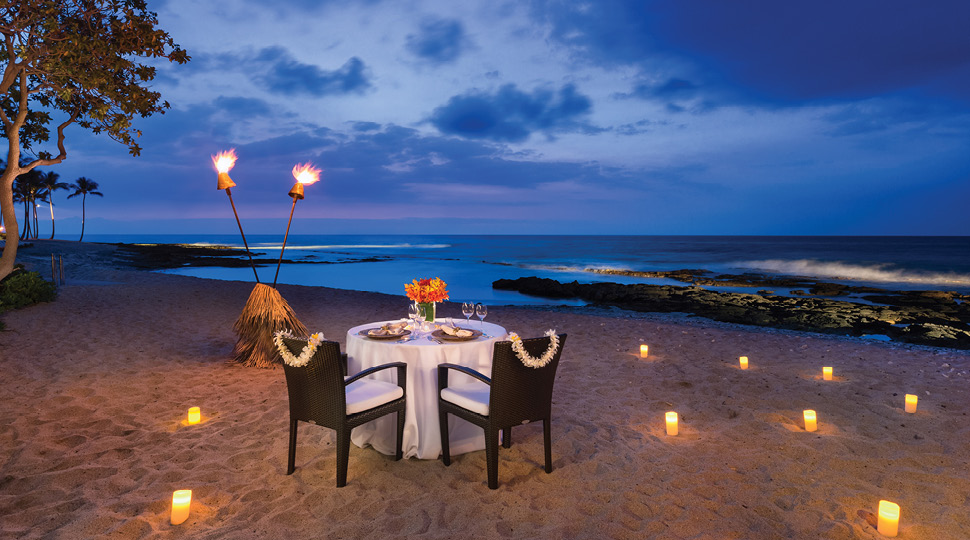 Dinner under the stars in Hualalai
Whether you're planning a romantic dinner for to enjoy with someone special or a meal for the whole family, the Dinner Under the Stars program at Four Seasons Resort Hualalai serves up memorable settings and customizable menus for an experience that's uniquely your own. Dine on fresh seafood with your toes in the sand at Palm Grove Beach, or sip cocktails surrounded by plumeria, hibiscus and monkey-pod trees on the Garden Lawn – you'll feel like you've stumbled on a secret garden with a table set just for you.
Four Seasons Resort Hualalai
YOUR JOURNEY BEGINS HERE
Where will you discover next?