Some adventures can only be reached from the sky: Soar over the Andes mountains to discover remote historical sites, catch world-class waves off the coast of Bali, hop over snow-covered peaks in the Alps. The best way to reach new heights? A private helicopter.
Increasingly popular and prized for their privacy and the ease they offer, helicopters offer a convenient way to do more in less time, plus easy access to hard-to-reach destinations. We've rounded up some of the once-in-a-lifetime experiences that can only be enjoyed by helicopter. From Bogotá to Bali, follow our guide to take flight.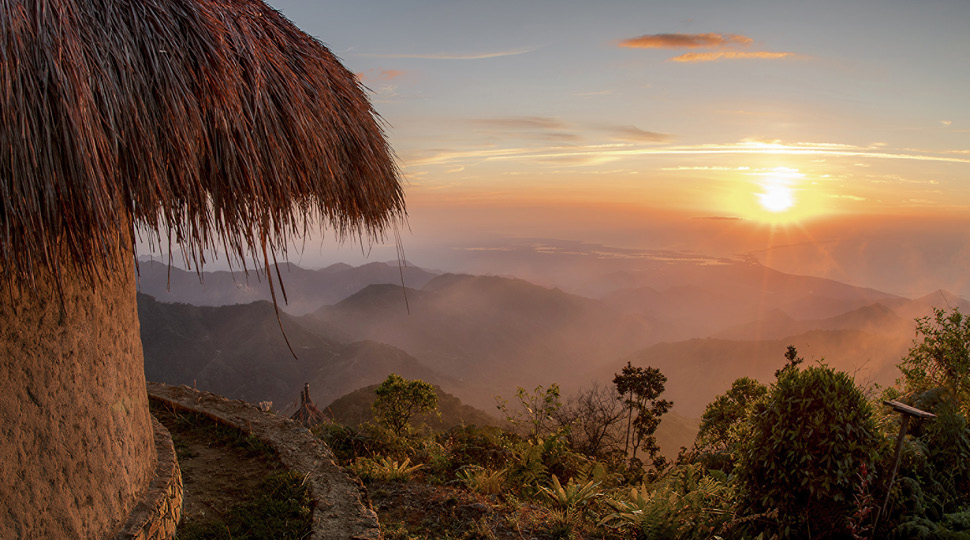 Get A Bird's-Eye View of Colombian Culture
According to legend, a mythical Muisca king covered himself with gold dust and plunged from a raft into the emerald waters of Lake Guatavita as a tribute to the gods. He was rewarded with an empire of gold, and the story grew into the myth of El Dorado. The lake – tucked away in the Andes mountains – is a long way from Colombia's capital by car, but easily accessible by air. On an excursion offered exclusively to guests of Four Seasons Hotel Casa Medina Bogotá, set out to discover the ancient site. Your private Bell 206 L3 helicopter will soar over the lake and then land at the Zipaquira Salt Cathedral. Built in the tunnels of an old salt mine, the church was recently declared "the First Wonder of Colombia."
Four Seasons Hotel Casa Medina Bogota
A helicopter ride also serves as your introduction to the Kogi community, hidden high in the forests of the Sierra Nevada de Santa Marta mountains. Depart from Four Seasons Hotel Bogotá and head deep into the mountains, where you'll catch a glimpse of the imposing platforms and circular terraces of Ciudad Perdida – the Lost City – built by the Tayrona people around AD 800. When you arrive in Mulkuakungui Village, you'll meet the Kogi, an indigenous community whose rich culture and traditions have remained unchanged for centuries. After a morning spent learning about their customs, rituals and lifestyle, board the helicopter for your return to the Hotel. Along the way, detour to Mirador de la Reserva Natural for a guided tour of the reserve's dramatic landscape. It's a journey you'll never forget. "Being a part of these cultural immersion experiences allows guests to really take in what Colombia has to offer in a short amount of time, maximizing truly local experiences and unparalleled views, both bundled in Colombian hospitality and Four Seasons luxury," says General Manager Mark Bingle.
Four Seasons Hotel Bogota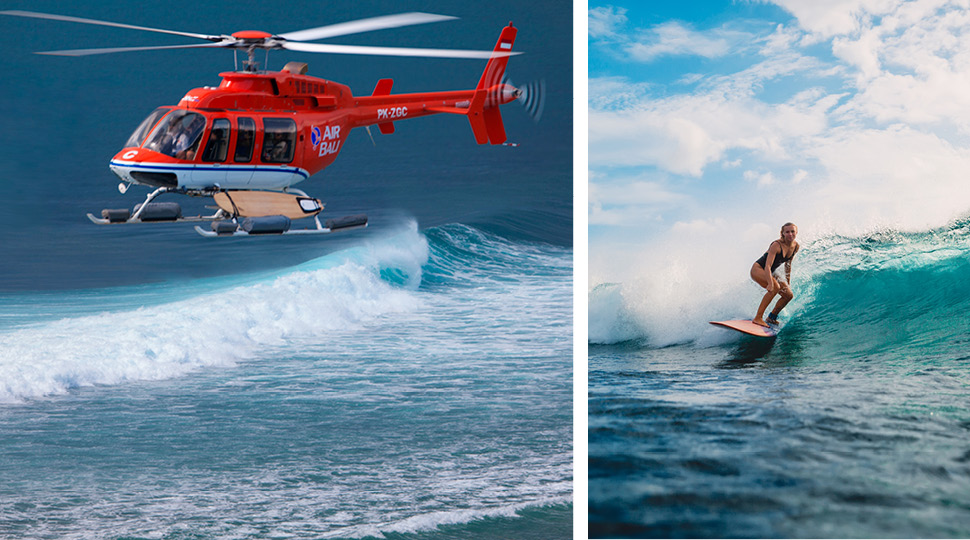 Propel Yourself to the Best Waves
Bali is a surfing magnet – some of the best waves in the world can be found off its shores. Skip the most crowded surf spots with a day trip to Grajagan Bay for the place known to surfers worldwide as G-Land. A helicopter gets you there in a fraction of the time it would take by boat, so you can catch more waves. A bonus: You'll enjoy unforgettable aerial views of Bali, Java and East Java National Park.
From Four Seasons Resort Bali at Jimbaran Bay, join a Tropicsurf guide aboard a private chopper and head out to G-Land's left-hand break, a bucket-list surf spot thanks to its ultra-fast, heart-thumping tubes. The remote location means the water is uncrowded and your wave count high, so experienced surfers can catch wave after wave with virtually no competition. Not a pro? Tropicsurf can help beginners dive into more mellow, playful waves and offer coaching to help them reach the next level. "Whether you're a surfer or spectator, G-Land is a magical place for a day trip," says General Manager Uday Rao. "While the surfers make the most of their time in the water, non-surfers can watch the action from the pristine beaches and explore the coastline and wildlife of the national park."
Four Seasons Resort Bali at Jimbaran Bay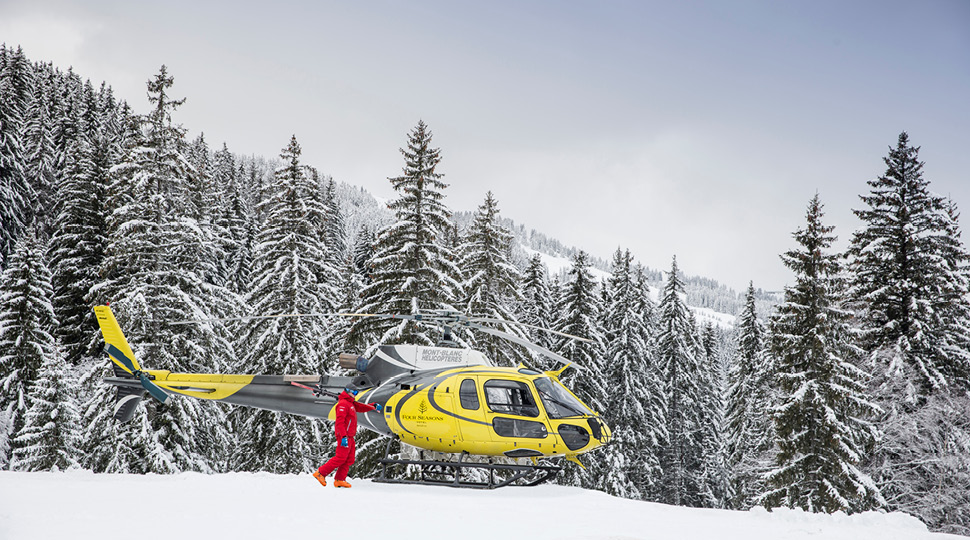 Take Your Game to New Heights in the Alps
Hop on a helicopter for an all-access pass to some of the best ski slopes. After trying the best runs near Four Seasons Hotel Megève, take a short flight to nearby resorts like Chamonix, Courchevel and Val d'Isère to experience a variety of ski terrains – plus breathtaking views of Mont Blanc and the surrounding mountains, a treat for both skiers and photographers.
As part of the Hotel's Ski Safari package, the Ski Concierge will tailor your itinerary according to the weather and snow conditions, and can also arrange dogsled rides, snowmobile rides or snowshoeing walks. "Our heli-safaris offer a very unique way to discover the Mont Blanc area," says General Manager Stephane Gras. "Based on the success of the ski version in winter, we have also developed a golf version for summertime, when we take our guests to the most famous courses in the region."
Heli-golf excursions provide easy access to the greens at Mont d'Arbois Golf Course in Megève as well as Alpine courses in Evian or Esery. With expert coaching from the Hotel's in-house Golf Valet or a pro from the Golf Academy, your trip will hit a hole in one.
Four Seasons Hotel Megeve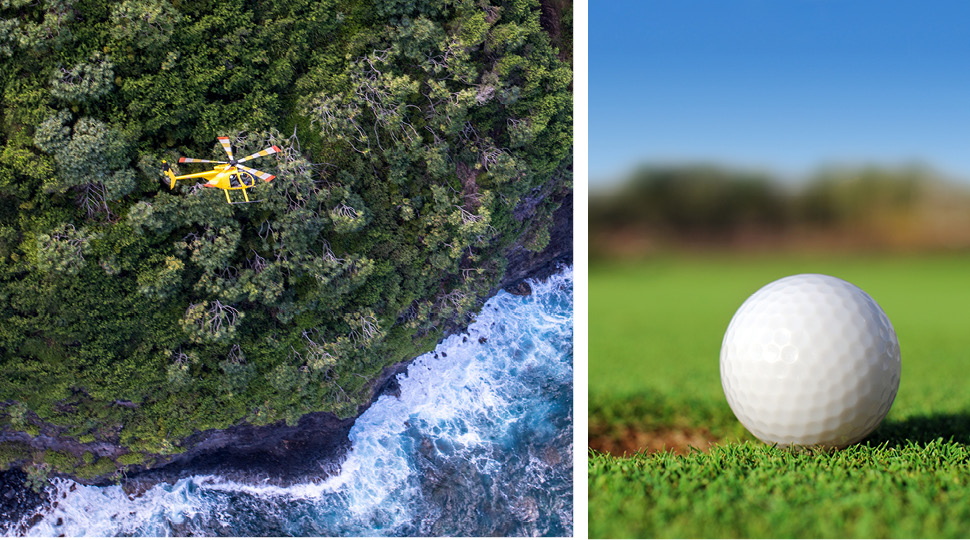 Elevate Your Golf Game on Maui
All good golfers know it's important to get the lie of the land before taking your putt. The best way to get a look at the course? By helicopter. Join a pro for an aerial tour of Wailea Golf Course, set on the foothills of the dormant Mount Haleakala, with wide fairways and strategically placed bunkers – plus stunning ocean views and natural features like lush Hawaiian landscaping and lava rocks – before teeing off.
At Four Seasons Resort Maui at Wailea, your day begins with breakfast and a drink from the Bloody Mary bar. After your private helicopter ride over the course, a local pro will fit you with a putter and join you on the greens. You'll enjoy private tee times and a golf intermezzo after the ninth hole. Afterwards, return to the Resort and head immediately to the Spa for a massage designed to ease the muscles you've been using.
Four Seasons Resort Maui at Wailea
YOUR JOURNEY BEGINS HERE
Where will adventure take you next?