Lisbon's city centre can keep you busy, but be sure to save a few days for exploring its surroundings: In just an hour or two, you can discover completely different worlds. From palaces and vineyards to fishing huts and beaches, these day trips show off the many faces of Portugal.
Mountain castles at Sintra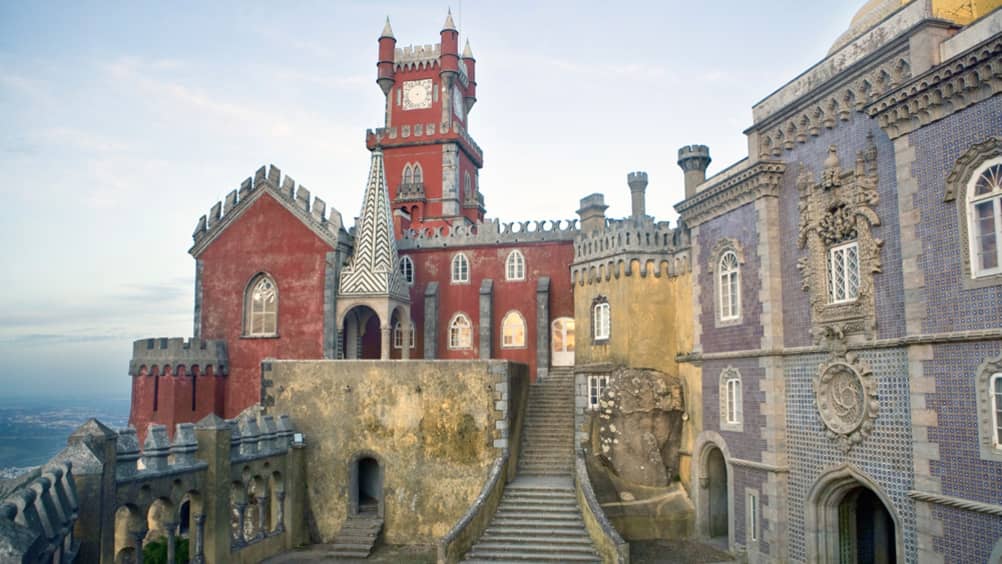 Less than an hour outside Lisbon, Sintra offers a fairy-tale enclave of lush green mountains dotted with magnificent palaces, parkland and aristocratic retreats. The first castles here were built by Portugal's Moorish rulers in the eighth and ninth centuries. As the summer residence of the royal family, the town attracted a stream of wealthy European nobles whose huge mansions and villas reflect architectural styles from the 15th century to the 19th. Don't miss visiting the sprawling National Palace or the whimsical Pena National Palace, with its ice cream–coloured towers befitting a storybook princess. Then venture past forests to the beautiful Park of Monserrate.
World Surfing Reserve at Ericeira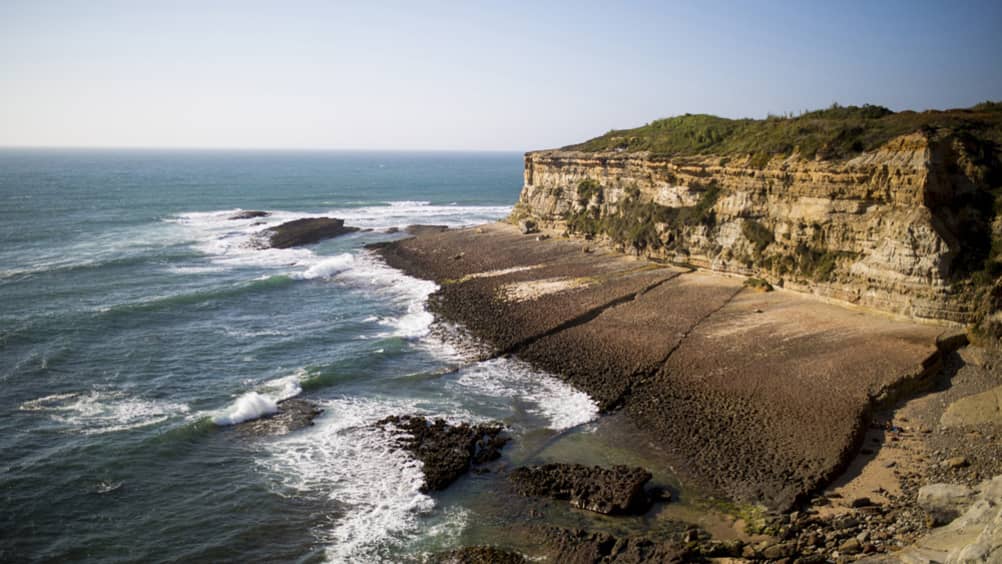 Ericeira is a small fishing and resort town perched on cliffs overlooking the Atlantic Ocean. On the shore, you'll find Europe's first World Surfing Reserve, an 8-kilometre (5-mile) stretch of outstanding natural surf breaks. It's one of only a handful of international protected surf reserves—joining Malibu and Santa Cruz, California; Manly, Australia; and Huanchaco, Peru. Within the reserve lies Ribeira d'Ilhas Beach, a world-class surfing spot. Not surprisingly, Ericeira is also known for its seafood restaurants.
Quaint country towns at Alentejo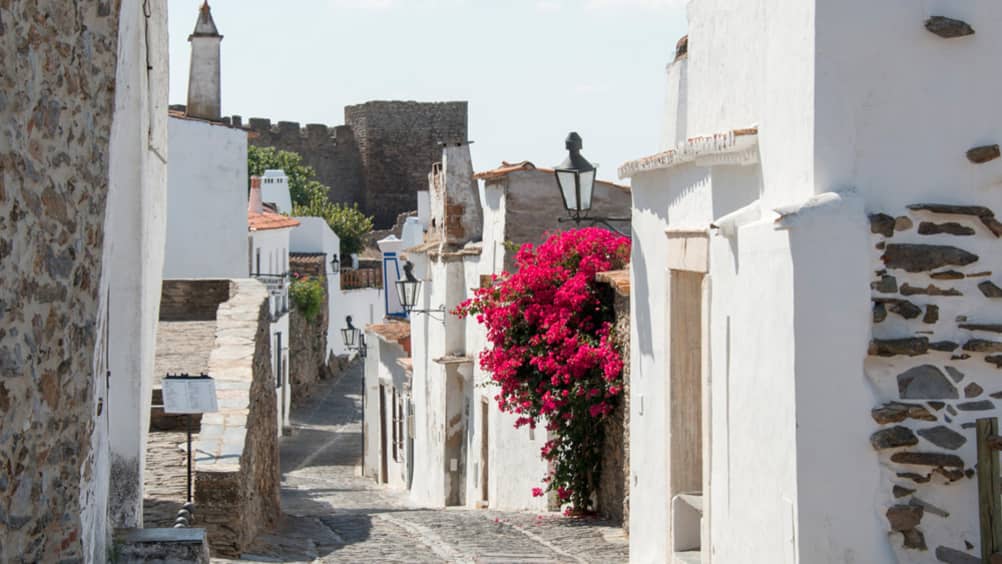 For a laid-back day in the country, head southeast to the region of Alentejo, where the sun-soaked landscape inspires a slower pace of life. Gently rolling plains harbour vineyards, olive groves and forests of cork oaks. In fact, the Alentejo region produces about half the world's cork, and its harvest—from mid-May to early July—is sustainable and labour-intensive, as the cork bark is sliced off each gnarled tree by hand. In September the grape harvest begins, with boisterous grape stomping, followed in late fall by the olive-picking season, often a family affair.
Apart from these bucolic joys, you can explore spectacular fortified hill towns like Monsaraz or Estremoz, or visit Vila Viçosa, full of houses constructed from local white marble. A must-see is Evora, a UNESCO World Heritage site packed with unusual sights and picturesque winding streets. It's also an excellent shopping destination for unexpected cork products, such as umbrellas.
Famous Portuguese wineries at Azeitão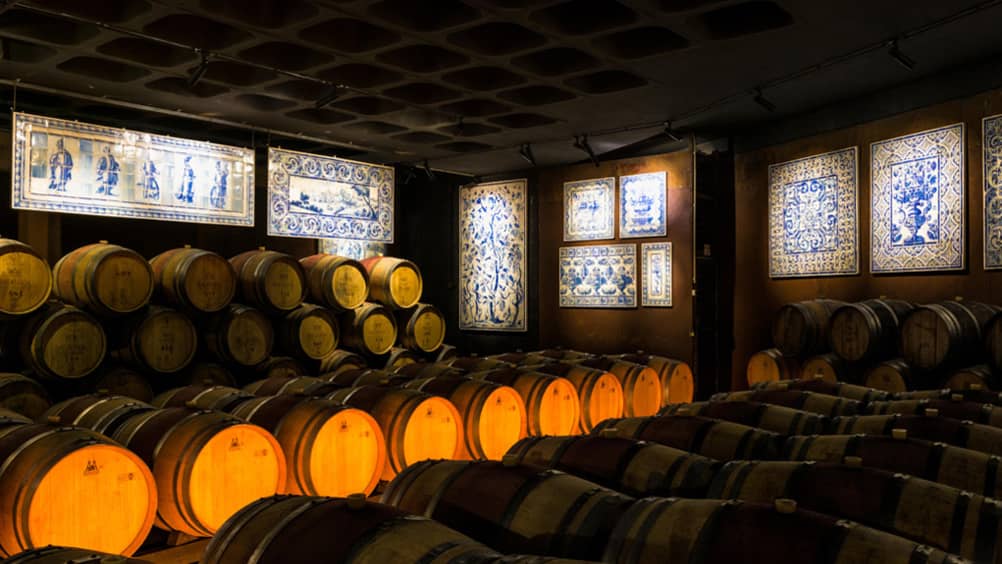 Photography GM Photo Images / Alamy Stock Photo
Travel an hour southeast from Lisbon and you'll discover one of Portugal's most important wine regions, with the charming village of Azeitão as its focus. Enjoy a tour and tasting at Quinta da Bacalhôa, an innovative winery, palace and museum in a former royal estate dating back to the 15th century. Nearby, continue to another historic winery in beautiful grounds, José Maria da Fonseca, where you can tour cellars containing century-old wines and taste muscatel, the sweet dessert wine, as well as classic Periquita table wine.
Natural beaches at Comporta
A favourite hideaway for Princess Caroline of Monaco and Christian Louboutin, Comporta is gaining a reputation as Lisbon's most chilled-out summer beach retreat. The soft, powdery sands are wild and natural, and a rustic, bohemian vibe prevails. Find a deserted spot to call your own and indulge in the serious art of relaxation—from playing cards on the sand to savouring the grilled catch of the day in a waterfront fish shack.
Swims, seafood and art at Cascais
Less than an hour west of Lisbon, you'll find the charming fishing port and genteel 20th-century resort of Cascais. Once a favourite of deposed kings and dictators, the coastal town offers a relaxed day out against a backdrop of mansions, yachts and a restored fort high above the Atlantic waves. Sheltered, sandy beaches (Praia da Rainha and Praia da Conceição) are perfect for swimming, paddling and sunbathing; or you can watch the fishermen's catch being landed on Praia da Ribeira before enjoying a lunch of cataplana in the city's pedestrian-friendly old town. Don't miss the unusual Casas das Histórias, a contemporary museum devoted to the London-based Portuguese artist Paula Rego.
You can learn more about these six multifaceted day trips in Lisbon Through Four Seasons Eyes, a complete city guide produced by Four Seasons Hotel Ritz Lisbon.
Fiona Dunlop contributed to this article.
Four Seasons Hotel Ritz Lisbon