Dotted with gardens and parks and set alongside Europe's largest Alpine lake, Geneva is a compact city with a rich history. It's also home to a host of international organisations, including the United Nations, the World Health Organization and the International Committee of the Red Cross, making it a multicultural destination that knows how to play as hard as it works. To help you make the most of your visit, we asked Mina Bayat, Chef Concierge at Four Seasons Hotel des Bergues Geneva, to share his tips for exploring this dynamic destination—from where to eat to how to plan the perfect day trip.
Dine out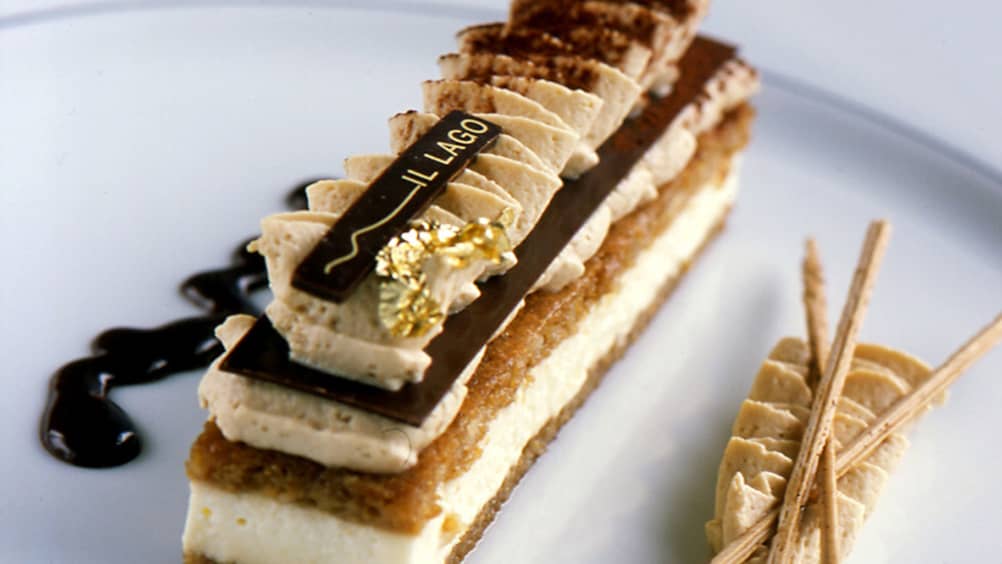 Photography courtesy Four Seasons Hotels and Resorts
Geneva's food scene is among the world's best, thanks to the international crowd that calls the city home. For French cuisine, head to Auberge de Floris or Domaine de Châteauvieux, which has two Michelin stars. Auberge d'Onex is a great choice for Italian fare and the ambiance to match.In Lausanne (a 50-minute car ride away), you'll find a fantastic spot that has earned three Michelin Stars Anne-Sophie Pic at Beau-Rivage Palace. If you prize flavour over flare, opt for Il Lago at the Hotel. The northern Italian restaurant is favoured by locals for its perfectly crafted menu of fresh, regional produce.
Serious shopping
A stop at Victorinox boutique is a must for those looking for well-tailored Swiss clothing and souvenirs featuring the famous Swiss cross. You'll find everything from lingerie to luxury labels at Bon Génie, a department store that carries brands such as Christian Louboutin, Charivari, Delaneau and L'Arcade. Top shops for him include Basil and Zilli for clothes, and John Lobb and Winston for shoes. During your shopping excursion, break for amandes princesses (Swiss chocolate-covered almonds) at Auer Chocolaterie, the city's best chocolate shop.
Gallery hopping
Geneva's art scene thrives with galleries and museums dedicated to celebrating both the classic and contemporary. Opera Gallery features great artists such as Fernando Botero, Salvador Dalí and Marc Chagall. Works by noted contemporary artists, including Alfonso Borghi and David LaChapelle, fill spaces at Gallery Bel-Air Fine Art. For an only-in-Geneva experience, visit the Patek Philippe Museum, which is the finest museum about watch manufacturing in the world.
Family fun
Though it may be a centre of banking and business, Geneva is fast becoming a destination for family vacations, thanks to its museums and countless opportunities for outdoor recreation. To best experience Lake Geneva, hop on the Beautiful Shores of Geneva boat tour. Visits to Bâtie Woods park, Bastions Park, the Botanical Garden and Parc de la Grange are also musts for families looking for outdoor fun. During summer months, get your feet wet at Aquaparc, a water park that features slides, wave pools and other opportunities to make a big splash with young travellers. Learning is fun at the Natural History Museum, the Patek Philippe Museum, the United Nations Office and the International Red Cross and Red Crescent Museum.
City views
With its majestic Alps, lovely lake and Old World architecture, Geneva boasts some impressive scenery. The views are stunning at the "Byron Stone" in Cologny, on the eastern shore of Lake Geneva. The stone references the 19th-century Bohemian set who, led by Lord Byron settled in the area. Other prime spots for city viewing include the top of the Saint-Pierre Cathedral, the restaurant Le Lion D'Or and the top of the Salève. After dark, board an evening dinner cruise on a private vessel or on a steamboat, and enjoy the city lights and landscapes.
Countryside escapes
The outdoors beckons in Geneva, and several notable destinations for active travellers are within easy reach of the city centre. In Chamonix Mont-Blanc you can see the Mer de Glace, the largest glacier in France, and take the cable car up to Aiguille du Midi. Skiers can choose between world-class slopes in Megève, Verbier and Gstaad—each a one- to two-hour trip from the Hotel. Epicures shouldn't skip the Golden Pass Chocolate Train from Montreux to Gruyère, where you can visit cheese dairies and a chocolate factory. At Lavaux's Vineyard Terraces, a UNESCO World Heritage Site, you'll see the work of generations of winemakers, who created these terraced vineyards overlooking Lake Geneva and the Alps.
A perfect day in Geneva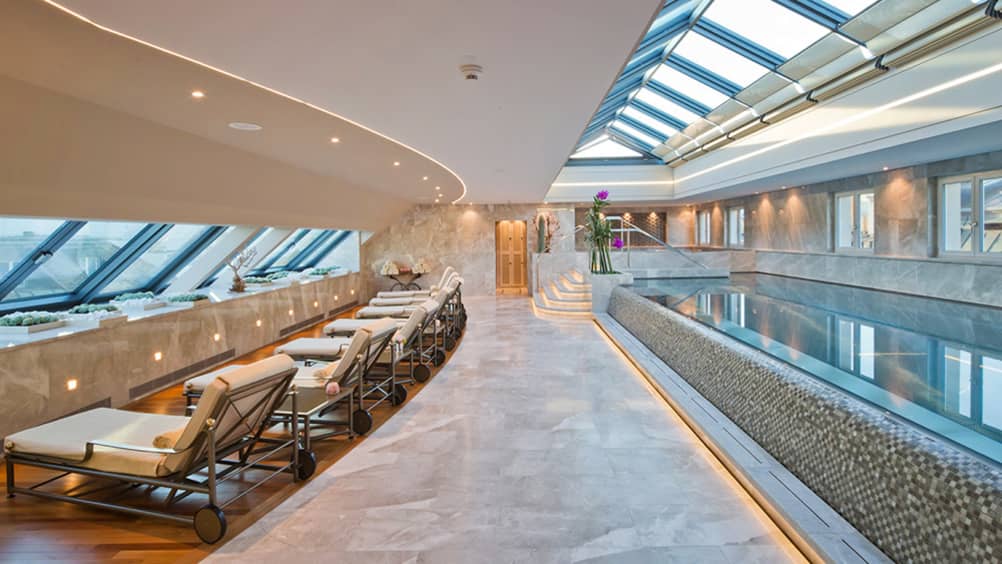 Photography courtesy Four Seasons Hotels and Resorts
Join the fitness-minded locals for a jog along the lake or around one of the city's many parks before slowing down for a private tour of the city, including Old Town, on foot or by chauffeured ride. Break for lunch at Il Lago, which offers fine Italian cuisine in a see-and-be-seen atmosphere. Afterwards, stroll down the Rue du Rhône, where you can admire the selection of shoes at Christian Louboutin. Treat yourself at Chocolaterie Auer and visit the Patek Philippe Museum for a look at the history of watchmaking. Then head back to the Hotel for a massage at the Spa, followed by a cocktail at Le Bar des Bergues. Now it's time for dinner at Domaine de Châteauvieux, which offers excellent service, a superb wine list and delicious French cuisine.
Four Seasons Hotel des Bergues Geneva