When you attend an event at Four Seasons, good food is a given. We hold ourselves to the highest standards and we deliver, with innovative catering options and impeccable service.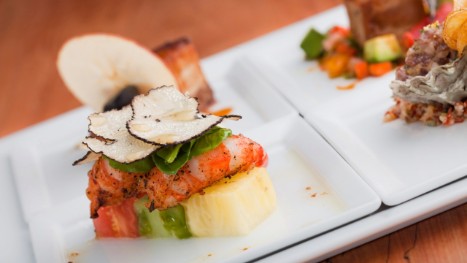 Authentic flavours
Our chefs create regional dishes that celebrate the best of every destination.
Customised menus
We use food to make an emotional connection with custom menus that reflect your group's tastes.
Restaurant-quality banquets
The food, beverage and service at our banquet meals measures up to the finest restaurants.
Diverse catering choices
We've got options to satisfy every member of your group.
BANQUETS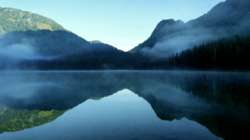 Ideal for groups of 50 or more
Dinner by the Lake
Four Seasons chefs will create a barbecue dinner for your group at one of Whistler's five lakes just a short drive away. The unforgettable open-air feast will end with music, songs and a blaring beach bonfire.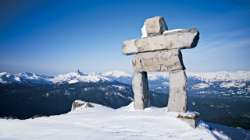 Ideal for small incentive groups
Dinner at 6,000 Feet
Your group will be whisked away in a fleet of helicopters 6,000 feet up above the clouds where a canapé reception and barbecue picnic awaits atop a glacier. Take in the dramatic panoramic mountain views and finish with a game of "Fairway to Heaven" golf, driving bio-degradable balls off the mountaintop.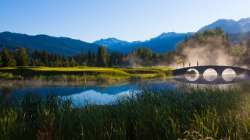 Perfect for intimate group dinners
A First Nations Dinner
Located adjacent to Four Seasons Resort Whistler, our partner, the Squamish Lil'wat Cultural Centre is open to groups for drum-making lessons during the day. In the evening, it transforms into a memorable setting for dinners and cocktail receptions, featuring gourmet First Nations fare and performance by a hoop dancer.
ON-SITE RESTAURANT
SIDECUT Modern Steak + Bar
Named for the curvature on the side of a ski or snowboard, SIDECUT Modern Steak + Bar declares its spectacular alpine location with glorious views of the local Whistler and Blackcomb mountains and a brilliant, fire-lit setting at Four Seasons Resort Whistler. A sleek wood interior, colourful earth tones and an open fire provide a cosy setting for your visit to our steakhouse. Winter creates a romantic setting with s'mores by the firepit after dinner, while summertime allows outdoor fine dining on the spacious heated patio, where an outdoor fireplace provides an inviting ambience.