All Food and Drink
Executive Chef Gian Nicola Colucci shares a menu of authentic Italian cuisine using recipes from his childhood in Lombardy, focusing on local ingredients and homemade classics with a twist.
Innovative cocktails, an extensive list of wines by the glass and a handpicked selection of local and craft beers served alongside light fare make this St. Louis' best spot for sipping, snacking and socializing.
Whether you're time-zone hopping, feeding a hungry team during an impromptu meeting, or looking for quiet, private dining, you can choose from our extensive In-Room menu day or night.
Events
Every Friday, 8:00 pm – 1:00 am

Four Seasons Fridays

Kick off your weekend with happy hour specials at Cielo and live music by local band The Usual Suspects on the Sky Terrace.

Every Thursday, 6:00 pm – 9:00 pm

Raw Bar

Chef Colucci curates some of some of the best seafood from both coasts, serving fresh sushi, shellfish and more at Cielo Bar, as a live DJ sets the tone for the evening.

Monday to Thursday, June through September

Sunset Poolside Dinner

Spend the day swimming and lounging by our rooftop pool, then sit down for sangria and a three-course dinner served either poolside or at Cielo as you watch the sun set over St. Louis.
Meet the Team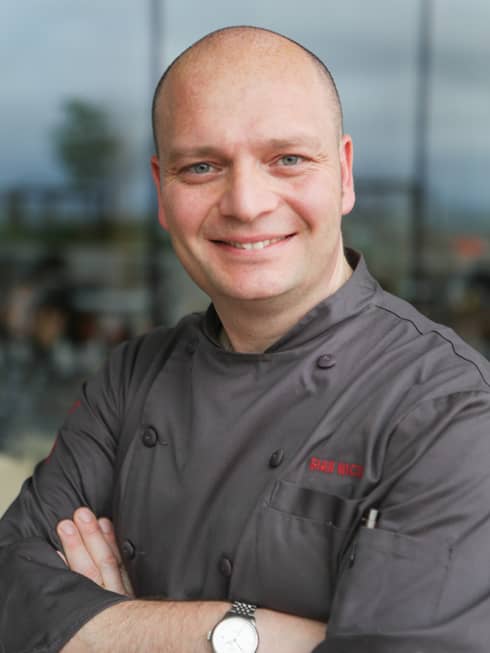 Executive Chef Gian Nicola Colucci
Growing up in northern Italy, Chef Colucci's first experiences in a kitchen were on the family farm, followed by culinary school in Turin, then time spent in legendary restaurants around the world. Over time, Colucci has perfected his own brand of classic Italian cuisine, pulling inspiration from his childhood and local, in-season produce to create a culinary journey for every guest.
My dishes tell the story of my history as a cook, and all the great chefs and restaurants I have been lucky to work with.
One of Chef Colucci's talented sous chefs shares their favourite dishes and techniques during a 2.5-hour-long community-style cooking class, where you'll sample up to six dishes and learn to make three of your own.

Details

Cocktail classes at Cielo

Want to know the secret to the perfect Old Fashioned? Go behind the bar with mixologist Michael Clark as he shows you how to craft unique cocktails using fresh herbs from our rooftop garden.

Savour a taste of the Midwest

From farmers markets to breweries to frozen custard, get to know the culinary culture of St. Louis with our collection of foodie-centric experiences.

Details