All Food and Drink
James Beard Award-Winning Chef Gerard Craft is blending the tradition of wood-fired meat, vegetables and fish with bold international flavours. With an eye on the entire world, but a heavy hand toward South America, a meal at Cinder House is always flickering with surprises.
Innovative cocktails, an extensive list of wines by the glass and a handpicked selection of local and craft beers served alongside light fare make this St. Louis' best spot for sipping, snacking and socializing.
Whether you're time-zone hopping, feeding a hungry team during an impromptu meeting, or looking for quiet, private dining, you can choose from our extensive In-Room menu day or night.
Welcome to Cinder House by Gerard Craft
Meet the Team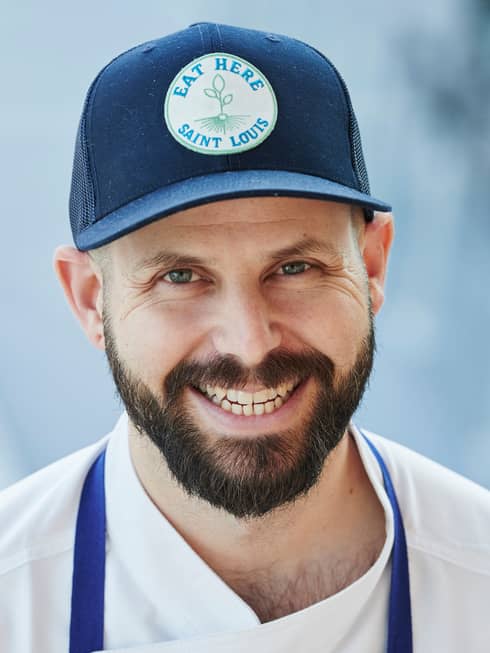 Consulting Chef Gerard Craft
"Some foods taste so much more complex when cooked on a wood fire. Grilling is a universal technique so the menu reflects many different cultures but the food will be heavily influenced by the grilling mecca of South America."
Events
Wednesday and Thursday, 8:00 PM - 11:00 PM | Sunday, 11:00 AM - 2:00 PM

Live Music in Cinder House Bar

Move your feet and enjoy the sounds of Latin acoustic music from Acoustik Elements and acoustic vibes with MidLife.

Every Sunday, 10:00 AM – 3:00 PM

Cinder House Brunch Buffet

Centered around dishes from the custom, wood-burning hearth, Gerard Craft and his team have created an incredible Sunday Brunch Buffet. The buffet features multiple carving stations, omelettes made-to-order, fire-roasted vegetables, fresh salads, fruit and traditional brunch favorites.

July 4, 6:00 pm – 9:00 pm

Fourth of July Barbecue Bash

Celebrate Independence Day with an exclusive fireworks show and barbecue at Cinder House, on the 8th floor Sky Terrace. Take in the panoramic views of the Gateway Arch and Mississippi River. The buffet will feature grilled burgers, gourmet hotdogs, whole-roasted snapper, ceviche, salad and more. USD 95 per person, USD 35 per child, plus tax and gratuity. Complimentary for children under 5. Valet parking is included. Call +1 (314) 881-5759 for reservations.