My Four Seasons
Shoppers' Paradise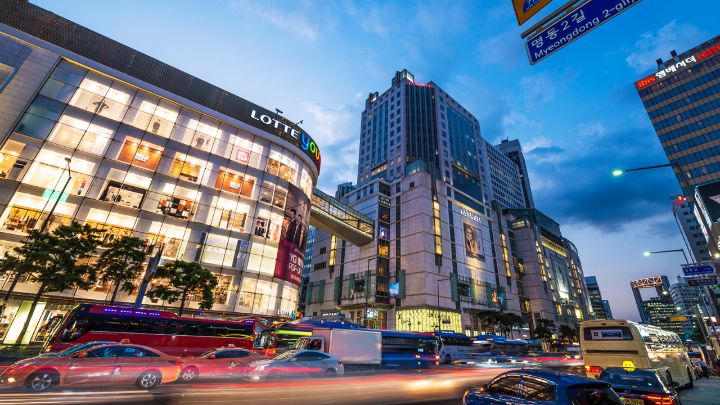 Visitors to Seoul are spoiled for choice when it comes to shopping. From one end of this sprawling capital to the other, streets abound with everything from luxury flagships to bustling street markets. Not only that, but this 24-hour city offers – appropriately enough – round-the-clock shopping, allowing especially avid shoppers to get their fix at all hours of the day and night.
For Seoul's best high-end shopping experience, Apgujeong-dong and Cheongdam-dong in the upscale Gangnam neighbourhood are reminiscent of Rodeo Drive in Beverly Hills. Indeed, Apgujeong Rodeo Street, Apgujeong-dong's main shopping area, pays homage to its namesake with an impressive collection of upscale department stores, designer labels and trendy cafés. And Apgujeong-ro, the road that connects these two fashionable neighbourhoods, is Seoul's main destination for luxury shopping, featuring flagships of some of the world's leading designer brands, alongside galleries, high-end boutiques and some of the city's most exclusive nightclubs.
Also in Gangnam is Garosu-gil, one of Seoul's newest hotspots for shopping. This beautiful tree-lined street combines European charm and Korean-style bohemian chic with its independent boutiques, small bookshops and cafés. When night falls, young couples walk hand in hand, and groups of friends steal into the area's small eateries and wine bars to discover a quiet slice of Seoul away from the crowds and neon.
Similarly, Hongdae, a college neighbourhood with a thriving arts and indie music scene, is home to an array of independent clothing labels and off-the-wall vintage shops. The relaxed vibe here can be best felt in one of the area's clubs, bars or cafés, which at any given time throb with music or hum with the quiet energy of an impassioned poetry reading.
For a more conventional shopping experience, Myeong-dong's neon-flooded streets offer a postcard-perfect rendition of Seoul, with colourful shops and energetic crowds as far as the eye can see. However, the area is best known as Korea's top spot for cosmetics, with over 1,000 cosmetic shops and hundreds of skin care stores making their home here.
And for the true shopaholic, Dongdaemun Market's more than 20 shopping malls include stores that are open 24 hours a day. For a singular Seoul experience, grab the last train here at midnight and lose yourself in the crowds as they surge from shop to shop under the bright lights, deep into the night.