Food has the power to transport us: One bite of a beloved dish and we're instantly reminded of big moments in our lives, from joyful celebrations with family to epic adventures while exploring new destinations. Here, Four Seasons chefs share their most memorable culinary moments – and offer suggestions for guests to make their own memories.
An Emotional Connection in Seattle
FOUR SEASONS HOTEL SEATTLE
EXECUTIVE CHEF EMMANUEL CALDERON, GOLDFINCH TAVERN
His Most Memorable Ingredient: "When I think of achiote, also known as annatto seeds, I'm taken back to my childhood and some of my favourite dishes from Mexico's Yucatán Peninsula, like cochinita pibil – slow-roasted pork that gets its vivid orange colour from a citrus-achiote marinade – and pescado à la tikin xic – fish marinated in achiote and sour oranges, then wrapped in banana leaves and roasted. Achiote reminds me of grilling fresh-caught fish at the beach with family or stopping for torta de cochinita pibil with my friends after a night out."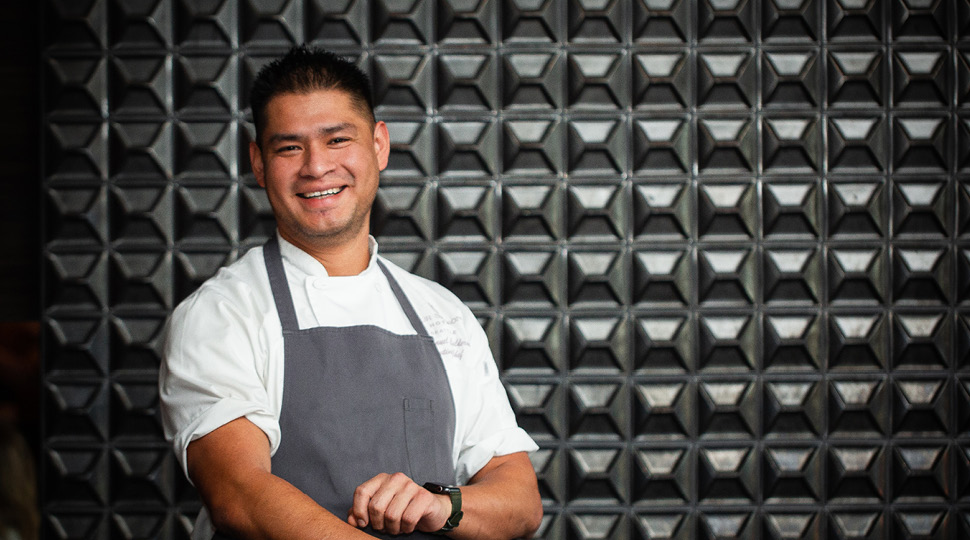 Four Seasons Hotel Seattle
How It Inspires Him: "Achiote isn't just the main ingredient of some of my favourite dishes, it is a perfect complement to other ingredients I love, like fresh seafood and habanero peppers, so it's easy to use it. The most important thing to me is to share the emotions that the ingredients inspire. I want guests to remember not just the specific dish but also the special moment."
His Can't-Miss Dining Experience: "We're very fortunate to have a world-class market just a block away. Join me for a shopping trip to Pike Place Market, where we'll find ingredients that will inspire us to create a one-of-a-kind, multi-course menu just for you and your guests. It's a beautiful trip to an iconic Seattle market that will become one of the best parts of your day."
A Taste of Summer in Athens
FOUR SEASONS ASTIR PALACE HOTEL ATHENS 
CHEF LUCA PISCAZZI, PELAGOS
His Most Memorable Meal: "I can't eat spaghetti vongole without thinking of family vacations to the south of Italy. My parents and I spent summers exploring the region and visited many local restaurants. I always ordered spaghetti vongole – pasta served in a rich sauce of briny clams, white wine and garlic – as a cold appetizer or even as a main dish. When I eat it today, I'm reminded of long summer days and spending time with family."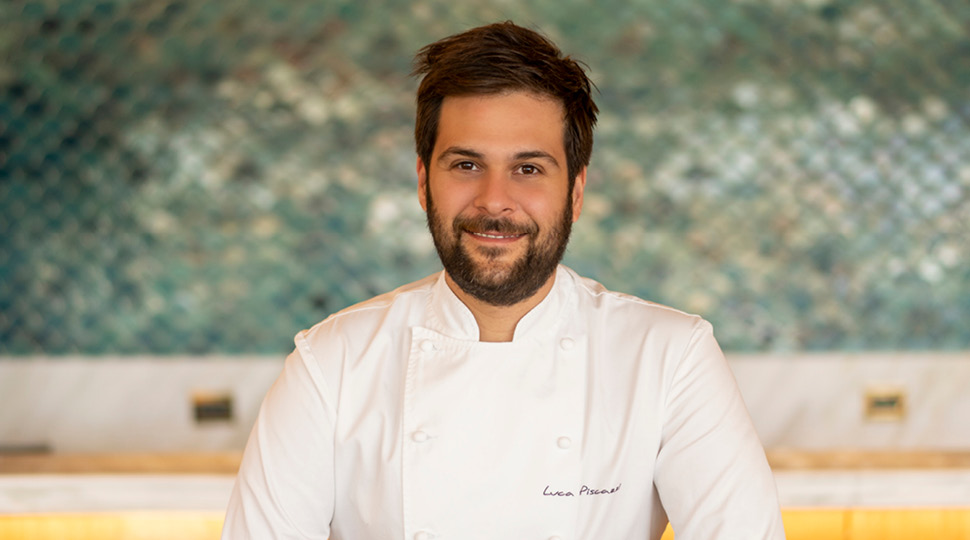 Four Seasons Astir Palace Hotel Athens
How It Inspires Him: "These memories are the inspiration behind the chilled Mancini spaghetti with crystal caviar on the menu at Pelagos. But I also want guests to create their own memories, so our menu features local ingredients and flavours from our peninsula – lavender, lemon, fresh basil, tomatoes from our garden, wild fish caught by local fishermen."
His Can't-Miss Dining Experience: "Pelagos is the newest addition to the Hotel's collection of dining outlets and offers innovative seafood dishes. For a truly unique experience, let us arrange a magical lunch on the beach: Start with saganaki – pan-seared Greek cheese with lemon – and then try our mouth-watering tarama salad – salted and cured fish roe, olive oil and lemon."
A Seasonal Palette in Guangzhou
FOUR SEASONS HOTEL GUANGZHOU 
CHEF JEFFREY ZENG, CATCH
His Most Memorable Meal: "Crystallized Ginger and Poached Eggs is a very popular homestyle dish in China, and it reminds me of my home town in Hunan Province. In China, foods are eaten as much for their taste as for their health benefits, which is likely why the origin of this dish and why my mother prepared it for me so much when I was younger. Ginger is incredibly good for you, even when it's crystallized and sugary, but when I eat this, all I'm thinking about is home."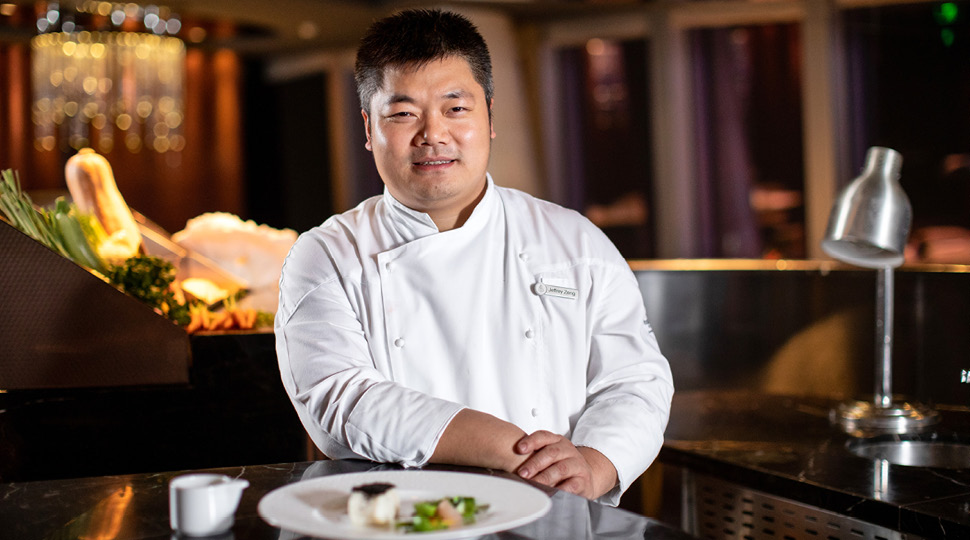 Four Seasons Hotel Guangzhou
How It Inspires Him: "Though I specialize in Western cuisine, I like to combine an interesting selection of local Chinese ingredients in my dishes – including crystallized ginger. It's in my velvety smooth Pumpkin Velouté, along with coconut milk."
His Can't-Miss Dining Experience: "Chinese cuisine reflects the seasons, with specific ingredients and flavours that should be eaten each season for balance and harmony. My favourite season is autumn, which according to tradition is the season to nourish your body. The best way to do that? Seared duck breast, caramelized foie gras and pear coulis, served with caramel miso sauce. Enjoy this special dish as you gaze at the Guangzhou skyline from high above Pearl River at Catch, on the Hotel's 100th storey."
Surprising Flavours on the French Riviera
GRAND-HÔTEL DU CAP-FERRAT, A FOUR SEASONS HOTEL
EXECUTIVE CHEF YORIC TIÈCHE
His Most Memorable Ingredient: "When I was 10, my father was working on La Réunion Island, an overseas territory. I spent two weeks visiting him, and the first night he surprised me with lychee. I had never seen the fruit before and at first tried to eat it without removing its rough skin. Since then, lychee has become one of my favourite fruits, and I'm always reminded of this moment when I eat it."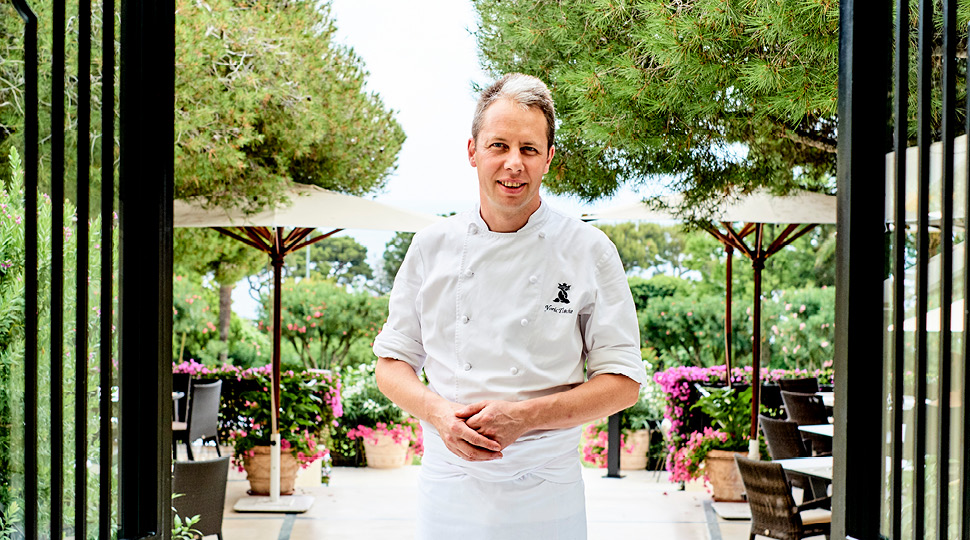 Grand-Hotel du Cap-Ferrat, A Four Seasons Hotel
How It Inspires Him: "I never miss an opportunity to include lychee in my menus, especially because it pairs so well with other flavours. I love to pair it with game meats during hunting season – the sweetness of the lychee is a perfect balance to the bold, gamy taste of the meat."
His Can't-Miss Dining Experience: "The French Riviera Ultimate Dinner is one of the most exclusive dining experiences in the French Riviera; it's truly unique. After consulting with our guests, I create a customized menu for the occasion, served in one of our private cabanas at Club Dauphin, offering spectacular views of the Mediterranean."
FOUR SEASONS HOTEL TOKYO AT OTEMACHI
EXECUTIVE PASTRY CHEF YUSUKE AOKI
His Most Memorable Meal: "I got my start at Four Seasons Resort Bali at Jimbaran Bay, where the team encouraged me to go for my dreams and supported my decision to enter an international pastry competition, Valrhona Chocolate. The dish I created, the Smoked Chocolate Fig, earned me first place, and today is a reminder of my success and how valued and supported I felt thanks to my team."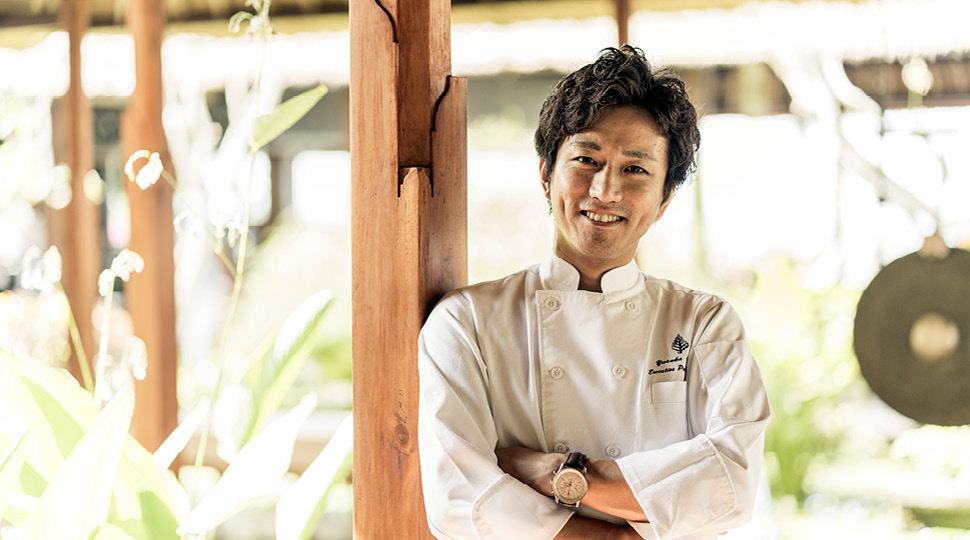 Four Seasons Hotel Tokyo at Otemachi
How It Inspires Him: "I brought the Smoked Chocolate Fig to The Lounge at Four Seasons Hotel Tokyo at Otemachi, and the team here has continued to encourage me to pursue my passion for chocolate. For Valentine's Day, we experimented with crafting limited-edition, small-batch chocolate bonbons using seasonal ingredients like yuzu and kiyomi orange – a special memento for guests to mark the occasion."
His Can't-Miss Dining Experience: "Guests should be sure to indulge in afternoon tea and parfait. I suggest the last seating at 3:30 pm at The Lounge, so you can watch the sun set over Tokyo and the Imperial Palace gardens. The menu is seasonal, so there's always something fresh for guests, and we offer 12 types of tea exclusively from Japan. It's a wonderful way to spend the afternoon.
YOUR JOURNEY BEGINS HERE
Where will your appetite for exploration take you?