Piacere!" "Pleased to meet you!" During a recent visit to Four Seasons Hotel Firenze, that's the sliver of my rusty college Italian that I find myself returning to – and truly feeling – most often. I'm here to explore, with record-breaking globetrotter Jessica Nabongo, the idea of "Take the Leap, Take Your Time." How will we use the gift of 366 days that this 2020 leap year has brought us? Talking with her, as we're recording the first episode of the new Four Seasons "Take the Leap" podcast, I'll soon discover that for Jessica, the answer lies not in places but in people.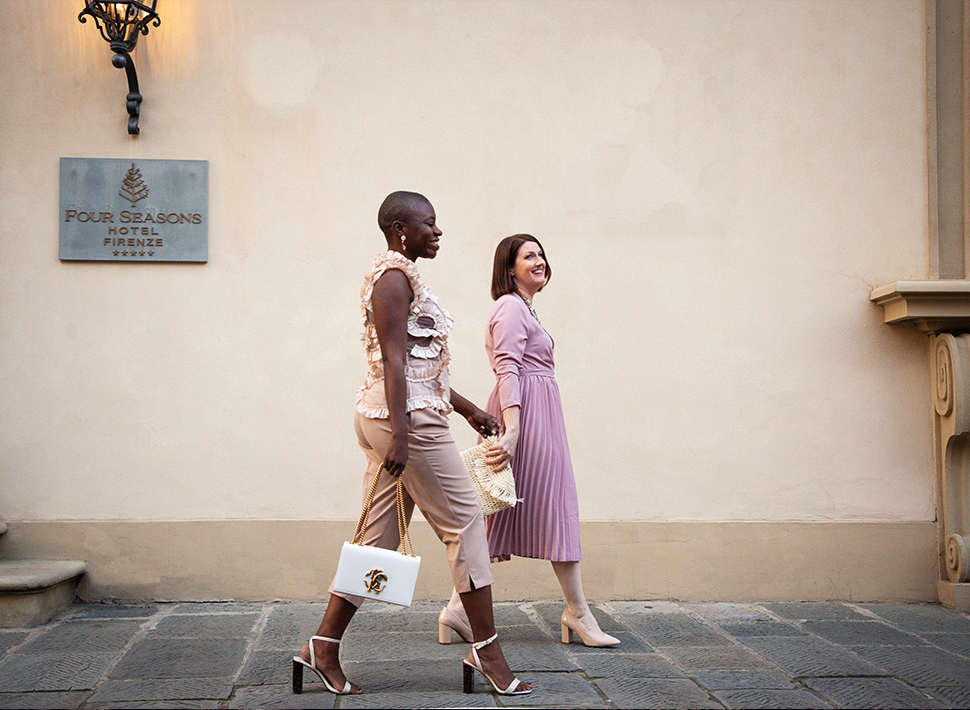 When I meet Jessica, the first black woman to visit all 195 U.N.-recognized countries and document her journey, I quickly learn two facts about her: 1) She is always cold; on set, we wrap her in Hotel bathrobes to shield her from breezes. 2) She is one of the warmest people I've ever encountered. Her travel quest, completed last October, was propelled largely by the connections she made and the conversations she had along the way. "Home isn't a place; it's people," she says. She has a gift for making each place she visits feel like home, for herself and for whoever she happens to meet.
As for her physical home, in Detroit, she tells me she's downsizing. After her record-breaking journey she moved into a smaller place, and she's now in the midst of scaling down her "stuff." She's giving away closetfuls of clothes, piles of luggage; I get the sense that her years of nimble travel have made her a pro at discarding baggage of all types, whether it's a suitcase or a notion of a place that no longer feels useful.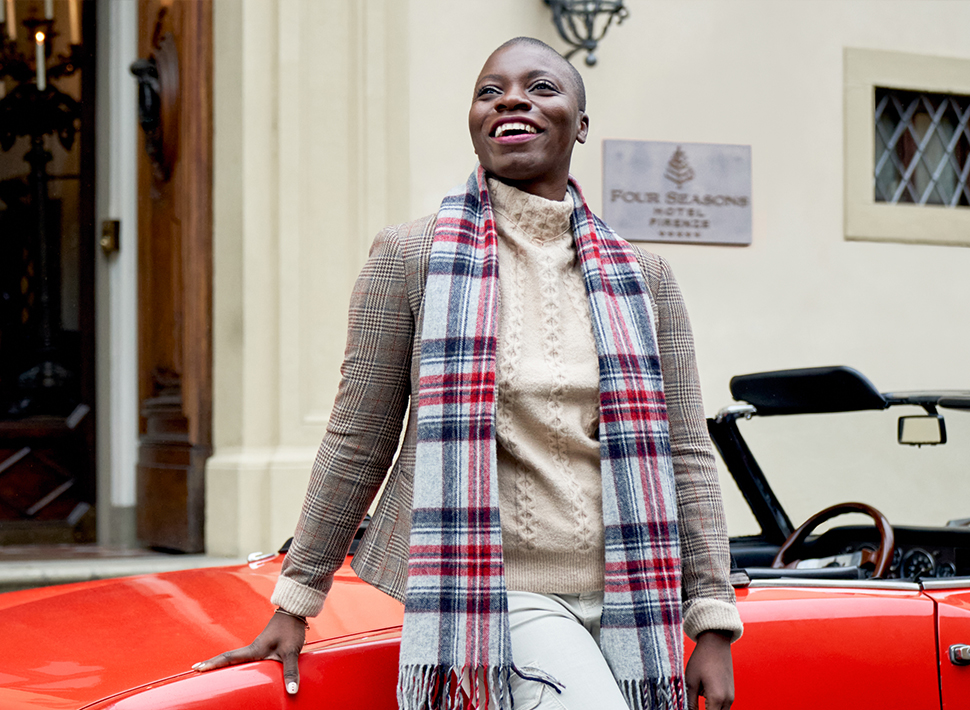 It seems to me that Jessica was born to travel. While the past few years have seen her briskest pace (136 countries just from 2017 to 2019), she's been travelling internationally since age 4. She's never experienced motion sickness or food poisoning. I'm behind on sleep, since I'm rarely able to nap on planes, trains or automobiles, and when I try to stifle a yawn, she laughs – saying that when she travels, she sleeps literally like a baby: "Strap me into my seat and start moving the vehicle and I'm out!" One of her goals, she says, is to help other travellers push past their perceived boundaries, in travel and in life.
How does she make meaningful connections with people she meets, I ask, when they don't share a common language? She was inspired, she says, by a taxi driver she met during her travels. As she always does, she struck up a conversation with him that ran much deeper than the weather. Discussing their travel experiences, he described his surprise when his wife had recently shared a long, happy afternoon with a small child on a beach, to the delight of the youngster's parents, during a vacation where she did not speak the local language. "I speak with my heart," she told her husband, "not with my mind." Ever since, Jessica has set out to do the same. It's a philosophy she'll bring to each moment of our visit in Florence.
Meeting Luca (and Giotto)
"Dai! Dai! Dai!" urges Luca Campinotti, encouraging his truffle-hunting dog to "Come on!" In response, the eager, curly haired (and, it must be noted, adorable) Giotto trots off into the woods, sniffing and crackling his way through the underbrush as Jessica and I watch. The Lagotto Romagnolo breed, says the AKC, is alert and intelligent, with an excellent nose and strong endurance – and is also, as demonstrated here in this forest in Forcoli, very attached to its owner. It's a bond Luca notes as crucial to the process, and one that reminds me of the border collies on my family's farm, so strongly connected to my father that when herding livestock they could translate the slightest change in his tone or expression into a fresh course of action.
During our truffle excursion – guided by Savini Tartufi, around an hour's drive from the Hotel – we're eager to see if Giotto will earn a treat from Luca, either "a little cookie" or "a big cookie," depending on his performance. In ancient Rome, Luca says, each truffle was thought to be a gift from the gods, the result of a lightning strike sent down from the heavens. Now, though, I can't help but feel as if each truffle is actually a gift from Giotto, since he (being no fool) has a taste for the tubers as well as for dog biscuits.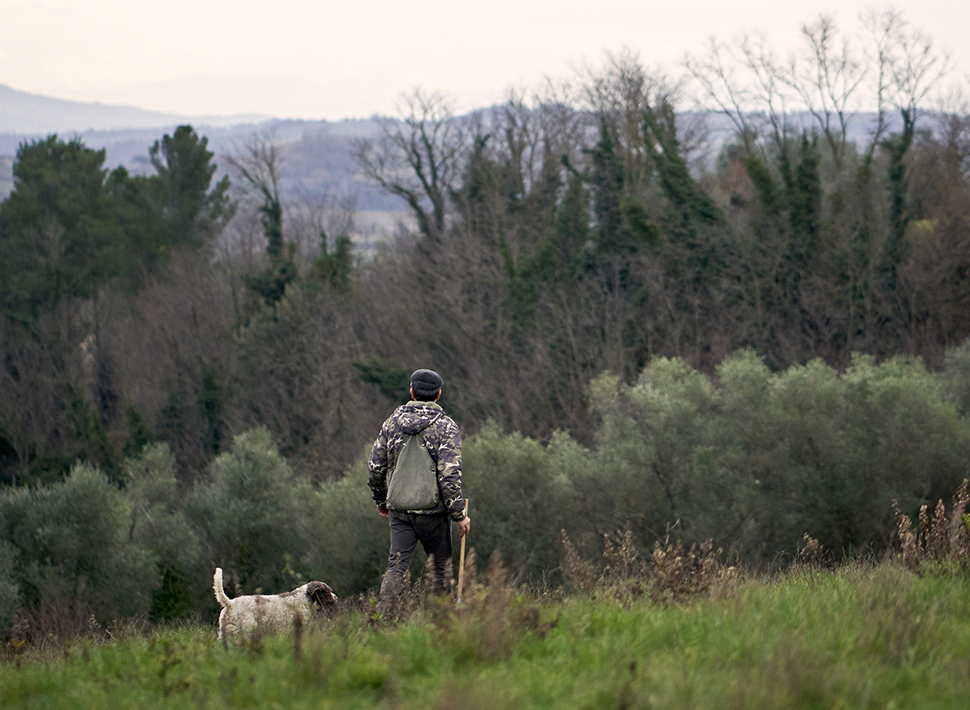 As we walk the land where the Savini family has gathered truffles for four generations – another parallel, I realize, with my family's farm back home – we watch for a sign. Giotto's father, says Luca, barked when he made a discovery; Giotto, however, wags his tail to flag a find. At the first hint of a wag, Luca is there, to finish the dog's digging (and pre-empt any sampling) with a tool specially designed to excavate the treasure.
The truffle smells delightfully of earth and garlic. It's a bianchetto, or "whitish," specimen, this not being the season for the ultimate prize of tartufi bianchi. But, as Luca reminds us, all truffles here were once considered mere "food for pigs" until the world discovered their charms. Truffles from the Piemonte region were first to claim attention – and then company patriarch Zelindo Savini proved that Tuscany, too, had the mild climate, the soil rich in mineral salts, to produce top-quality truffles. I envy those pigs, I think, as I inhale the aroma again.
Luca shows us a yellow capsule, which I recognize as the vessel that holds the toy in the centre of a chocolate Kinder Sorpresa egg. There are holes punched into it and truffle bits inside. It's hidden as an exercise for training the next generation, Luca says. Savini's Lagotto Romagnolo puppies, currently immersed in lessons with their trainer, may or may not turn out to have Giotto's talent, but if they develop half of his passion or Luca's – for the land, for the hunt, for the truffles – they'll be lucky dogs indeed.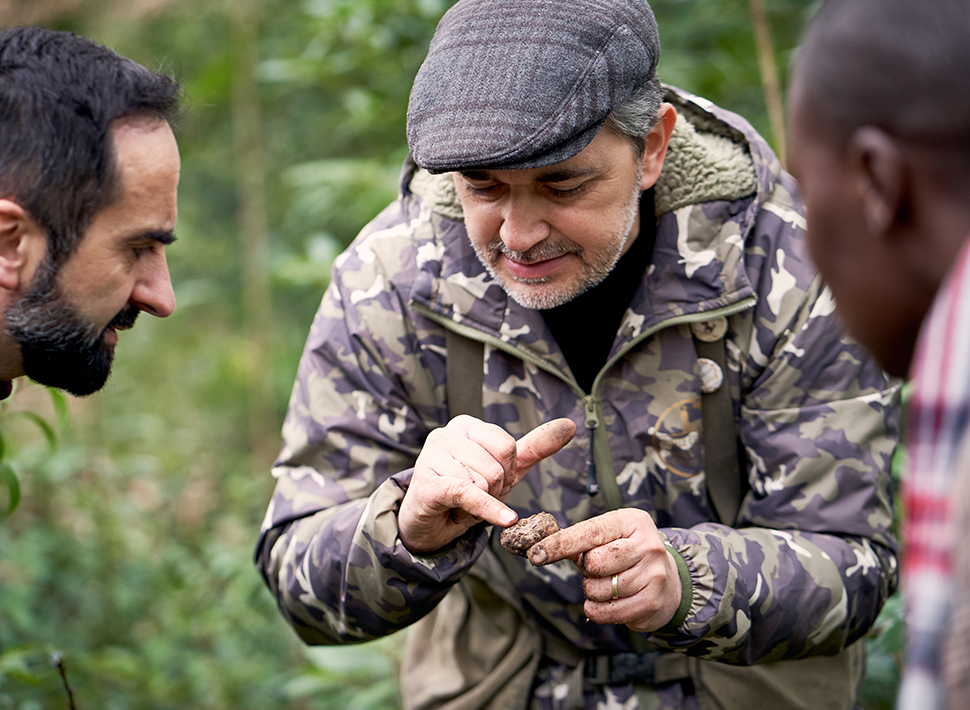 For Executive Chef Vito Mollica, the culinary master behind the Hotel's Michelin-starred Il Palagio, Luca and the Savini family are not just suppliers, but friends. As Jessica and I chat with him during our hunt with Giotto, we learn that Vito was born in Italy's Basilicata region, took the opportunity as a boy to go to cooking school, and soon fell in love with the kitchen. He went on to work with Four Seasons in Milan and Prague before arriving in Florence for the Hotel's opening in 2008; he's been sourcing truffles from Savini ever since.
It's fitting, I think, to feast on truffles at Four Seasons Hotel Firenze. During the Middle Ages, they were shunned, thought to be too exotic, too tempting an aberration in the soil, to be anything but the work of witchcraft. But then, in the 16th century, Florence's Caterina de' Medici helped repopularize the truffle; she's said to have arrived in France for her wedding to Henry II with truffles and other Italian produce in tow. By 1585, fellow Medicis were at home in the palazzo that is now the Hotel: first Alessandro de' Medici (who became Pope Leo XI), and then his sister Costanza.
The truffles Giotto found, then, join a long culinary tradition here. But first, we need to prepare them. For me, stepping into a kitchen, let alone the kitchen of a Michelin-starred restaurant, means stepping out of my comfort zone. But the vast majority of travellers (95%) say they're most likely to step out of their comfort zone while on vacation, according to a global survey commissioned by Four Seasons. So I decide to embrace this new adventure.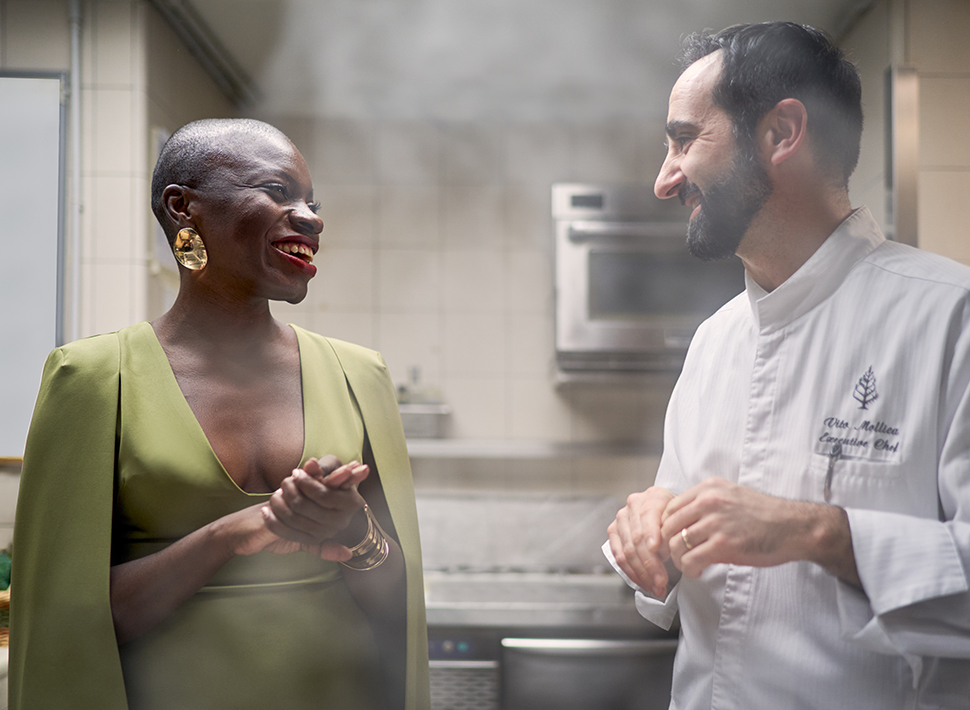 Back at the Hotel, when Chef Vito hands over the knife so Jessica and I can cut freshly made pasta into tagliatelle-size ribbons, I manage not to injure myself or others, and when he adds Romanesco broccoli purée and Jessica shaves one of our truffles over the top, the result is glorious, a testament to Vito's devotion to simplicity and quality. He then shows us how to prepare turbot with local vegetables, while another patient member of the kitchen team teaches us the tricks of risotto – topped with more heaps of shaved truffle.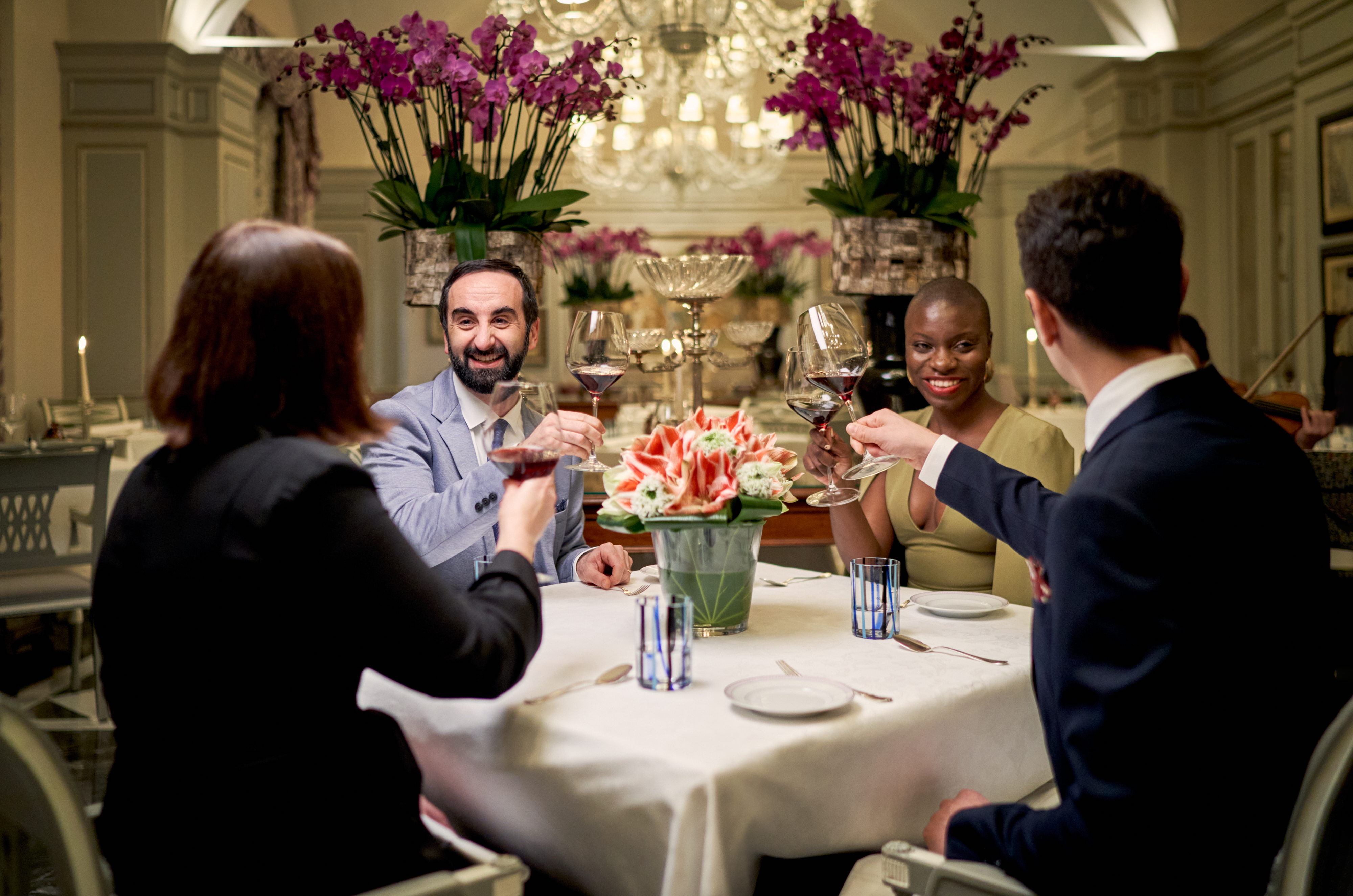 As I fork up bite after bite, I recall another fact I learned from the Four Seasons survey: More than half of travellers like to cook or eat new foods on vacation, and say the experience stays with them after their trip. I know I will never forget this dinner.
Food, like home, is about people. It's about the people who produce it (thank you, Luca and Giotto), the people who prepare it (thank you, Chef Vito) and the people who share it with us (thank you, Jessica). I was so grateful to meet you all, in this very special time and place. Grazie mille, Firenze. Ci vediamo presto.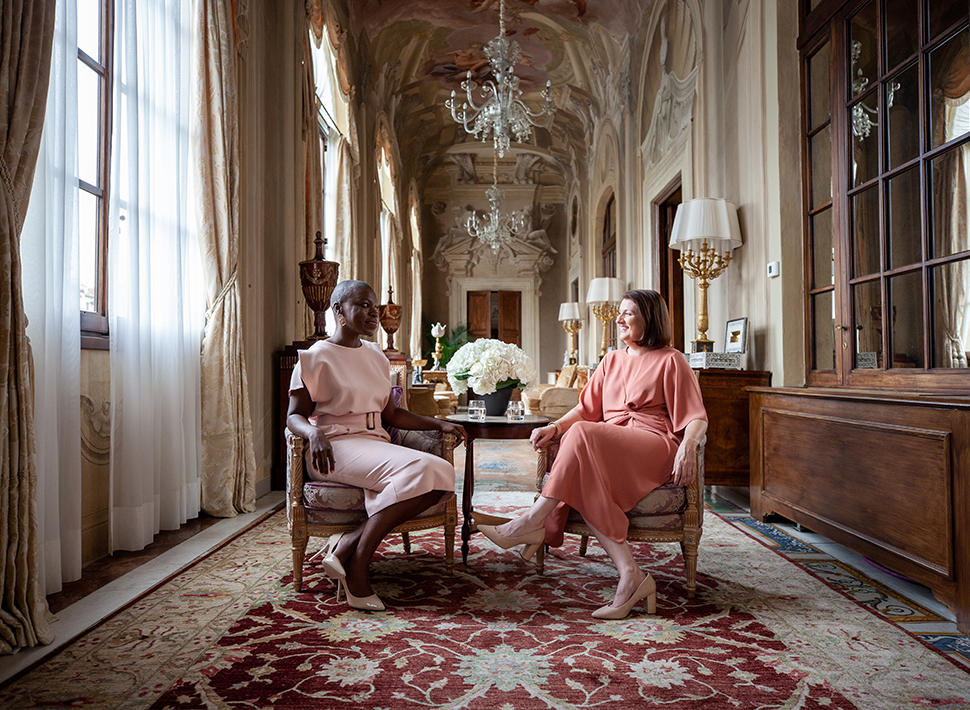 YOUR JOURNEY BEGINS HERE
What will you discover in Florence?