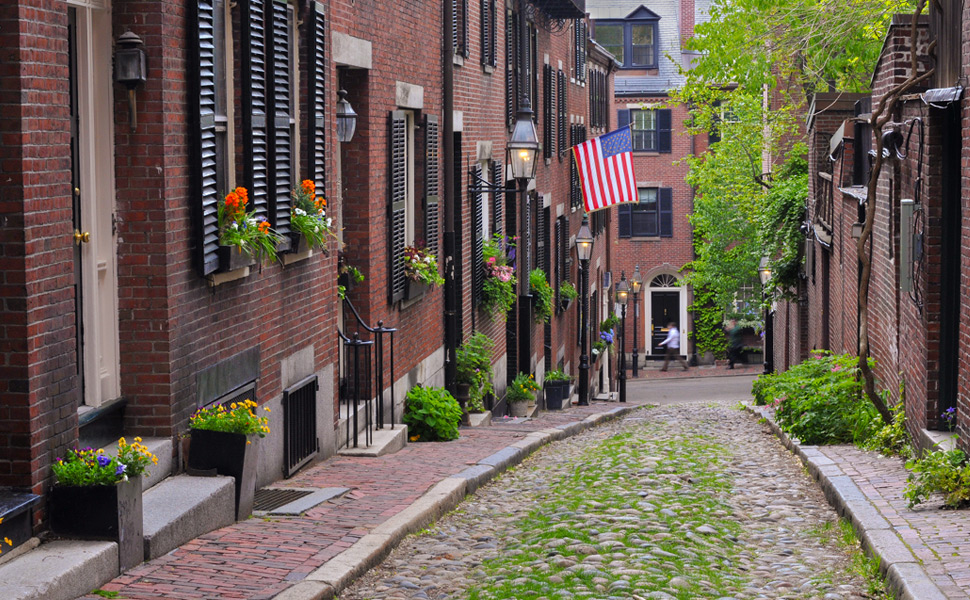 Wrapped in grey glass and rising 61 stories, One Dalton Street is Boston's third-tallest building. A fixture in the city's skyline and its Back Bay neighbourhood, the skyscraper is home to Four Seasons Hotel One Dalton Street, Boston.
Steps from traveller magnets like Symphony Hall, Copley Plaza, Newbury Street, the Reflecting Pool at Christian Science Plaza and Fenway Park, the Hotel itself is destined for Instagram fame. The exterior invites the eye, and so do its striking interior design elements, such as the beautiful abstract figure by Rainer Lagemann that magically floats above the curved swimming pool.
Four Seasons Hotel One Dalton Street, Boston
Renowned art consultant Kate Chertavian is responsible for the Hotel's multimillion-dollar art collection, including They Say, on a Really Hot Day, a mosaic by Boston-born artist Duke Riley depicting the local story of the Great Molasses Flood of 1919. Theground-floor atrium shows off shelves of books with Technicolor covers, a signature installation by British-Nigerian artist Yinka Shonibare.
The overall design, inside and out, captures Boston's youthful spirit, providing guests a fresh lens to view of one of America's oldest cities and even one of the world's most Instagrammable sports venues. The Back Bay Suites boast soaking tubs with Fenway views – a new de rigueur post for Red Sox fans. Here are seven more photo ops near the Hotel that capture the pulse of the city.
Citrus & Salt, an outrageously pink Mexican restaurant in the Back Bay, wouldn't be out of place in Miami. Pastel pink walls, flower-patterned floors, and pink and gold barstools evoke beach bungalows. Star chef Jason Santos says the look was actually inspired by the vibrant street art of Mexico City, as was the menu, which features grilled street corn, agave-glazed blue cornmeal biscuits, Tecate-poached shrimp and creative riffs on the margarita. "They are serious about their cocktails but laid-back in every other sense of the word," says Julia Casale, Assistant Director of Food & Beverage at Four Seasons Hotel One Dalton Street. Her go-to drink is the "I Didn't Text You, Tequila Did," made with 1800 Coconut tequila, Bauchant Orange liqueur, coconut purée, lime and salted caramel paleta 13. "Get there before the nearby offices close for the day to get a prime spot at the bar," she says.

Boston's Fenway neighbourhood will forever be connected to baseball, but it has also emerged as a cultural magnet, home to institutions like the Isabella Stewart Gardner Museum and the Museum of Fine Arts. The latter is one of the largest museums in the United States, with more than 400,000 pieces, and is a must-visit, says Keith Costanza, Residential Lead Concierge at Four Seasons One Dalton Street. One of the city's most intriguing public artworks occupies the lawn flanking the museum entrance: The pair of 10-foot bronze baby heads, cast by Madrid sculptor Antonio López Garcia, are meant to make passers-by ponder the relationship between parent and child.


There are dozens of Instagram moments within Fenway's Tiger Mama, a quick 15-minute walk from the Hotel. The Southeast Asian restaurant from Top Chef favourite Tiffani Faison feels like an urban jungle with its palm trees, living plant wall and ashwood chandeliers inspired by rice baskets. Our recommendation? The crispy pork ribs with charred ginger chilli sauce and Singapore Street Noodles. The Asian flavours pair perfectly with a menu of creative and highly photographable tiki drinks like the Aloha Catrina and Silk Sling. Be sure to ask the Concierge to make a reservation for you – this is a popular spot among Boston foodies.

Fountain by Nicole Eisenman
Celebrated contemporary artist Nicole Eisenman's large-scale outdoor installation, Fountain, was given a permanent home this spring in a new green space adjacent to the redeveloped 410 Park building in the Fenway neighbourhood. The installation features three figures bathing around a shallow pool of water, an homage to the times when fountains were a social hub for urbanites.

Located on the second floor of Four Seasons Hotel One Dalton Street, Boston, this internationally acclaimed Japanese restaurant has been a hit ever since its doors opened. Its three open kitchens include a lively sushi bar and robata grill that dish out pristine raw fish and tasty small plates like gin-dara no saikyo yaki (black cod marinated in Saikyo miso and wrapped in hoba leaf). In addition to 70 different sakes and rare Japanese whiskies, the bar pours theatrical smoked cocktails like the Burning History, a riff on the classic Penicillin with a hint of yuzu and a Japanese whisky base. 

Doors of this cult bakery, located just next to the Hotel, open at 6:30 am. "I try to get in around 7:45 am, before the morning rush," says Gabi Crimaldi, Director of Catering for Four Seasons Hotel One Dalton Street. Most people in the inevitable line are waiting to order one of owner and pastry chef Joanne Chang's legendary sticky buns. Her secret: the cinnamon brioche sticky buns are covered in a secret sticky caramel, lovingly called "goo," made from heavy cream, honey, brown sugar and butter. Don't underestimate the yogurt parfait, Crimaldi says: "I find myself obsessing over that honey-sweetened yogurt topped with granola and fresh fruit."

This glorious new food hall at 401 Park in Fenway features 15 outlets, with menus from some of the city's best-loved chefs – including Michael Schlow, Tim Cushman, Peter Ungár and Tony Maws – plus artisanal coffee and gelato shops. Strategize carefully as you eat your way through the 25,000-square-foot space.
YOUR JOURNEY BEGINS HERE
What will you discover in Boston?