To celebrate International Women's Day on March 8, we're highlighting a handful of the most inspiring Four Seasons team members. From a wine connoisseur in Lisbon who has been awarded the honour of Sommelier of the Year to an adventure guide in Los Cabos who connects guests more deeply with nature and local culture, these are the women who make the Four Seasons shine.
Here, they share their inspirations as well as the experiences they love in their destinations.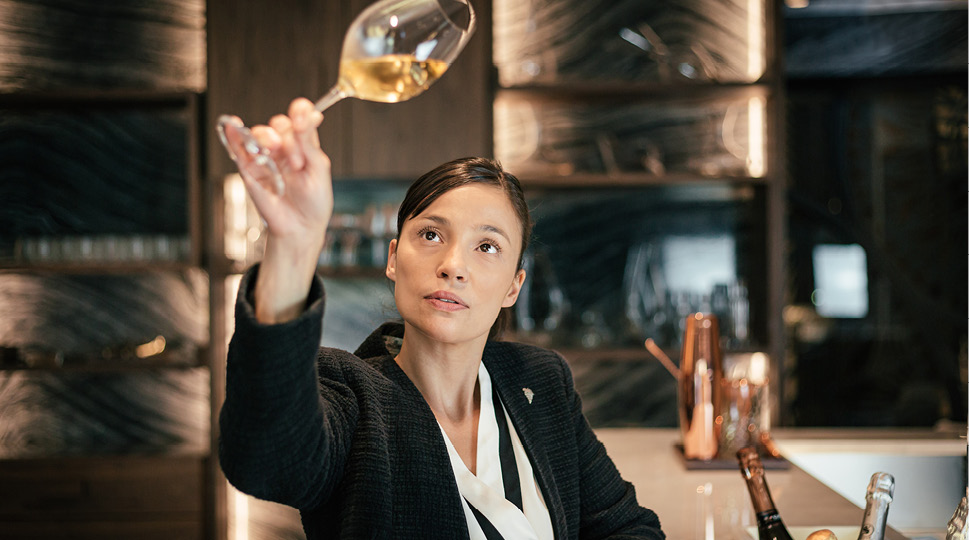 Gabriela Marques
Sommelier
Four Seasons Hotel Ritz Lisbon
"For many years, the sommelier was seen as a job for men," says Gabriela Marques, Sommelier at Four Seasons Hotel Ritz Lisbon. "The challenge for me was to keep up the pace with my advanced sommelier colleagues and let go of the social stigma that being a lady would be an issue to my career path. Work hard, study hard, play hard, be truly committed and you will get there fast." The hard work paid off. In 2018, Revista de Vinhos honoured Marques as Sommelier/Wine Director of the Year.
Early on in her hospitality career, Marques became fascinated with wine, devouring books and eventually signing up for a sommelier course at the School of Hospitality in Lisbon. As Sommelier of Four Seasons Hotel Ritz Lisbon's Varanda restaurant and its new restaurant, CURA, which specializes in organic and biodynamic wines, Marques strives to share her passion with guests.
"Wine is not only just something you drink. It is also a lifetime's work," she says. "It is a heritage that runs through time to your glass. It is a family that works from dusk till dawn until the harvest. It is love and friendship and stories that can be shared. It brings culture and places within, and most of all it brings people together."
Majo Magana
Adventure Concierge
Four Seasons Resort Los Cabos at Costa Palmas™
Majo Magana was studying industrial engineering in central Mexico, far from the beach and the hospitality world, when a friend invited her to spend summer working in the activities department at a hotel in San José del Cabo. "I fell in love with everything," she says. "But mostly, I fell in love with the connection I made with the guests. I couldn't believe I was getting paid to do all that."
When she joined the Costa Palmas community and Four Seasons family, she pursued a master's degree in hospitality management so that she could keep learning about the industry.
"When working with a guest, there is this incredibly meaningful exchange that happens," she says. "I have the honour of helping to shape these unforgettable moments. There is an exchange of culture and experience that leaves an indelible mark on the guest, but also on me. I've made friends and connections that have remained to this day."
"The Adventure Team is made up of tough, fit, strong swimmers, hikers, bikers, off-road drivers," Magana says.  "We know as much about mechanics and sports as we do about arts and crafts." Creativity and innovation are key to her team's success.
"We are located in an incredibly remote section of Baja, where resources are limited," she says. "There is deep trust in our local staff to highlight the uniqueness of the destination – going off the beaten path to sightsee or to safely encounter our endemic species. We find that balance between luxury and the local environment sets us apart from the rest of Cabo."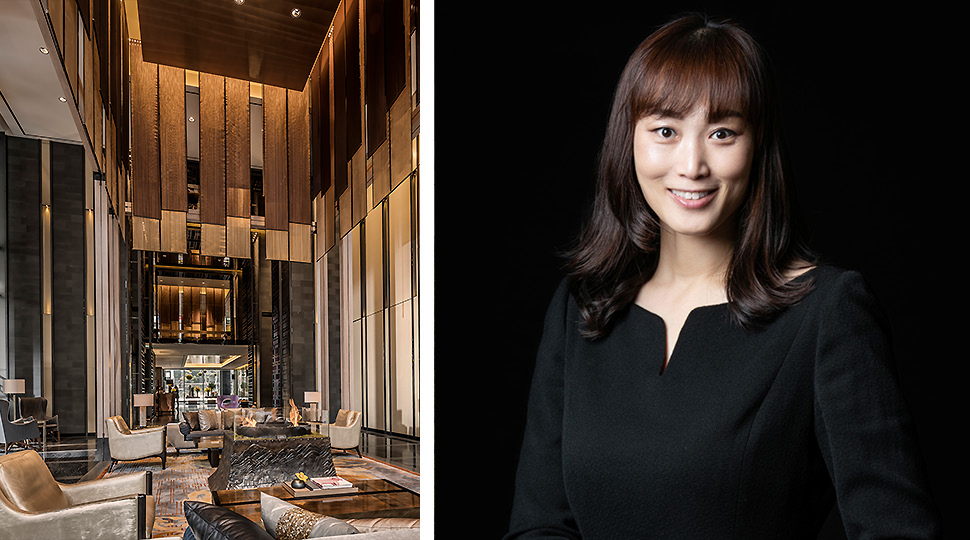 Goeun Lee
Director of People and Culture
Four Seasons Hotel Seoul
At the age of 5, Goeun Lee was serving her mother's friends coffee and tea. "I knew then that my calling was to make people I meet feel special," she says. Early on, Lee had dreams of becoming the first Korean and female General Manager in Korea. After earning a degree in Hotel, Restaurant and Travel Administration from the University of Massachusetts, Amherst, she took a job within the industry in Boston.
"My biggest challenge was confronting unconscious bias within myself – how I looked, how I spoke and how I thought," she says. "I started off living in fear that I wouldn't be as strong as native-speaking colleagues. It did not take long for me to realize that I set my limits and that boundaries don't exist. I realized guests remember me more when I let my personality shine through, genuinely being myself."
Lee returned to Korea and faced a new challenge: being a working mom with two daughters. "It was not easy to leave them behind to go to work and return home to spend endless nights taking care of family," she says. "I struggled with the guilt of not being there for the little moments. But I know they know I'm a happy mother and strong woman. If they feel a strong sense of identity in part due to me, I've conquered all challenges."
After serving as Four Seasons Hotel Seoul's Director of Rooms, Lee was recently promoted to the position of Director of People and Culture. "It has been very easy for me to blend in with the intuitive Four Seasons service mindset, as I am genuinely interested in meeting different people every day to make a difference, small or big, in their lives," she says.
"Four Seasons allowed me to be who I am, encouraged me to make intuitive and proactive decisions on my own to make guests and colleagues happy. True excellence and luxury – which embodies Four Seasons – comes only with constant evolution."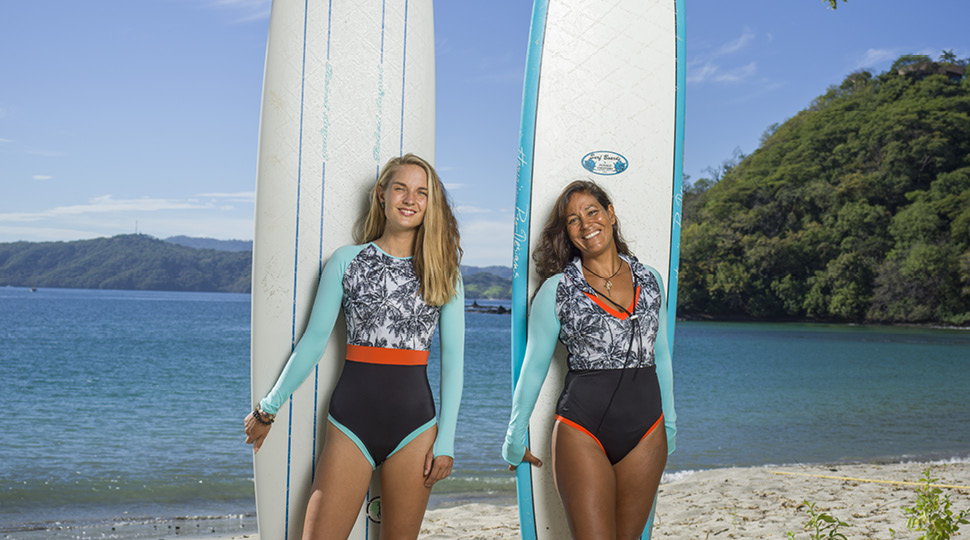 Andrea Diaz Coto and Hanna Storrosten
SurfX Instructors
Four Seasons Resort Costa Rica at Peninsula Papagayo
Originally from San José, Costa Rica, Andrea Diaz Coto remembers the first time she went surfing. "I was 16 years old and borrowed a friend's board," she recalls. "I immediately knew I wanted to move to the beach and live a simple life on the waves."
Diaz Coto has learned to let her surfing do the talking. "The first time I paddled out, one of the guys in the line-up asked what I was doing in the water," she says. "I now strive to out-paddle every man out there. My surfing has gained me recognition and respect in the line-up." After years travelling the world on the pro surf tour, she continues to devote her life to her passion as a surf instructor and guide.
Hanna Storrosten hails from Oslo, Norway, and jokes she didn't even know what surfing was until she tried it on a trip to Costa Rica at 19. "I quickly knew it was my calling, just from how alive it made me feel," she says. Storrosten postponed college for a year to surf in Costa Rica, then moved to southern California to pursue waves and a biology degree, and now is back in Costa Rica sharing her stoke with Four Seasons guests. "There are a lot of important life lessons from learning to ride waves," she says.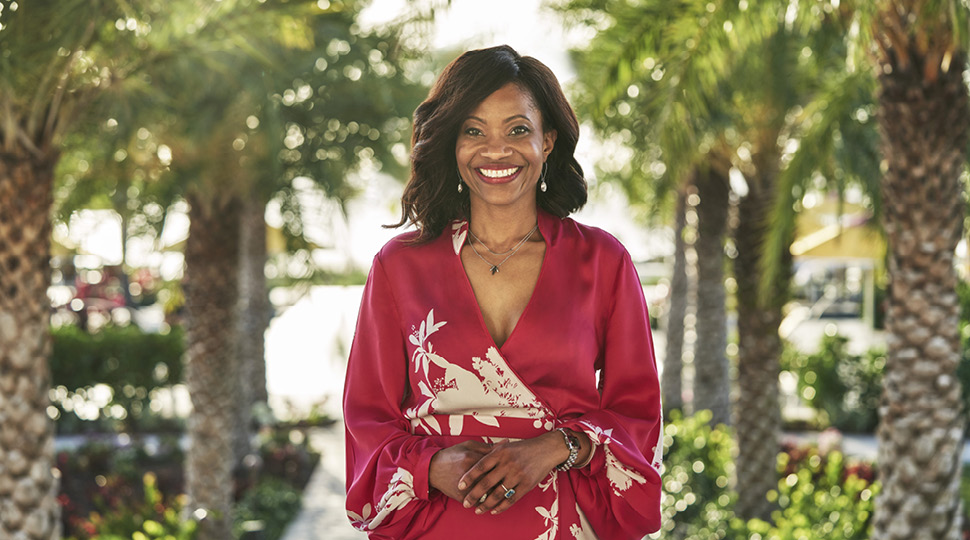 Yvette Thomas-Henry
Regional Vice President and General Manager
Four Seasons Resort Nevis, West Indies
The first African American female General Manager of Four Seasons Hotel Atlanta and Four Seasons Resort Nevis, and the first African American female Regional Vice President for the brand, Yvette Thomas-Henry has been breaking barriers throughout her 12-year career with Four Seasons.
Her secret to success: "Always make sure that you are changing the game," she says. "Take some risks, take some chances. Do things differently. Allow for the opportunity that someone else's idea is better than yours, and give them the freedom and the opportunity to run with it, and then give them the space to be supported and applauded for it.
"There is nothing like creating a space where employees feel empowered, where they feel supported, where they feel they have all the tools and all the support or resources around them to be their best, most creative selves. Leave a mark, a body of work that creates a legacy, that raises the bar. Use your voice and your position to engage, motivate and inspire others. Above all, be prepared to do the hard work, to make the tough calls, to lead with your heart and your head. Be a leader that others are inspired to follow."
Born in St. Thomas and raised in St. Croix, Thomas-Henry has held positions at Four Seasons properties in New York; Washington, DC; and Atlanta. She moved back to the Caribbean in 2020, on the heels of the final phase of a major enhancement at Four Seasons Resort Nevis. "I now had the maturity to appreciate the richness of the Caribbean life, the beauty of the culture and the people, as well as enjoy a slower pace that would give me and my husband more quality time together," she says. "I'm excited by the prospect of seeing how I can bring value to the property, especially being the company's only regional RVP of Caribbean descent."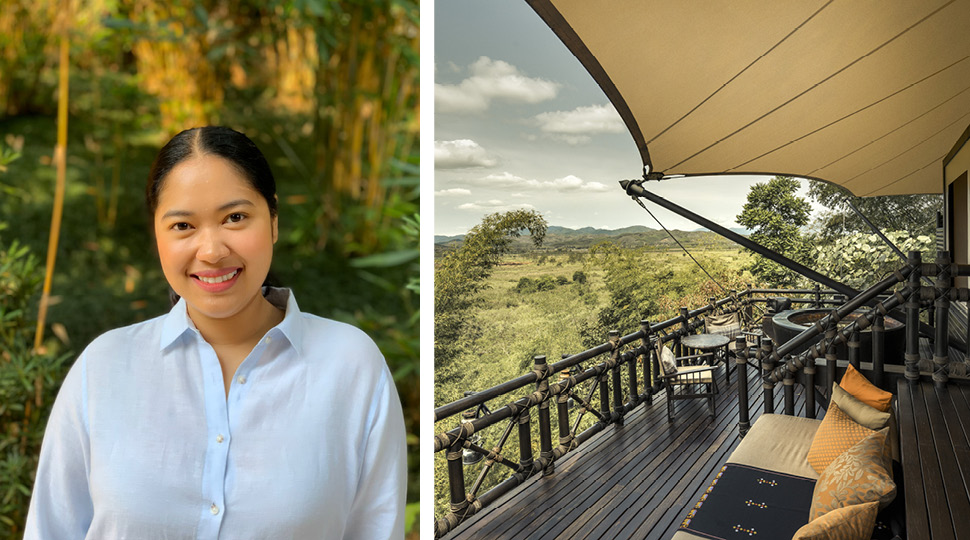 Naipaporn Panlamoke
Assistant Camp Manager
Four Seasons Tented Camp Golden Triangle
"I never knew how much I loved nature until I moved to Four Seasons Tented Camp Golden Triangle, Thailand," Naipaporn Panlamoke says. "I now try to be outdoors whenever possible, and because I work at an adventurous destination, I encourage myself to explore different places in northern Thailand, especially destinations within Chiang Rai. Every day is a new experience for me to learn, to grow."
As a little girl, Panlamoke dreamed of travelling and experiencing different cultures. "I have been doing that since I started my hospitality journey with Four Seasons in 2015," she says. Training and experiences in multiple roles, including inter-department learning and task force, helped her work her way up to her current role as Assistant Camp Manager. Her main duty, she says, is to ensure both the front- and back-of-house operations are running smoothly and that the team is in good spirits.
"I never set out to be a role model; however, I always perform my best," she says. "Hearing colleagues or other young women refer to me as a role model is one of the most valued moments of my career."
Shamim Salim
People and Culture Manager
Four Seasons Safari Lodge Serengeti
"I remember the day I arrived at the lodge – there were 20 team members waiting to welcome me," Shamim Salim says. "I've worked at four different companies and have never felt such a welcome. Four Seasons showed me there is nothing wrong with me being myself, and that my voice and ideas matter." Around 25 percent of the team at Four Seasons Safari Lodge Serengeti are from small villages near the lodge. Salim is largely responsible for supporting and developing local employees. "Every hotel wants someone with experience," she says. "Here we want to train you. We can teach you a job."
Growth inspires her. "I have a nothing-is-impossible mentality," she says. "I have seen a colleague who started as a steward to chef de partie aim for a higher position. Tools and training are essential for growth, but I know for me, I've also been largely influenced by the people around me."
YOUR JOURNEY BEGINS HERE
Where will you discover next?