Rolling desert dunes, vast skies and an ever-shifting landscape – this is the Arabian desert and home to the Bedouins. Rather than a place to be lost, it was – and is – a place to be found. Using the stars and constellations as a guide, the night skies became a map for these ancient people who were able to travel miles, crossing land and oceans to reach new destinations. Today, Dubai is like its desert, with its ever-changing cityscape. Let yourself be guided through the whirl of the city to new experiences at Four Seasons – and spend a heartfelt Ramadan with us.
Four Seasons Hotel Dubai International Finance Centre
Navigate your way through the hustle and bustle of downtown Dubai's busy financial centre, and you'll soon arrive upon our oasis. Step inside and find your moments of peace here –whether over iftar or suhoor – within the walls of our city sanctuary.
Highlights at Dubai DIFC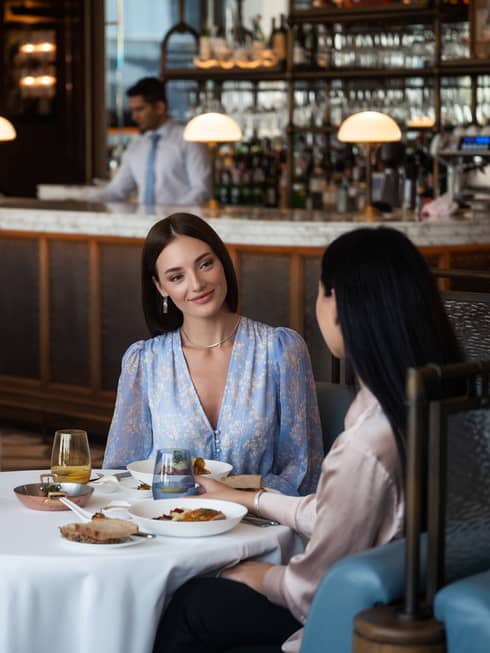 Seek Creativity at Mina Brasserie
Iftar, Sunset – 8:00 pm
Follow the crescent moon and stars, and you'll soon find award-winning Chef Michael Mina's team busy innovating in the kitchen, crafting dishes such as hummus foie gras and date tiramisu. AED 295 per person, including a starter, main and dessert with Ramadan beverages; à la carte specials are also available.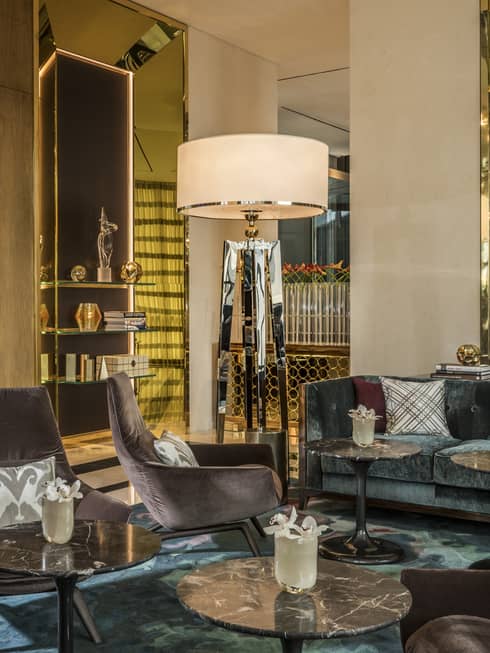 Seek Peace at Penrose Lounge
Suhoor, 8:00 pm – 1:30 am
Make your way to the cosy corners of Penrose Lounge and relax into soft sofas and comfortable armchairs, where you can savour suhoor featuring Arabian favourites such as mixed mezes and sweet umm ali while sipping coffee, all in tranquil surroundings. Suhoor selection AED 345 per couple.
Four Seasons Resort Dubai at Jumeriah Beach
As the Bedouins of old followed the stars to the Arabian Gulf, you'll find us next to the beach in an idyllic setting. Once here, make yourself at home and join us for experiences such as our family-focused Suq buffet or dining in the refined elegance of Shai Salon.
Highlights at Dubai Jumeirah Beach
Seek Your Tribe at Suq
Iftar, Sunset – 10:00 pm
Arrive at Suq and feel instantly transported to the heart of Arabian tradition. Under the twinkling lights, you'll find a traditionally decorated space that brings Ramadan to life, a three-piece band from Egypt playing traditional music, and an imaginative buffet with offerings such as a Bachir ice cream station, a halwa station, a baklava station and a new Emirates corner to celebrate local cuisine such as chicken Mandi, deyay nashef and saffron rice.
Iftar Buffet

AED 455 per person, including buffet, house water, Ramadan juices, Arabian coffee and Moroccan tea

AED 225 per child ages 6–12; Children under age 6 dine with our compliments

Group Bookings (15 to 30 guests) available on weekdays and weekends at AED 400 per person

Shisha available on the terrace for both iftar and suhoor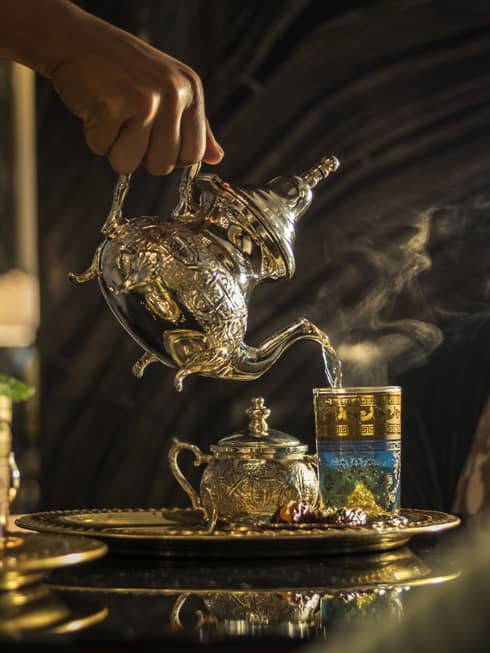 Seek Shared Experiences at Shai Salon
Make elegance your destination this Ramadan at Shai Salon, serving an iftar set menu and a suhoor à la carte menu that invite you to soak up the classical ambience and décor while sharing new dining experiences with friends and family.
Iftar Set Menu

Sunset to 9:00 pm

AED 300 per person, including soup, cold and hot mezes, main and dessert, plus house water and Ramadan juices (minimum of two people)

AED 150 per child ages 6–12; Children under age 6 dine with our compliments

Suhoor À La Carte Menu

Daily from 9:00 pm onward
The Pearl Spa and Wellness
Find the ultimate space for reflection this holy month when you step into The Pearl Spa and Wellness, where exquisite treatments are curated specifically for Ramadan.
Seek Health and Happiness

Bring your body back to balance with our signature full-body exfoliation, designed to purify the skin and stimulate circulation. Allow your mind to relax and feel all your tensions release as you enjoy a nourishing full-body massage tailored to your needs.

AED 1,090, including a 90-minute body renewal comprising of a full-body scrub followed by our signature massage

Includes an exclusive wellness gift for each guest

Signature Fragrances

Discover our UAE-crafted signature fragrances. Experience the healing power of black tea and myrrh at The Pearl Spa and Wellness DIFC and the grounding benefits of frangipani, neroli and lavender at The Pearl Spa and Wellness Jumeirah.