Unveil the grandeur of Russian history and culture. Take the legendary route connecting two capitals: vibrant Moscow, with its iconic sights, and St. Petersburg, with its imperial heritage reflected in impressive architecture. Capture myriads of precious moments and postcard views in your pictures and memories on your Russian road trip.
Distance & Travel Time
Distance

705 km (438 miles)

Travel Time

8 hours by car
Russian Village Experience

Spend half a day visiting a village in the countryside, where a Russian family will introduce you to their local traditions: hospitality, festivals, cuisine and everyday life. Get acquainted with a typical country house – and its heart, the Russian stove. Attend a party with traditional home-made food and entertainment such as singing folk songs with a button accordion player and telling Russian fairy tales.

6 minutes from Moscow
More Experiences Along the Way
Venture to the restored Krestetskaya Strochka factory in the Novgorod region to learn how its embroidery traditions are kept today. The traditional products are often presented at diplomatic receptions, and they have adorned the wedding dresses of Russian celebrities. Admire the beautiful stitching up close, and have our Concierge team at Four Seasons Hotel Lion Palace arrange a meeting with an owner and craftsperson.

5 hours 30 minutes from Moscow / 3 hours 15 minutes from St. Petersburg

Admire the natural beauty of this national park, a UNESCO Biosphere Reserve with 76 lakes, headed by Lake Seliger and Lake Valdayskoye. Take a private tour of the Valday Iversky Monastery, built in the 17th century, a significant cultural centre that still functions as a monastery today. With arrangements by the Concierge team, take part in excursions and visit holy springs.

4 hours 50 minutes from Moscow / 3 hours 55 minutes from St. Petersburg

Stop in the town famous for its folk craft of goldwork embroidery and its architectural monuments of the 17th to 19th centuries. Visit the town's architectural gem, the monastery of  Saints Boris and Gleb, built in 1796 by the architect Nikolai Alexandrovich Lvov – the Russian Leonardo da Vinci. And be sure to taste a traditional dish of local origin, the buttery Pozharsky cutlet. 

3 hours from Moscow / 5 hours 10 minutes from St. Petersburg

Stop to check out one of the biggest Christmas tree decoration museums. Here, you will learn the history and trends, and you can create your own decoration to take home.

1 hour 20 minutes from Moscow / 6 hours 50 minutes from St. Petersburg
Private Visit and Art Class at St Basil's Cathedral

Become the only guests of St Basil's Cathedral in Red Square during hours closed to official visits and discover the secrets of this UNESCO World Heritage Site, which celebrates its 460th anniversary in 2021. Enter the Cathedral's bell tower to see the curves of its multicoloured domes, and listen to music performed by one of the hereditary bell ringers. Our Concierge can enrich your experience with a private art class with a Russian painter inside one of the Cathedral's churches – traditionally unavailable to tourists.

Backstage Tour of the Bolshoi Theatre

Your visit to Moscow wouldn't be complete without a stop at the Bolshoi Theatre. Its history dates back to the late 18th century. Step behind the scenes for an exclusive tour of the artists' dressing rooms and the stage where the world's top ballet dancers have performed.

Fashion Meets Russian Teatime

Take part in a workshop at the showroom of renowned designer Ulyana Sergeenko, who works with village artisans, ateliers and big makers. Learn to make a piece of art with local character, weave traditional lace and draw patterns on imperial porcelain while enjoying a traditional Russian tea ceremony.
Learn More About Moscow From Our Team
Local Gems That Can't Be Missed

Insiders from Four Seasons Hotel Moscow share their favourite spots to eat, drink and play around the Hotel.

Read More

It's not the things you take with you that define your journey; it's the experiences you have and the memories you bring home. Explore our Hotel Manager's six sensory "souvenirs."

Read More
We are delighted to provide our guests with an opportunity to rediscover Russia through the lens of historic legacy mixed with contemporary trends, and enjoy unexpected routes we have carefully selected.

Gleb Kryuchkov

Chef Concierge
Four Seasons Hotel Moscow
Just steps away from the Kremlin and Red Square, Four Seasons Hotel Moscow offers breathtaking views of the colourful domes and golden spires of St Basil's Cathedral. Experience Old World glamour with a contemporary spin at this modern rendition of the legendary 1930s-era Hotel Moskva that puts destination dining,  warm personalized service and a chic day spa in the spotlight.
offer valid for:

Oct 20 2021 – Dec 31 2022

Reservation must be made at least 7 days in advance
included
Up to 20% off our Room Rate
more details
Sit down for a Russian caviar degustation at the Tea Lounge, where you can savour the creamy textures of seven variations, served with traditional condiments. Better yet? Take the experience a step further with a vodka tasting.

Ballet Class at the Mariinsky Theatre

Opened in 1860, the Mariinsky Theatre has seen the premieres of many opera and ballet masterpieces. Four Seasons Hotel Lion Palace St. Petersburg has exclusive access to Mariinsky's backstage and rehearsal rooms, where we can arrange a private ballet class for you with the theatre's dancers.

Private Access to the State Hermitage

A proud sponsor of the State Hermitage, our Hotel has exclusive before- and after-hours access to the main building and can arrange private tours with the curator. Stroll through the Treasure Gallery and admire the astounding peacock clock with a glass of Champagne when other visitors have gone.

Get to Know St. Petersburg With Four Seasons
Our unique guest experiences allow visitors to truly get to know the royal spirit, history and beauty of St. Petersburg.

Olga Kachalova

Chef Concierge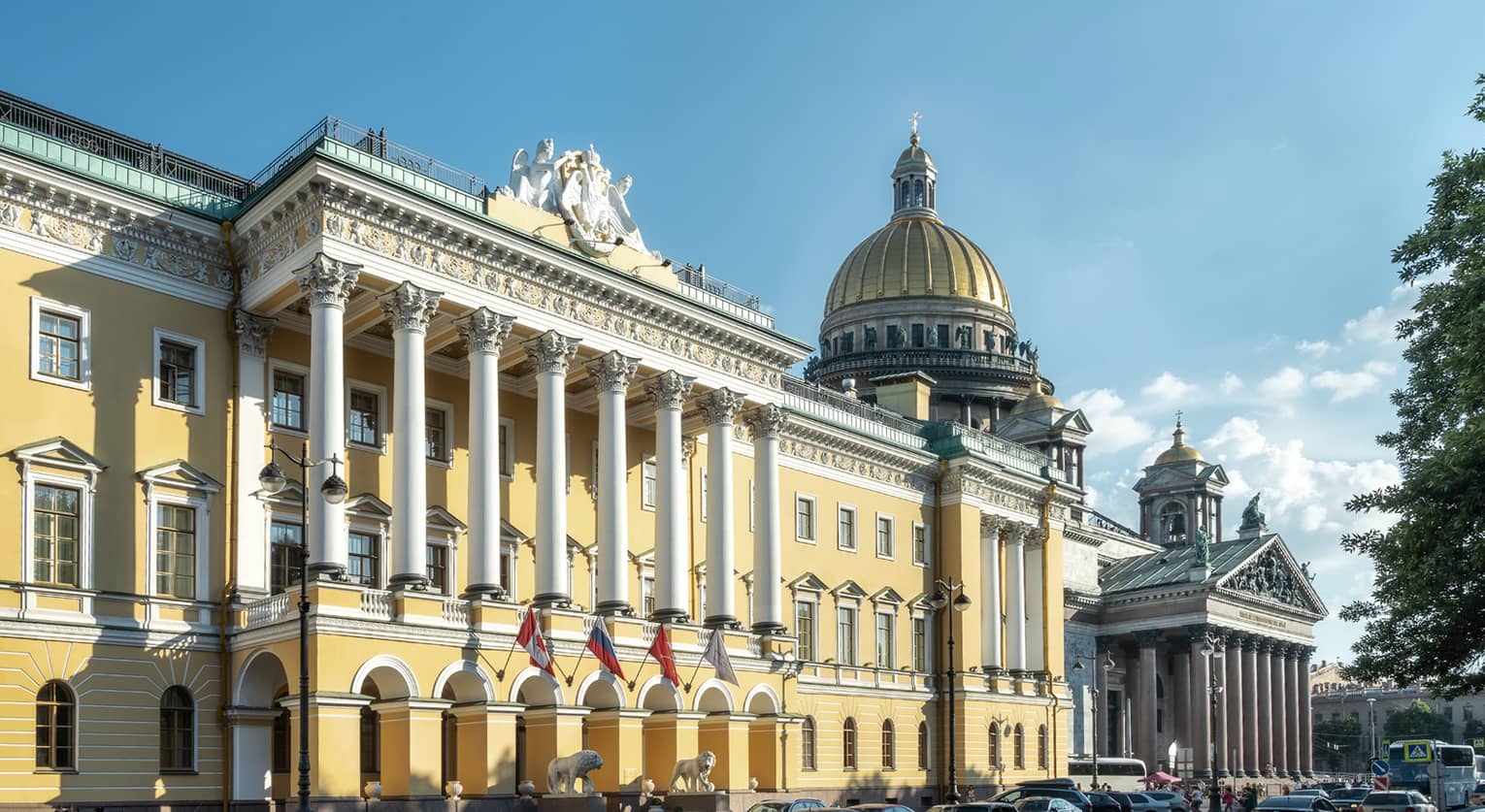 Four Seasons Hotel Lion Palace St. Petersburg
Our Hotel, a 19th-century palace restored to its original glory, stands at the heart of the city culture. Our Concierge team, headed by Chef Concierge Olga Kachalova, will open secret doors to the local culture and life for you.
offer valid for:

Oct 20 2021 – Dec 31 2022

Reservation must be made at least 7 days in advance
included
Up to 20% off our Room Rate
more details
Inspiration From Fellow Travellers
@mlevchuk

@elias.fegh
Ready to take the scenic route?
Reserve your stay at Four Seasons and start planning your road trip today.