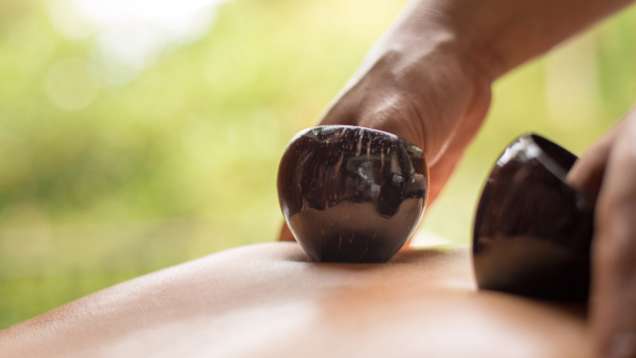 EARTH ENERGY FOUR HANDS
Enjoy the bliss of soul-deep relaxation with this rhythmic crystal massage, performed by two therapists.
The use of warm crystals removes negative energies, while flowing strokes with healing oils balance the body. Both therapists' movements are synchronized with each other, giving you a magical dance-like massage experience. Alongside, the placement of crystals on the body boosts your good energies.
KALA COCONUT
Continue your love affair with coconuts with this one-of-a-kind massage featuring coconut oil and Kala – the Thai word for shell.
Feel the tension seep away as smooth coconut shells are used to gently knead your muscles. Warm streams of fragrant coconut oil nurture the skin, while flowing strokes soothe the entire body. The homemade massage oil is produced from fresh local coconuts, brimming with the natural goodness of Samui island.
SAMUI FUSION
Experience the best of both worlds with this heavenly combination of Thai stretching and oil massage, created by our very own spa team.
Dynamic movements and rhythmic stretches awaken all the muscles in your body and get the blood flowing, while a massage with essential oils soothes and refreshes. Meanwhile, an application of fresh ginger paste draws out excess heat and energizes your spine and shoulders.
SECRET GARDEN
Soak in the healing powers of native herbs with this classic Thai massage, made even better with our secret twist.
A blend of acupressure and warm compresses eases lingering aches and tight muscles. Each compress is filled with a unique mix of medicinal plants and spices – tamarind leaves, turmeric, lemongrass and more. Finally, a full body oil massage eliminates any remaining stress.
THAI FOOT REFLEXOLOGY
Pamper your feet and reset your entire system with this ancient Thai massage, enhanced by warm poultices.
With a therapeutic focus, this treatment works on up to 62 reflexology points, which are linked to different organs in the body. The massage releases blocked energies and balances overall health, while herbal poultices soothe your tired legs. Specific concerns like lower back pain or migraines can also be addressed by your therapist.
Note: Prices and treatments are subject to change without notice. Prices are subject to 10% service charge and 7% government tax.