A selection of dainty confections – displayed like expensive jewels in our Tiffany-blue boutique sweet shoppe – are coveted creations here in Jakarta and make excellent gifts for loved ones (or yourself).
HOURS
Open Daily

11:00 am – 8:00 pm
Signature Dish
Smooth chocolate sponge, chocolate mousse and chocolate cremoux on a crunchy feuillette base
Pastry is a science; it's technical and precise. It's the art of perfection – nothing should go in front of a guest if we don't love it ourselves.

Lorenzo Sollecito

Executive Pastry Chef
The Team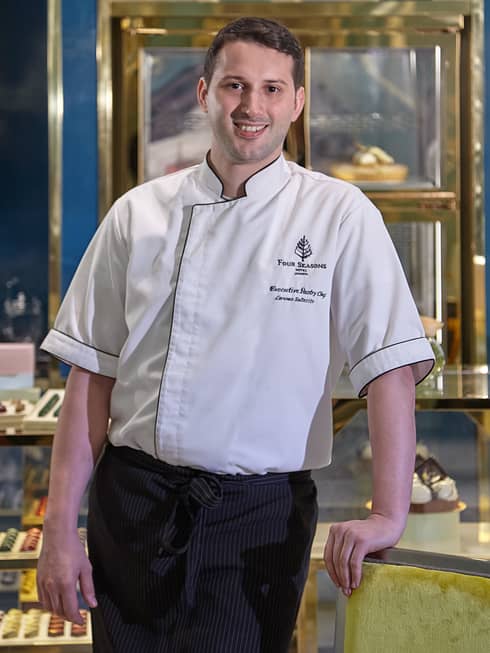 Executive Pastry Chef Lorenzo Sollecito
A native of Mezzocorona in northeast Italy, Sollecito credits his late grandmother for inspiring his foray into the pastry world. His first culinary memories revolve around helping his grandmother bake apple strudel and biscuits when he was as young as 5 years old. After working his way up from a commis chef to chef de partie in the kitchens of several European hotels and restaurants, it was meeting his mentor, Executive Pastry Chef Domenico di Clemente, at the Michelin-starred Il Palagio at Four Seasons Hotel Firenze that made him realize his heart lie firmly with pastry.
"I hope my desserts not only fill bellies but also bring happiness – even if it's just for a few minutes."
Events
Daily 10:00 am – 8:00 pm. Available exclusively during Jakarta Dessert Week (October 7 – 20)

Flavor of the month

In conjunction with Jakarta Dessert Week 2019, Executive Pastry Chef Lorenzo Sollecito and the team has curated one delectable dessert inspired by the Icon of Pop Culture - Andy Warhol. Named after the artist, the Andy Warhol Salted Caramel Pop Corn Mousse Cube, it is as surprising and eclectic as its muse. A must try!

3:00 pm – 5:00 pm, October 19

Dessert & Cocktail Pairing

Who says desserts and cocktails can't go together? Join a fun afternoon at the gorgeous La Patisserie, for a three course set of exquisite Lorenzo Sollecito desserts paired with hand-crafted cocktails by Tariq Widarso, a cocktail enthusiast and home mixologist behind the all-things-mixology instagram page @sip_sensei.