My Four Seasons
Rehabilitating Abused Elephants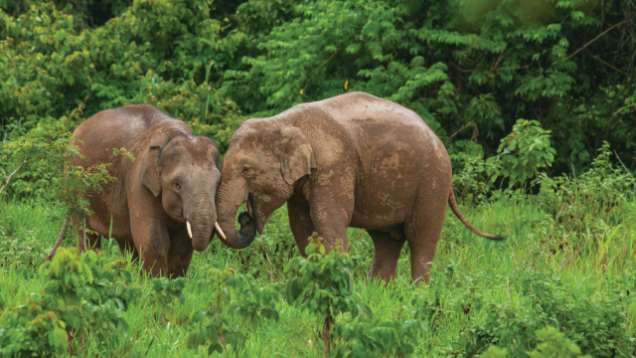 Anyone who visits Thailand quickly learns that Thais hold a special place in their hearts for elephants. Famous symbols of the country, elephants were once important in battle, and the Thai government regularly used them to remove illegal stores of valuable teak logs that poachers kept in remote areas. Trained as calves starting at age four, these labouring elephants learned how to work with their mahout (rider) mounting and dismounting them. By the time they were 10, they were ready to become full-fledged beasts of burden, kneeling down and picking up the logs, then rolling and dragging them out of the forest. They'd haul 2 tons of wood half a mile without a break. Finally, at the age of 60, they'd be retired and set free to live out their last 10 years or more in the wild.

To this day, elephants are still associated with royalty and play an important role in Thai culture. They are presented at national festivals throughout the country and are admired for their intelligent and gentle natures.

But in spite of this admiration, many of the country's elephants have been taken from the wild and mistreated and neglected. They are brought to big cities such as Bangkok and forced to wander the streets, where they are subjected to broken pavement, unclean air and polluted gutters.

At our camp, guests are encouraged to connect with the elephants in many ways, all while learning to respect these amazing creatures.
As part of our mission to provide healthcare, nourishment, exercise and veterinary care to rescued elephants, we support our neighbouring foundation, the Golden Triangle Asian Elephant Foundation. Our activities are designed under the advice of the world's best vets and elephant scientists both local and under the Asian Captive Elephant Working Group to be non-harmful and to provide enrichment to the elephants. By doing this we also show their mahouts – part of the larger traditional community – that good living can be made without overworking or otherwise harming the elephants.
Since it was established in 2006, the Golden Triangle Asian Elephant Foundation has successfully saved 32 elephants, accompanied by their entire mahout families. As John Roberts, the foundation's director and founder, explains, "Logging with elephants is now outdated, which leaves man and beast jobless, except for what the tourist industry can offer. We quickly learned that if we bought the elephant from his mahout, the money only enabled the man to go and get another animal to continue in the only occupation he has ever known. We decided to offer a package deal where the mahout and his elephant take up residence in our reserve."

It's easy to fall in love with these calm and noble creatures. When treated with respect, elephants are good-natured and sociable, and interacting with them is a satisfying experience. Some visitors become so attached to their 3-ton friends that they extend their stay in Thailand, proving that when treated properly, elephants can be man's best friends.