Make Time to Connect – 20% Off
Enjoy 20% off our Room Rate with the ability to move your stay date, at no charge, should...
Destination
Directions & Maps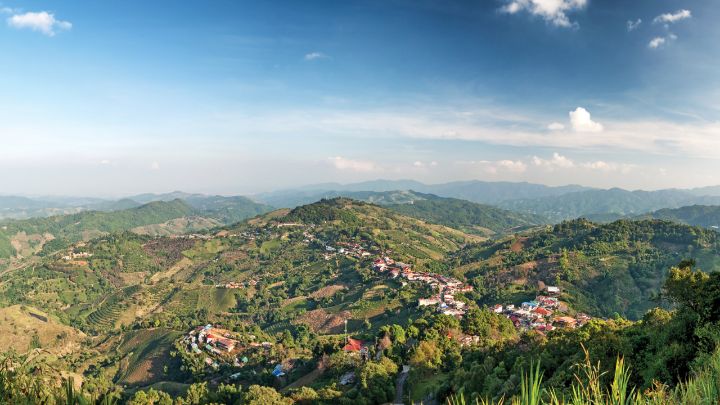 Transportation
By air
Chiang Rai is a 75-minute flight from Bangkok International Airport. Chiang Rai International Airport (CEI) is located 8 kilometres (5 miles) from downtown Chiang Rai, about 65 kilometres (40 miles) south of Four Seasons Tented Camp Golden Triangle. Thai Airways, Orient Thai Airlines, Air Asia operates flights from Bangkok to Chiang Rai daily.
By road from Chiang Mai
The four-hour journey between Chiang Mai and Four Seasons Tented Camp Golden Triangle is one of the most scenic drives in Thailand, passing dozens of hill-tribe villages. Some villages are small and far from the main road, others have paved streets and electricity, but all are unique and well worth the visit. Your Camp Host will be pleased to arrange transportation on request.
Services provided by Four Seasons
Private airport transfers to and from Four Seasons Resort Chiang Mai to and from Four Seasons Tented Camp Golden Triangle is available and may be arranged at the time of reservation or through our Concierge.
THB 9,300 subject to 7% government tax per way per car with maximum 3 persons.

THB 9,900 subject to 7% government tax per way per car with maximum of 6 persons.
Private helicopter charters are available to connect Four Seasons Resort Chiang Mai and Four Seasons Tented Camp Golden Triangle. Along the way, these rides offer spectacular views of the northern Thai countryside. Board the helicopter in Mae Rim village, a two-minute drive from the Resort. Flying time is approximately one hour. After arriving at the heliport close to the banks of the Mekong River, board a private longtail boat for the last leg of the journey to the Tented Camp (approximately 15 minutes).
Helicopter service is also available from Four Seasons Tented Camp Golden Triangle to Four Seasons Resort Chiang Mai. For more information on Advance Aviation helicopter services between the two resorts, please contact the Resort directly.

Quick Reference
Time zone
GMT +7 hours
Language(s) spoken
Thai
Electrical system
Local voltage is 220 to 240 volts AC. Adapters available; please request through your Camp Host.
Directions from Chiang Rai International Airport (CEI)
View directions for your mobile device.
Note: Google Maps directions may differ from the Resort's suggested route.
Travel time 1.5 hours
Distance 85 kilometres, 53 miles
The arrival experience
Located in the heart of the Golden Triangle on elevated grounds along a hillside, the Camp commands majestic views of the Thai jungle, Burma across the Ruak River and mountains of Laos in the northeast. The Camp is accessible by boat during the day time, and alternatively 5-minute by car. From the moment of your arrival at Chiang Rai, a magical journey begins.
Guests arriving by commercial or private aircraft at Chiang Rai International Airport are greeted by Four Seasons guides who escort them to a waiting air-conditioned vehicle, where they are offered cold face towels and chilled mineral water.

The 75-minute drive takes you through a village and across rice fields, ending at the West Post, which is a small dock and sala (covered veranda).

There, the Four Seasons Camp Host greets guests, and then escorts them on the second part of their journey.

Guests may be taken on a magical 10-minute ride downriver, lounging on cushions in a traditional long tail boat while the Camp Host introduces them to the area with a brief history of the Golden Triangle, highlights of the short boat ride and other interesting local snippets. Alternatively, they may arrive by four-wheel-drive vehicle after a short trek through the jungle.

At the camp pier, guests are welcomed by the Camp Manager, offered refreshments, checked in and introduced to the Camp.

Guests take a stroll to their tents along a verdant, fern-abundant pathway with dramatic views of the jungle, river, and Burma beyond, just across the river.