Room Rate
Our best available unrestricted rate.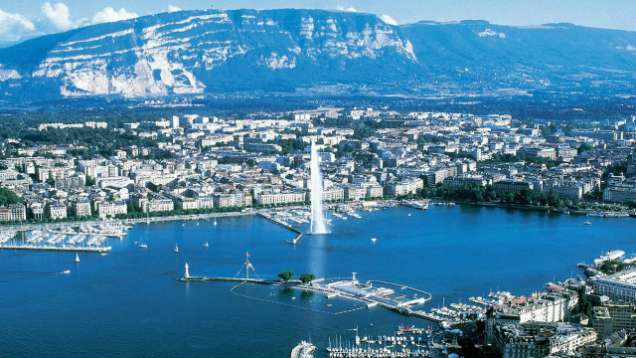 The City of Peace
Dotted with gardens and parks and set alongside Europe's largest Alpine lake, Geneva is a compact city, comfortable with a rich history. A leading financial centre and a hub for international organizations such as the United Nations, the World Health Organization and the International Committee of the Red Cross, this Swiss city offers grand architectural facades, picturesque squares, intriguing narrow passageways for walking and unexpected courtyards with fountains. Any visit should include the International Museum of the Reformation in the magnificent Maison Mallet from the 18th century. The Patek Philippe Museum gives insight into Geneva's watch-making history. The International Red Cross and Red Crescent Museum thoughtfully showcases a history of humanitarian efforts. Explore the whimsical medieval center, find upscale shopping in Rue du Rhone and Geneva's cultural centre at Place Neuve with the Grand Theatre, Musee Rath and Conservatory of Music.
Quick Reference
Time zone
GMT +1 hour
Central European Time

Language(s) spoken
Official language is French, but English, German and Italian are also spoken in most restaurants, information centres and tourist attractions.

Electrical system
Local voltage is 220 to 240 volts. Adapters are available; please request through the Concierge.

Shopping hours
Monday to Friday 9:00 am to 7:00 pm. Major stores are open on Thursdays until 9:00 pm, Saturdays 9:00 am to 6:00 pm. Closed on Sundays.

Working hours
9:00 am to 6:00 pm

Seasonal highlights
Summer

Bol d'Or: This annual regatta takes place on Lake Geneva in June. More than 600 yachts participate, and the lake's challenging sailing conditions attract sailors and spectators alike.

Fêtes de Genève: The two-week long Geneva Festival takes place in July and August on the waterfront, with highlights that include a lake parade with fantastic floats, open-air concerts, spectacular fireworks displays, funfairs, street entertainers, and stalls selling food from around the world.

Fourth of July: The celebrations to honour American Independence Day are the biggest in the world outside of the States.

La Bâtie – Festival de Genève: This lively festival features live music and theatrical performances.

Midsummer Festival: Though it started as a celebration of Geneva's Swedish roots, it has turned into a celebration of summer, with an exciting parade, arts and crafts show, old-fashioned carnival, food and drink, music and live entertainment.

Swiss National Day: Spectacular festivities take place every August 1 to mark this important day.


Fall

Festival of the Vine: A celebration of the autumn harvest with food and wine tastings, flower markets, carriage rides, live music and entertainment.


Winter

Christmas Tree Festival: Beautifully decorated trees are on display around the city during this festival. Artists from Switzerland and all over Europe create themed trees with ribbons, artistic lighting and other innovative touches. Some of the best places to see them are around Place St-Gervais, Place de Chevelu, Place de l'Ile and other areas near the Rhône River.


L'Escalade: This three-day celebration begins on December 11 and marks an unsuccessful attempt to invade Geneva in 1602. During its citizens' resistance, a local woman tipped a pot of hot soup over the head of a Savoyard soldier who was passing below her window. Besides torchlight parades and a huge bonfire in front of the Cathedral, Genevans celebrate by smashing small chocolate cauldrons filled with marzipan vegetables, specially made for the occasion, and eating the resulting pieces.
Mueums & Galleries
With over 30 museums and galleries ranging from modern art to diplomatic history, watchmaking to the Olympics, you'll never lack for culture.