Guest Rooms (4)
All with furnished balconies, our spacious guest rooms offer a choice of views, highlighting the city, the Intracoastal Waterway or the Atlantic Ocean.
Hotel and Residential Suites (11)
With dedicated living and sleeping areas, our Hotel and Residential Suites are perfect for families or couples wanting more space to unwind. Dine outdoors on the furnished balcony or terrace. Our Residential Suites also feature complete kitchens and laundry, making them ideal for longer stays.
Featured Amenities
Complimentary premium Wi-fi
By Design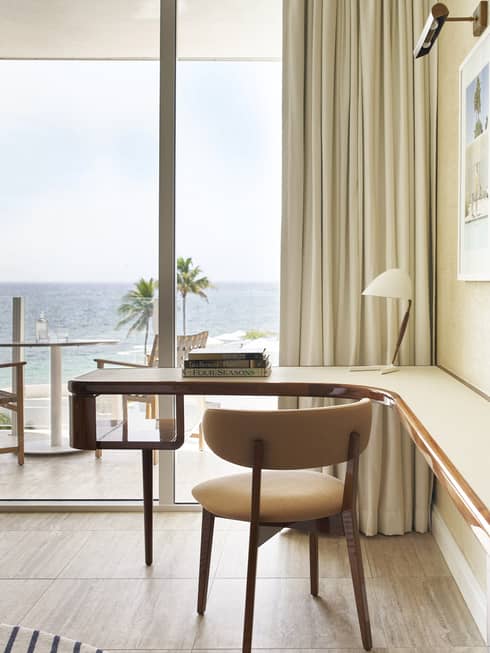 SOPHISTICATED MARITIME STYLE
Designed by Tara Bernerd & Partners, our Four Seasons interiors take inspiration from the natural beauty and quality of light in Fort Lauderdale – reflected in pale silver sands, blue seas and stunning Floridan sunsets. This visual influence intermingles with the city's yachting heritage, encapsulating the freshness and elegance of mid-century modernist design. The sleek lines of yachts inspired the gently curved rattan headboards and the polished walnut-coloured wood shelf that wraps its way around the room. Walls papered with natural pale linen are adorned with playful artwork. This is a design that celebrates the relaxed vacation lifestyle of Fort Lauderdale.