For generations, Thais have planted special herbal gardens: hidden havens of wellness inspired by trusted family remedies. The Secret Garden Spa draws on the wisdom of these ancient traditions. Sheltered from the bustle of busy cities and hectic schedules, it's a sanctuary of purity devoted to healing body and being. Welcome to nature's nurturing embrace.
Stop. Breathe. Relax.
Enter paradise through an enchanted stone-stepped pathway, fringed by breezy coconut palms, stately banyans and indigenous herbs. At The Secret Garden Spa, we combine the tranquility of our surroundings with the pure natural goodness of plants grown right here at the resort.
Hydrating, nourishing coconut features prominently, and many treatments include poultices made from a unique blend of herbs—a 'secret' mix of lemongrass, turmeric, tamarind, ginger and more that helps relieve pain, ease inflammation and stimulate blood circulation. Each treatment begins with a heavenly foot cleansing ceremony: a homemade blend of coconut oil, jasmine rice and milk powder scrubs away fatigue, followed by a spritz of fragrant kaffir lime essential oil.
Hours
| | |
| --- | --- |
| Spa treatments | 9:00 am – 9:00 pm |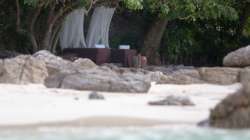 THE SECRET BEACH SPA
Our shady beach spa offers massages for individuals or couples, accompanied by the sound of the sea.