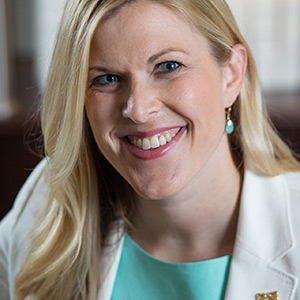 Chef Concierge Kristen Klus
Local Expert in: Shopping of any kind; Italian restaurants
Perfect Day: My perfect day starts with a Chicago classic – an architectural tour on the Chicago river. Nothing feels more of a snapshot of the city than taking it by gliding down the river. Next up, walk south on Michigan Avenue to the Art Institute, and don't forget to check out the Thorne miniature rooms, with their gorgeous minute detail. Finally, hop a cab over to Wicker Park and Bucktown for the best vintage shopping in town. Grab authentic gourmet tacos at Big Star and peruse the finds at the Vintage Underground for a one-of-a-kind Chicago souvenir.
Local Expert in: Dining; Neighbourhood music venues
Perfect Day: I love to start my day with a coffee and pastry from Bad Wolf Coffee in Lakeview. The owner makes everything from scratch and the results are the most unique and delicious baked goods in town. After that, I never tire of walking the city – lakefront, neighbourhoods, or downtown – it's the only way to really see Chicago. A dinner at Fat Rice or Ada Street is followed by a visit to the historic Green Mill Lounge in Uptown – one of the best venues for jazz in the city – Tuesday and Wednesday evenings are my favourite nights to go.
Blanca Kaufman, Concierge
Local expert in: Architecture
Perfect Day: Hit Andersonville for breakfast at M. Henry and Fannie's Killer Fried Egg Sandwich. Shopping on Clark Street is next. Peruse vintage shops including Brimfield for barware, furniture and whimsical finds. Check out local wares at Andersonville Galleria – Tracy Capone's beautiful photograph's of Chicago are amazing pieces of art. Visit the Swedish American Museum and learn about this group of immigrants, their lives and contributions to their new homes of Chicago. Snack and walk at the Swedish Bakery, the Middle Eastern Market (on Foster) and La Baguette for Mexican baked goodies.
Michelle Opoka, Concierge
Local Expert In: Architecture and Art
Perfect Day: Starting the morning with a long bike ride along the lakefront, followed by brunch at North Pond in Lincoln Park with a view of the magnificent Chicago skyline. Later, slip into a museum or gallery to take in the rich culture that the city has to offer. Enjoy the steak tartare with the Jeanne d'Arc cocktail at Brindille before watching a performance at the Joffrey Ballet in the historic Auditorium Theater.
Adelina Schneider, Concierge
Local Expert In: Theatre and Gluten-free dining
Perfect Day: A visit to the Old Town Triangle, built after the Great Chicago Fire of 1871 and home to the Chicago History Museum, North Avenue Beach, Second City Comedy Club, and St. Michael's Church (the only Old town building to survive the Great Chicago Fire). Local boutiques and restaurants line Wells Street, while historic homes are nestled north. Nearby activities include Lincoln Park Zoo and The International Museum of Surgical Science.