Named after Casablanca's geographical setting on the 33rd parallel, our chic, resort-style, poolside restaurant is open seasonally during spring and summer and offers fresh local specialties made for sharing.
hours
Lunch and Dinner

12:00 noon – 9:30 pm

Dinner closed on Sundays and Public Holidays

Drink Service

10:00 am –10:00 pm

Poolside Barbecue

Sundays and public holidays

12:00 noon
SIGNATURE DISH
Guacamole, Vegetables Niçoise-Style, Tomato Dressing
The Team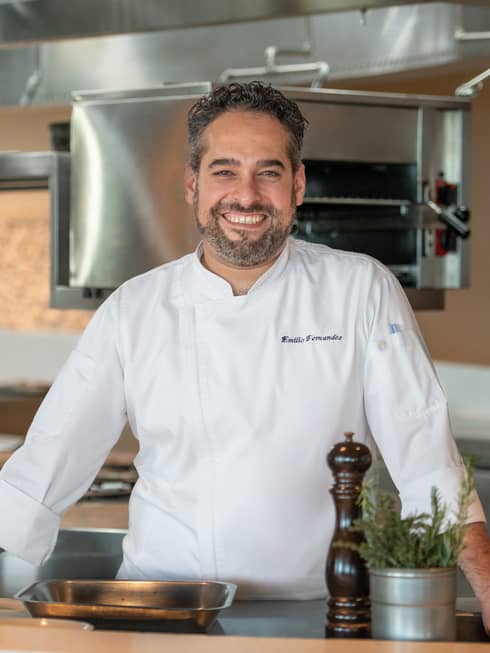 Emilio Fernandez
Executive Chef
As Executive Chef of Four Seasons Hotel Casablanca, Emilio Fernandez oversees all of the restaurants and banquet functions at our Hotel. Originally from Mexico, he acquired extensive culinary experience in various countries across continents, making his cuisine a one-of-a-kind culinary journey.
"My cuisine is bold and authentic. I like to preserve the natural essence of produce while enhancing the taste with Latin American flavours."
Events
11:00 am – 7:00 pm | Monday – Saturday (à la carte); Sundays and bank holidays (buffet)

Poolside Barbecue

Delight in an exquisite culinary experience while enjoying the sun at Latitude 33, where Executive Chef Christophe Laplaza and his teams have fired up the barbecue for the summer. Lose track of time by the pool while your favourite cuts are grilled to perfection. Reservations required. Contact +212 (0) 5 29 07 37 00.
Bleu

Our pop-up charcoal dining experience at Bleu is a lively and modern concept developed around our custom-built grill. Influenced by global flavours, the menu celebrates fresh produce, meats and seafood, as well as top ingredients sourced locally and from around the world, fired up with love, with a Casablanca coastline view.

Details

In-Room Dining

Whether you're time zone–hopping, feeding a hungry team during an impromptu meeting or looking for quiet, private dining, you can choose from our extensive In-Room menu day or night.

Details

Mint

Adorned with Moroccan white stucco embroideries contrasting the black marble floor, our elegant lobby lounge invites you to sit with friends for a casual meal of authentic Moroccan and Middle Eastern specialties and light gourmet fare served all day.

Details