One of South America's largest cities, Buenos Aires pulses with life. Your family will be mesmerized by the Argentine capital of three million, famed for its polo, wine, helado (ice cream), asado (barbecue), fútbol (soccer), 6-hectare (14-acre) cemetery and passionate tango.
Follow our guide to the top things to do, eat, see and experience with the kids in Buenos Aires.
Explore the San Telmo neighbourhood
Photography Peter Horree / Alamy Stock Photo
This historic area is not too touristy and boasts great Parisian-style architecture. It's got a laid-back vibe and offers easy access from the subte (subway). There are several interesting museums to explore (including one focused on penitentiaries), cafés, restaurants, plazas, parks and shops. On weekends, tango dancers perform live at Plaza Dorrego, surrounded by eclectic boutiques (the kids can pick up a signature Buenos Aires hat here).
Don't miss a trip to the San Telmo market to browse an astonishing array of intriguing antiques and vintage finds. Even if you aren't in a shopping mood, the space itself is wonderfully retro.
Enjoy an ice cream treat
Photography Kseniya Ragozina / Thinkstock
Make it your family's mission to eat as much helado as possible, while you are in Buenos Aires. It's delicious, rich, natural and comes in intriguing flavours. Try tuna (from a cactus), dulce de leche (caramel), frutilla (strawberry) and Crema Americana (a light and creamy vanilla). At some places you can find wine-flavoured ice creams—certainly worth sampling. Park yourselves at a café and watch the stylish porteños (urbanites) pass by.
Visit Buenos Aires' best museum
El Zanjón is a fascinating private museum set in an 1830s manor on the site of the city's original settlement in 1536, which later became tenements. A millionaire purchased the sprawling brick house planning to renovate it into a restaurant, then discovered the network of original tunnels underneath. The intimate tour of the tunnels is riveting. The museum is financed by corporate events and private parties in the high-ceilinged space, which has been tastefully and carefully restored.
Watch the tango in Buenos Aires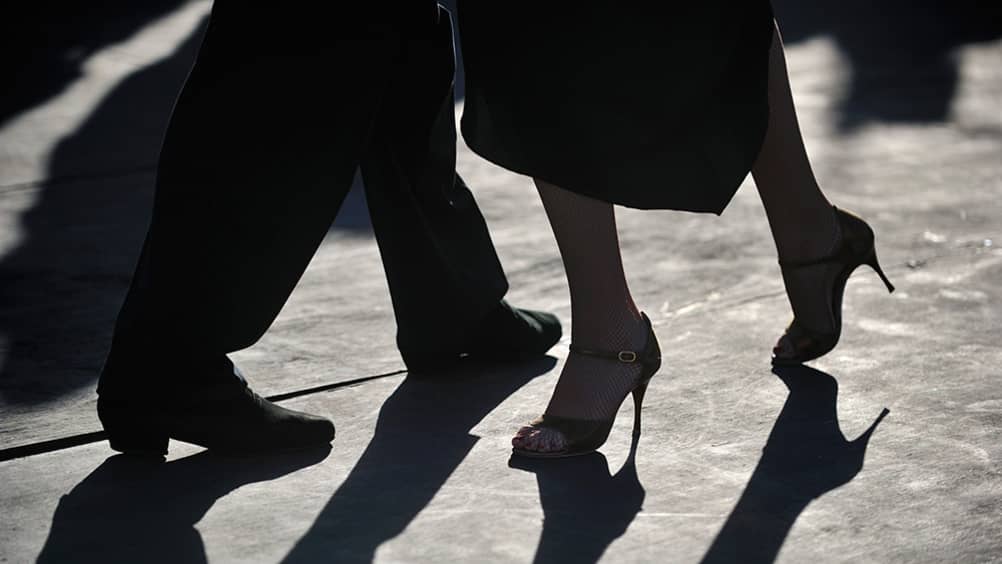 Photography Dolphin Photo / Thinkstock
Locals say the show at La Ventana, in San Telmo, is less touristy and more authentic than most. The dancing is exhilarating and sensual, and the multi-hour performance includes a showcase of chamamé, a spirited folk dance/music genre from Northeast Argentina. This is perfect for a parent's date night or suitable for tweens and teens. (Better for little kids are the outdoor performances at Plaza Dorrego.) Tip: Forego the Ventana pre-show meal, and opt for dinner at nearby at Aldo's wine bar. Consider booking a wine dinner with the sommelier. The flavourful ojo de bife melts in your mouth.
Stock up on Buenos Aires' top exports
Try some of Argentina's lesser-known wines: fruity torrontés (white) and reds—Tannat, from nearby Uruguay—and Cabernet Sauvignon from Cafayate (Salta). Pair with empanadas, Salta-style.
While exploring the city, be sure to stock up on leather goods. The leather in Buenos Aires is one-of-a-kind. Check out the polo gear and equestrian accessories, and take home some buffalo or carpincho (capybara, the world's largest rodent found in the estuaries of Northeast Argentina) boots at Arandú.
See the riverbank
Stroll the Puerto Madero area on the Rio de la Plata riverbank, which is also a great place for little ones to run and play. You'll see the most expensive real estate in Buenos Aires in this area: a series of stylish brick warehouses on the water. A vintage ship is also parked here. Pick up lunch at iCentral market, then head to Fortabat Art Collection to see the interesting art collection of Argentina's wealthiest woman, Amalia Lacroze de Fortabat.
Memorable and mind-blowing, this cemetery is made up of nearly 5,000 above-ground burial vaults. It's a mini city of mausoleums and crypts built between the 1880s to 1930s, all laid out in a 6-hectare (14-acre) grid of narrow lanes that you and the kids can wander around and explore. Take your time and let the kids snap some photos.
Four Seasons Hotel Buenos Aires