All Food and Drink
Meet the Team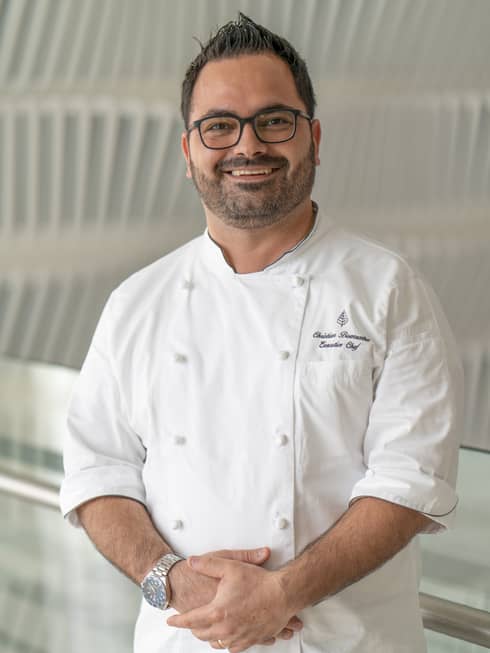 Executive Chef Christian Buenrostro
Buenrostro brings a wealth of international experience to the UAE's capital, drawing inspiration from Latin America, Europe, Asia, and most recently, the Middle East. His culinary ethos keeps things simple, focusing on blending bold, vibrant flavours with an exciting fine dining experience that gathers people together.
"Presentation on the plate is important. But as a chef, I believe it is crucial to focus first on the flavours you are creating. And above all, respect the product."
Events
Fridays, 1:00 pm – 4:00 pm

The Meat People Brunch

Looking for weekend brunch plans? Indulge in a Friday Stateside celebration crafted by chefs Marshall Roth and Pankaj Bisht featuring sizzling cuts and a roaring atmosphere. Prices from AED 250.

Saturdays, 12:00 noon – 4:00 pm

Café Milano Brunch

Join our Viaggio in Italia Brunch at Cafe Milano to kick off your weekend with a menu of authentic Italian specialties served to table every Saturday. Prices from AED 245.

Every Day, 3:00 pm – 7:00 pm

Afternoon Tea

Experience our signature Afternoon Tea in the "Living Room of Abu Dhabi." Price from AED 250 for two people.
No Special Knock Necessary

A secret passageway leads to a private elevator, which takes you down two levels to Butcher & Still's ultra-exclusive Hideaway, a private dining room reminiscent of a true speakeasy.

For special occasions or business dinners, gather at Cafe Milano in our private room filled with natural daylight that opens directly onto a beautiful terrace overlooking the Arabian Gulf.

Tanqueray No. 10 Imperial Martini Shaker

A rare five-foot-tall, hand-operated cocktail shaker reproduced from a 19th-century drawing commands the bar at Butcher & Still, and mixes your drinks to perfection.

DISCOVER YOUR LOCAL MASTERDISH

Created with artistry, driven by taste and enriched by connection. Reunite with loved ones over our Cherry Pie à la Mode – a culinary Masterdish created by Executive Pastry Chef Rasika Mahina. Available in Butcher & Still, our irresistible Cherry Pie is served à la mode with a generous scoop of homemade vanilla ice cream, which is drizzled with a rich caramel sauce. Slice it open to reveal the two types of sweet and sour cherries used in this American classic.

Dine With Us