Just off the historic Champs-Élysées—Paris' grandest avenue that stretches from the Arc de Triomphe to the Jardin des Tuileries—Four Seasons Hotel George V, Paris, is the ideal base for navigating the city. Whether you're in the mood for shopping, looking at art or dining out, there are options aplenty within a block or two, so you'll never be too far from your down pillow should the urge strike for an afternoon nap.
Avenue Montaigne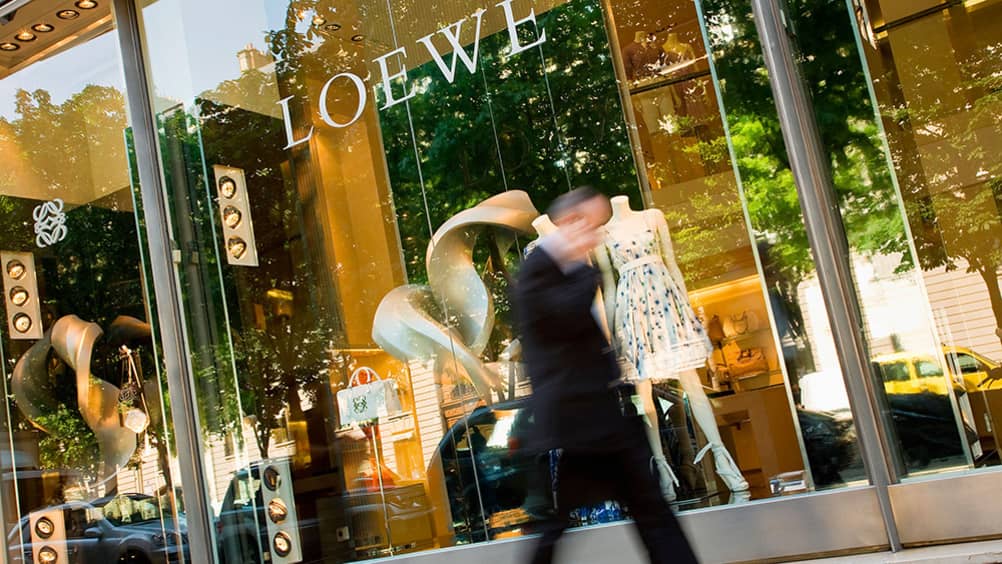 Photography Hemis / Alamy Stock Photo
If there's one must-stroll shopping street in Paris, this is it. In one short stretch, from the Champs-Élysées walking towards the Seine, you can find Chanel, Marni, Gucci, Céline, Jil Sander, Saint Laurent, Fendi, Chloé, Ralph Lauren, Ferragamo, Louis Vuitton, Dior, Armani and Prada.
Don't miss: The crêpe stand around the corner, on rue de Ponthieu. Order a jambon fromage and enjoy it on one of the benches in the adjacent park.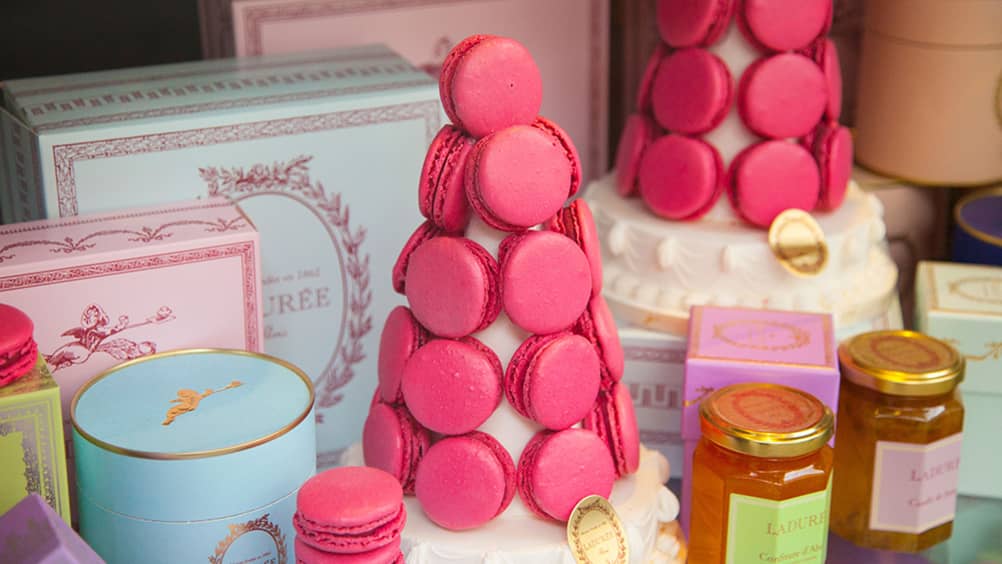 Photography Brian Jannsen / Alamy Stock Photo
75 avenue des Champs-Élysées

Along with the croissant and baguette, a baked item synonymous with Paris is Ladurée's macaron, the famous double-layered, filled meringue cookie. The shop's pastel two-bite cookies are notoriously feminine—and for good reason. Founded in 1862 as a bakery on rue Royale near the Madeleine, Ladurée later expanded its offerings to include pastries, and by the turn of the century it had become one of the city's first tea rooms. Unlike cafés, which at the time allowed only men, tea rooms welcomed women. Now men and women alike can queue up outside the celadon green storefront for tea, coffee and macarons in nearly 20 different flavours, such as pistachio and rose.
Don't miss: The salted butter caramel macaron.
42 avenue George V

While it's not the largest Hermès store in the city, Paris' second outpost is more intimate and easier to shop. Step inside and browse the row of cabinets filled with Hermès' boldly patterned scarves. Beyond the brand's signature accessories, you'll find a well-edited men's department and an elegant selection of shoes.
Don't miss: The cashmere and silk scarves, which can also be worn as shoulder wraps on cool evenings.
Avenue Winston Churchill

Built for the 1900 World's Fair, like its sibling the Grand Palais across the street, the Petit Palais was originally a showcase for some of France's finest art. Today, with a permanent collection that reaches back to the classical world, it's an important part of the city's artistic landscape. Organized into four sections, the beautiful beaux-arts building is an architectural gem, with mosaics, rich ceiling murals, stained-glass windows and a semicircular garden filled with palm and cherry trees—a lovely spot to sit and have a late afternoon coffee or tea. The permanent collection includes paintings and sculptures by Monet, Pissarro, Cézanne and Rodin, and it's free and open every day.
Don't miss: Original sketches and blueprints by the building's architect, Charles Girault, on the basement level.
14 rue Marbeuf

Whole, crushed, juiced or puréed, it's always truffle season at La Maison de la Truffe. The all-truffle boutique stocks five different kinds, from winter's Périgord black truffle—known as the "black diamond" and harvested in France's southeast and southwest—to autumn's Alba white truffle, grown in Italy. Since 1932, the shop has been selling nature's finest fungus by the gram. Besides truffles themselves, you'll find a range of truffle-infused products, from acacia honey and truffles stuffed in chocolates to oils and vinegars.
Don't miss: The creamy foie gras with truffle soup, easily packable and ready to make the journey home.
Artcurial
7 Rond-Point des Champs-Élysées

Located in one of the city's best-preserved hôtels particuliers (previously a home for a noble family), Artcurial is an auction house with regularly refreshed exhibitions that are open to the public. About every three days, a new collection is on view before the auction. An eclectic selection of items passes through Artcurial—from paintings and comic strips to timepieces, photography and vintage clothing.
Don't miss: The bookshop tucked away in the back, with an extensive collection of art books about video art, photography, painters, sculptors and contemporary artists such as Keith Haring.
Four Seasons Hotel George V, Paris