Known as the "Red City" for its rose-hued buildings, Marrakech is brimming with ancient history and stunning architecture, artisan traditions and mouthwatering cuisine. Whether you've come to shop the souks or simply soak up the atmosphere, you'll find inspiration in any of this city's colourful corners. Here Jihane Barehmi, Guest Relations Manager at Four Seasons Resort Marrakech, shares her recommendations for what not to miss.
Souk Therapy
Hit the souks in the morning when you're full of energy, and be prepared to get a bit lost – it's inevitable, but all part of the fun. The best-known souks for traditional items are just off the bustling Jemaa el Fna square, a magical warren of beaten brass lanterns and butter-soft leather babouches, hand-hammered silverware and beautifully painted ceramics, colourful vintage rugs and snuggly pom-pom blankets. For a contemporary spin on local design, hit the Souk Cherifia where you'll find hip clothing, jewellery and bags. An easier dip into traditional handicrafts is to visit the veritable Aladdin's Cave that is the Trésor des Nomades, a maze of rooms each overflowing with artisanal wares ranging from camel-bone–inlaid boxes, richly embroidered textiles and technicolor JuJu hats from the Cameroon. Former Vogue photographer Alessandra Lippini's store, Ministero del Gusto (10:00 am – 1:00 pm, or by appointment in the afternoon), is the result of years of collecting haute couture fashions including some splendid items by Yves Saint Laurent and one-off home accessories such as an antique Murano chandelier. The stunning showroom was inspired by the sand houses of Mali with fireplaces influenced by Ghanaian jewellery and traditional, Berber-style rooftops.
Shopping the New Town
Settling into two key districts – Guéliz with its Art Deco avenues, neat French villas and world-class shopping, and leafy Hivernage with its elegant bars and restaurants – a growing number of international design houses have landed here, each bringing its own unique spin to Moroccan design. You'll find the best clothing stores and interiors shops clustered around charming Rue de la Liberté. Don't miss hit concept store 33 Majorelle, which brings together the best Moroccan, African and Middle Eastern fashion and interior designers under one roof and has a great little lunch spot too: Lalla for her must-have collection of python skin clutches, towelling beach bags and Fez-embroidered weekend hold-alls. Fadila el Gadi (by appointment only) to stock up on reworked military jackets for her and sleek, collarless jackets that are a chic alternative to blazers for him. Yahya Creation is the boutique of London-born designer Yahya Rouach, who apprenticed with the best Moroccan metalworkers. His handmade filigreed work is now some of the most coveted in the world, and you'll find lamps, wall hangings, furniture and fireplaces hewn from bronze, silver, copper and gold.
The Most Amazing Show on Earth
Jemaa el Fna is one of the liveliest and most vibrant plazas in Africa, a meeting place for merchants and travellers in search of entertainment. It's here you'll find the monkey tamers and snake charmers, acrobats and dancers, musicians, magicians and storytellers. And, when the sun goes down, its legendary Night Food Market, where locals and tourists alike converge for steaming bowls of snail soup, tender lamb brochettes and terracotta urns of beef tangia. The scene is often incredibly hectic and always intense. To take it in from a distance, head upstairs in one of the several surrounding cafes to enjoy more peaceful views from above, or escape to the nearby rooftop café Nomad, located on another famous square – the Place des Épices – where you can sip coffee or cocktails and feast on modern Moroccan dishes.
Beauty Secrets
Before there was Sephora, there was the souk, where countless herbalists have long marketed Morocco's exceptional beauty and wellness cures. Of the many on offer, Nectarome's lotions and potions (including herb-infused argan oil) are made on an organic farm in Ourika Valley, just outside of Marrakech. Pop into the Almazar Centre Commercial, where Nectarome has a dedicated store, or head out to the farm for a tour to see more than 50 aromatic and medicinal plants followed by lunch made from organic produce grown on-site.
Seaside Side Trip
Located about two hours west of Marrakech on the Atlantic, the quiet port town of Essaouira (pronounced essa-wee-rah) offers one of Morocco's loveliest combinations: a beautiful beach that's a favorite of kite flyers and windsurfers; waters plied by fishermen in pretty blue-painted boats whose collective catch ends up in makeshift restaurants along the front; a tiny, well-preserved medina (a UNESCO World Heritage Site) with a laid-back souk; dramatic rampart walls built on the cliffs, the waves crashing down below; and a funky, surfer vibe courtesy of the many artists and craftspeople who call the charming seaside town home. It's a backpackers' haven, but a number of smart attractions entice the chic set to explore Essaouira's many charms.
Picture-perfect views
Heading into the High Atlas Mountains, yet less than an hour from Marrakech, the L'Oliveraie de Marigha farm is a peaceful retreat set in a traditional Berber village. Bag a spot by the pool (and a cocktail, of course) and enjoy jaw-dropping panoramas of the snowy mountains before tucking into a traditional Berber lunch.
Mountain majesty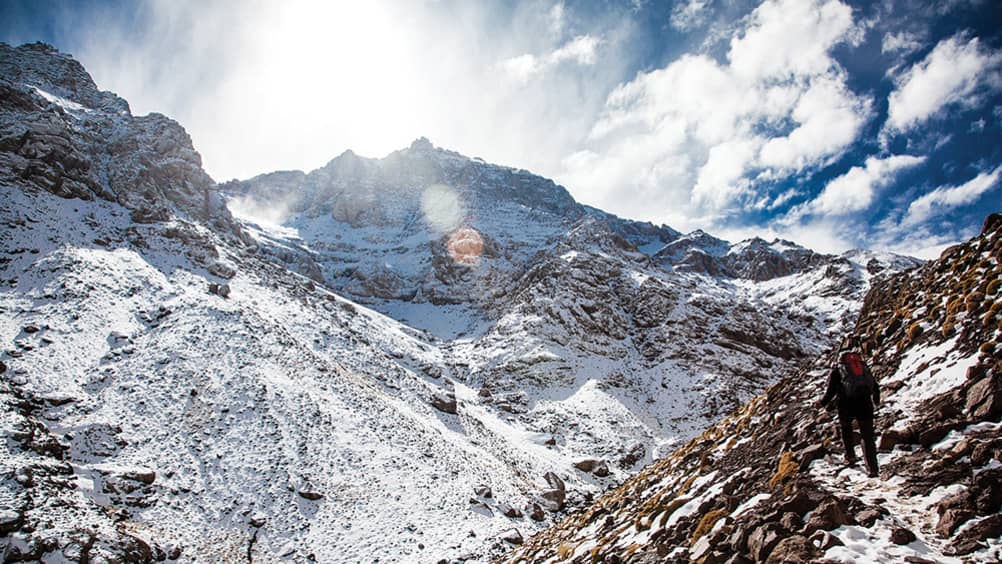 Photography David Crookes
Let us arrange a Land Rover excursion to the snowy peaks of the High Atlas, stopping en route in the remote Berber village of Toulkein. Here you can experience traditional life the way it's always been, as well as the culture's famed hospitality. Take Moroccan mint tea with locals, followed by a cooking class to master the secrets of a melt-in-the-mouth, delicately spiced tagine. After lunch, stroll the countryside enjoying uninterrupted Atlas scenery before returning to the Resort in time for dinner.
Sundowners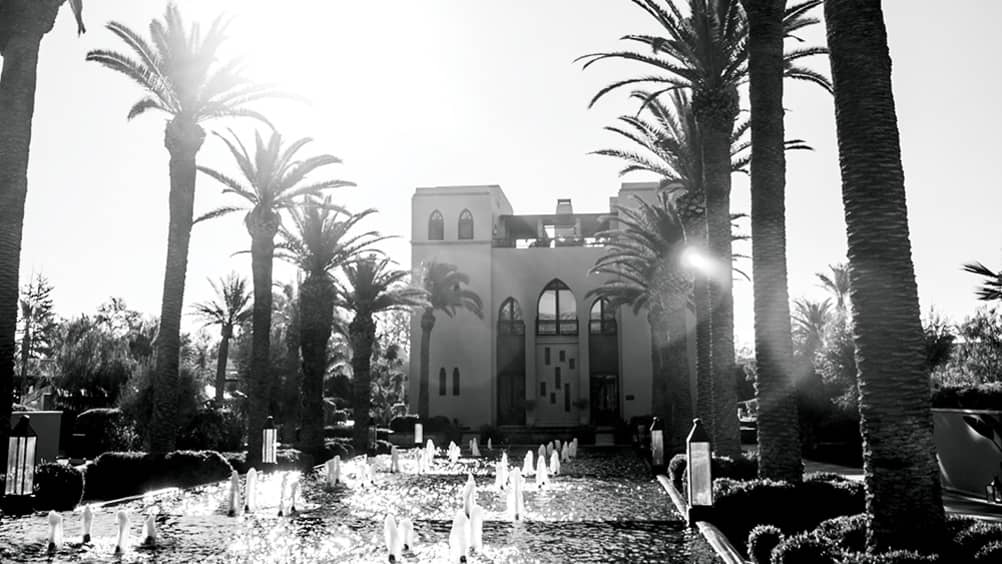 Photography David Crookes
A little known fact about Morocco is that it's home to an up-and-coming wine industry with increasing numbers of excellent boutique vintages. Sample some of the best the country has to offer on Inara's terrace while the sun sets over the Menara Gardens and live, traditional music provides the soundtrack to a perfect evening.
Four Seasons Resort Marrakech