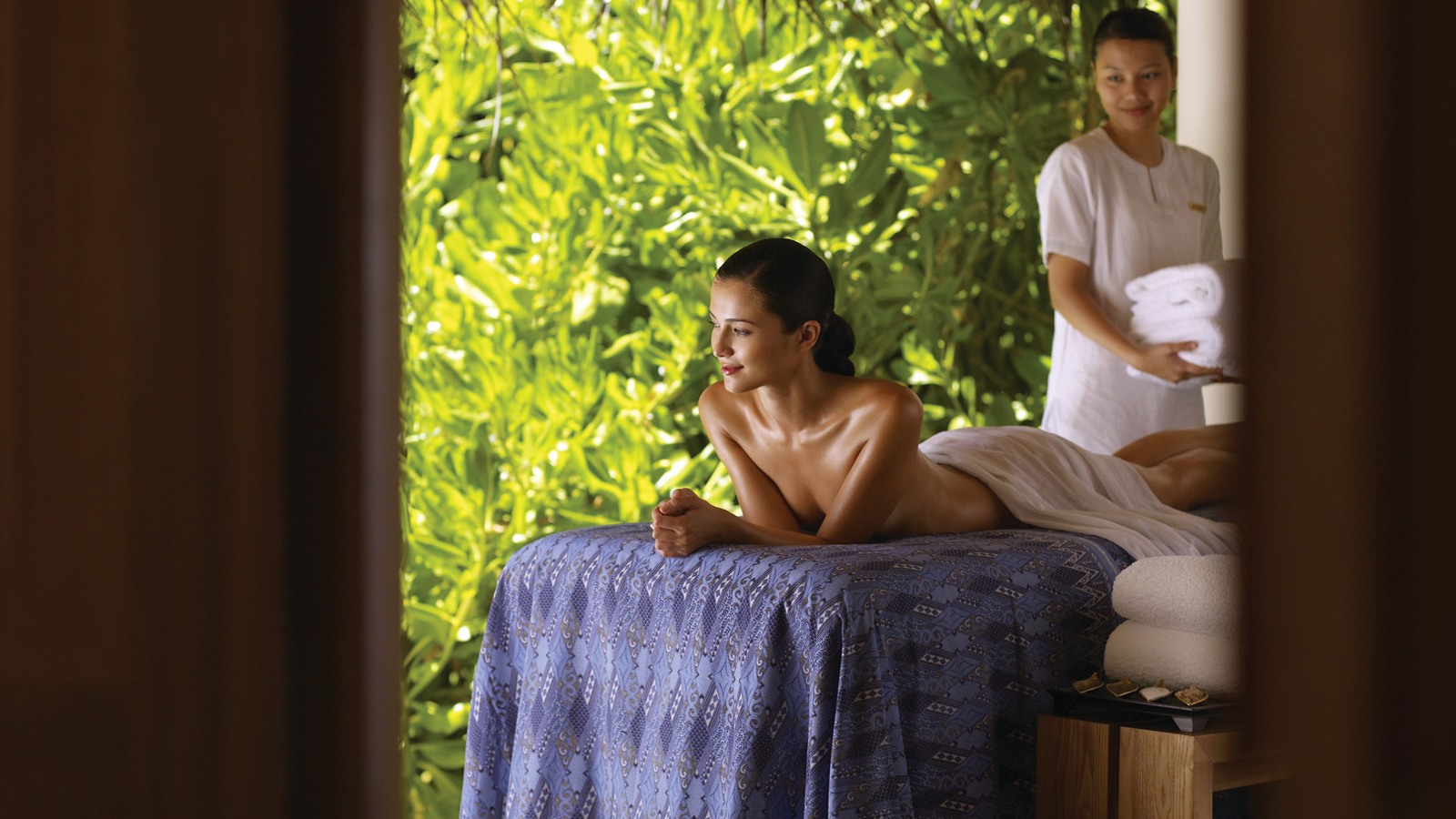 Our massage therapies at The Spa at Four Seasons Resort Maldives at Landaa Giraavaru offer a wide range of pressures, strokes and benefits. Our team will be happy to recommend a selection depending on your individual requirements and preferences.
Loabi Signature Massage
Meaning 'love' in Maldivian, this heartwarming full body experience draws on a wide array of traditional Asian techniques to relax the nervous system, restore balance and infuse a sense of joy-filled wellness.
Includes a back massage with warm poultices, singing bowls, Shiroabhyanga (Indian head massage) and marma point massage.
Landaa
Our signature massage triumphs over aches and pains. A blend of specialised traditional techniques from all over Asia, applied with medium to firm pressure, brings relief to tired muscles. Complemented by your choice of 100% pure plant oils and essences.
Thai
Guests wear a two-piece massage garment of soft cotton for this oil-free massage. Based on the application of pressure along the energy lines of the body, together with the stretching of muscles, Thai massage stimulates energy flow and eases muscles, replacing tension and stress with a feeling of energy and peace. To completely experience a traditional Thai massage, a 120-minute session is recommended.
Ku Nye
A Tibetan body massage that balances the five elements and restores a harmonious flow of energy and vitality. A choice of oils combines beautifully with Tibetan techniques of cupping, kneading and acupressure using hot herb poultices and stones.
Kundalini back
Kundalini is the powerful yet dormant energy at the base of the spine. When awakened, it travels up the spine to the "third eye," bringing increased energy and spiritual enlightenment. Using breathing techniques and gentle stroking and cupping along the body's seven chakras or energy points, this holistic massage relaxes, restores, revitalises and releases the natural energy within.
Manipura
Manipura means beautiful, shining jewel in Sanskrit. It refers to the solar plexus (naval) chakra – our centre of fire and sun energy that ignites health and vitality. This treatment stimulates and balances the solar vitality within us through marma massage, lymphatic drainage and the application of Himalayan salt poultices.
Lava shell
A completely rejuvenating experience where perfectly warmed Pacific clam shells are used to massage the body, increase blood circulation and provide deep relaxation through gentle therapeutic warmth. Combined with firm massage and advanced body work, this treatment will leave you invigorated.
Therapeutic
A full-body massage for lovers of deep tissue techniques, or those who require focused body work to release muscle tension and increase joint flexibility. Various pressure techniques, applied sensitively by using thumbs, forearms and elbows, achieve maximum results.
Pregnancy
Take some well-deserved time to nurture yourself and celebrate the wonderful changes in your body. Pregnancy massage can safely, comfortably and effectively relieve the physical stress of pregnancy, stimulating circulation and reducing postural discomfort and back pain, or may simply be a period of stillness and relaxation during this special time in your life. The 90-minute session is highly recommended.
Shiroabhyanga
Indian head massage, or champi, as it is known in India, has been practised for thousands of years. Champi is a common sight in India, from the banks of the Ganges to the most exclusive palaces. Warmed virgin coconut oil is infused with ayurvedic herbs that assist with circulation, nourishment of the hair and scalp, and relief of headaches and other head-related disorders. After hair cleansing, the oil is used to massage the scalp and shoulders, bringing clarity of thought and lustrous-looking hair. We recommend that you leave the oil on your hair for two hours after the treatment for maximum benefit.
Anti-cellulite Massage
A unique massage technique using strong kneading, tapotement and bellabaci cups (Chinese suction cups) on cellulite-affected areas to eliminate stagnation, intensify metabolism and dermal respiration, and improve skin elasticity. ila Body Oil for Vital Energy – containing argan oil, juniper berry, geranium and lemongrass – helps stimulate and release excess fluid.
Padhabhyanga
This relaxing Ayurvedic foot massage uses special oils to revitalize tired feet and stimulate body systems. The feet are soaked and polished with special herbs to prepare for the massage. Padabhyanga improves blood circulation, reduces swelling and soreness in the lower legs and prevents dryness, cramps and other conditions.
60 Minutes
USD 155
Call (960) 66 00 888
Please note: Prices and treatments are subject to change without notice and will be subject to 23.2% combined taxes and services charges.