By this time, you might expect Yannick Alléno to take the prospect of opening a new restaurant in stride. After all, the acclaimed French chef already has 14 of them dotted around the globe, and many – including the legendary Pavillon Ledoyen in Paris – have been liberally garnished with Michelin stars. But when Alléno talks about Pavyllon London, which debuts this summer at Four Seasons Hotel London at Park Lane, his voice ripples with excitement. "To open in London has been my dream for a long time," he says. "And this restaurant, Pavyllon, is like the full combination of who I am."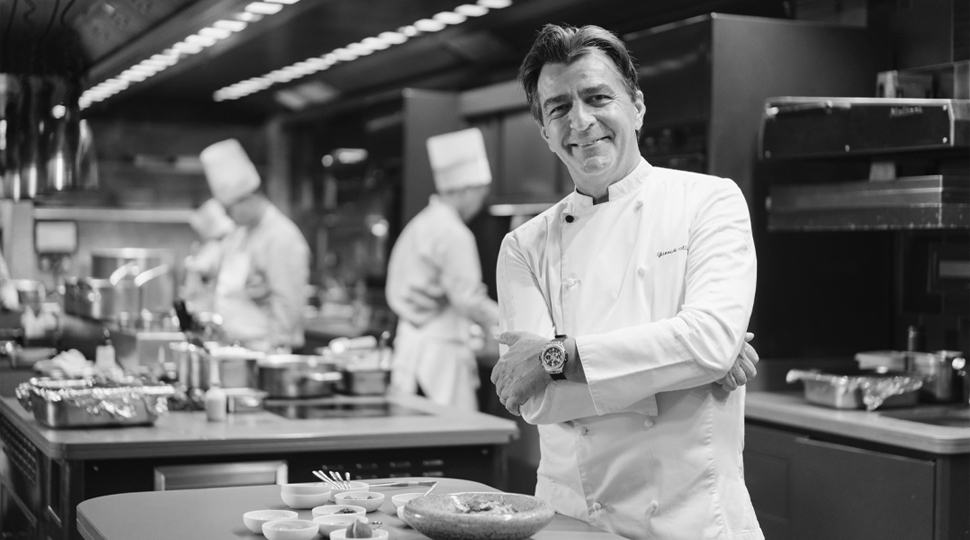 First and foremost, Alléno is someone who believes that restaurants make a city. Situated in tony Mayfair, Pavyllon will count among its neighbours many of London's most exclusive dining rooms. But Alléno is aiming for something a bit less predictable – and more relaxed. The kitchen will showcase his distinctive modern take on French cooking, combining refinement and a profound respect for ingredients with creative techniques. Sauces will be made with Alléno's patented extraction method; desserts will be sweetened with birch sap instead of sugar.
Another key distinction is his openness to incorporating local flavours: That'll be a very good cheddar, for instance, in the signature steamed soufflé, not Comté. The restaurant will also serve breakfast and tea, and instead of the single long tasting menu that is standard in so many fine dining experiences, Pavyllon will offer an ample à la carte selection designed to put guests' choice and pleasure – what Alléno calls their "personal emotions" – first.
To open in London has been my dream for a long time. And this restaurant, Pavyllon, is like the full combination of who I am. – Chef Yannick Alléno
The same goes for the décor, designed by his longtime collaborator Chahan Minassian. "You just let him go," Alléno says. "He's like me with a chicken – he knows what to do." The resulting dining room will be grand and comfortable. Lacquered panelling, hand-blown Murano chandeliers and a 7-metre ceramic wall will energize the room, but the real focus will be the bespoke 30-seat counter that curves around the kitchen, giving diners a front-row seat for the magic taking place behind the stoves.
That counter is part of what Alléno means when he says Pavyllon represents the combination of who he is. When he was growing up, his parents owned a bistro outside Paris, and as an adolescent, he worked there behind the counter. He clearly remembers the feeling of easy warmth and well-being that flowed from the kitchen to the dining room full of happy patrons and back again. "My goal with Pavyllon," he says, "is to create that same great sensation."
We spoke with Alléno to learn more about how he plans to bring that joyful energy to Pavyllon London.
Q: Why did you choose to open a restaurant in London? Is there something about the city's food scene that was particularly alluring to you? How do you see Pavyllon contributing to it?
A: I waited a very long time to come to London. It's a fantastic market with so many great chefs that you have to be sure you come with the right project. With Pavyllon, I think I'm coming with the right maturity and the right project: We are bringing a kind of food theatre to the city.
Q: Compared to your restaurants in Paris and Monaco, how will you adapt the concept to London?
A: The adaptation will be to use the best produce from England. For me, it's very important that we locate the right produce, the right beef, the right lamb – I just tried an air-cured lamb, very salty, from the north of England that was fantastic. The taste of the place will be different than in France or in Monaco because the essence of the produce is not the same.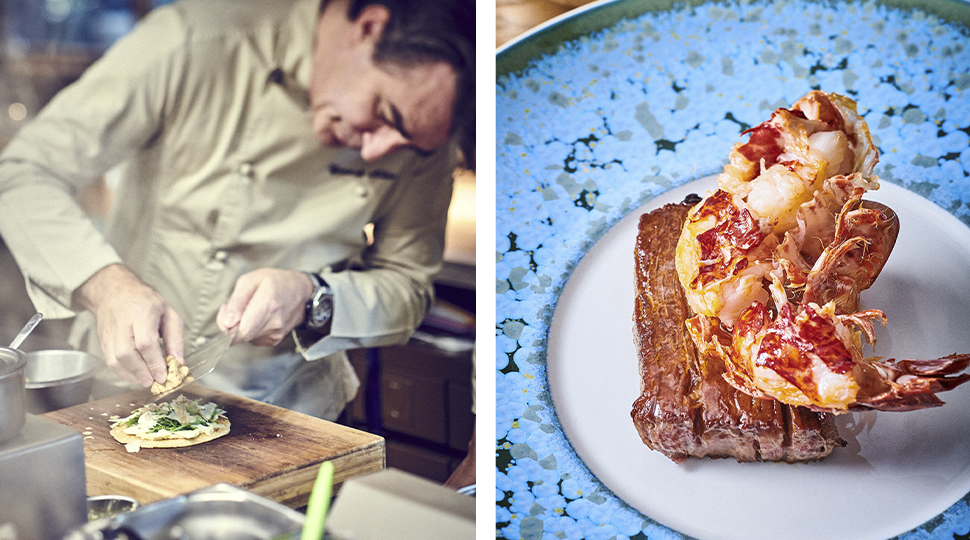 Q: At home, you're known for the excellence of your ingredients and your sourcing. How did you find producers in the U.K.?
A: I had a wonderful welcome from the chefs in London: Jason Atherton, Clare Smyth, Claude Bosi. When they heard I was coming to the city, they all offered to help if I needed anything, and they helped me make the right connections. It was very emotional for me to see solidarity like this; I think it's unique to this industry.
Q: What will the experience at Pavyllon London be like? Is there a message you hope to convey?
A: First, it's not a "fancy restaurant." We will do things very seriously, of course, and it will be of a certain level, but we want it to be a real neighbourhood restaurant, like it is in Monaco, where you can go on a Saturday night, you can go on Sunday for brunch, you can go for breakfast. Yesterday I had a guest – she's 90 years old – who said, "I love to come here because you can feel the joy." That is what we want to do in London: a restaurant with high quality, but easygoing, where you can feel the joy.
Q: And the cooking? When people think of French cuisine, they think of the classic and traditional, but you've made a name for yourself by insisting on a modern French cuisine. What do you see as the relationship between the classic and the modern?
A: It's just sauces.
Q: Just sauces?
A: Sauces are the verb of French cuisine. If you play with them, you play with the future and the past. When you talk about traditional, you are talking about butter and cream – a lot. I love that, but sometimes you want something lighter. Today, I make my sauces through extraction, with a new technique, and it increases the flavour. It's crazy the flavour you get from it.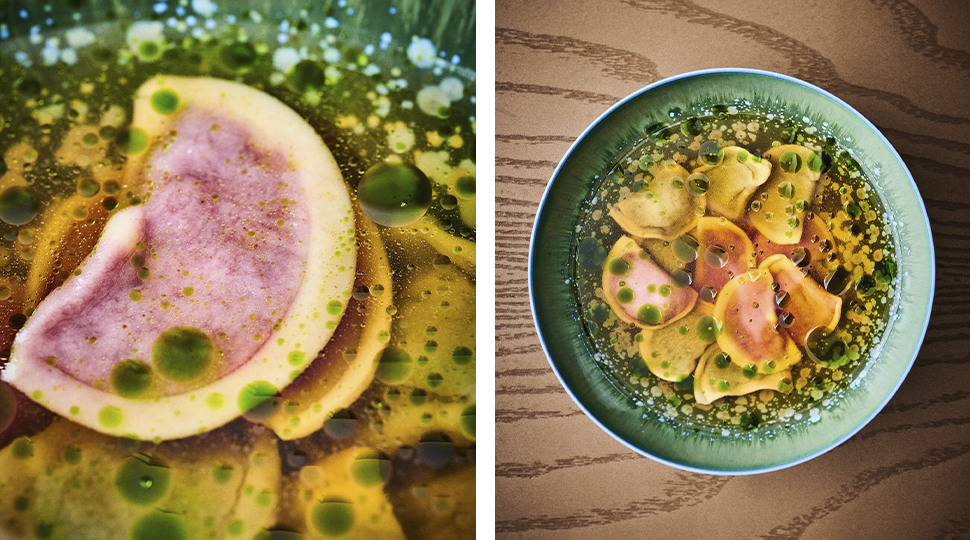 Q: Sauce may be the verb of French cuisine, but does it play the same role in British cuisine? Will you be making any concessions to British tastes?
A: You know, the world has changed a lot in the last 20 years. Our guests are international now, and I think whether British or French they are much more curious about food. For them, there's just good cooking and bad cooking. We try to do the good kind!
Q: It's true that the world of dining has changed a lot in 20 years. Has your definition of the modern changed as well?
A: Modernity now is you are there more for the guests than for the chef's ego. This is the huge change. I'm not here for me; I'm here to make sure my restaurant is full and that my guests are super happy. This is my sole objective. It's what my mom used to do in my parents' bistro, and that's what I want to have at Pavyllon – I want to make people smile.
---
Alléno's modern spin on fine dining is a perfect match for its setting. In the heart of London's iconic Mayfair, Four Seasons Hotel London at Park Lane offers an elevated take on the quintessential London experience. The city's famous shopping streets and main attractions are just a quick stroll away, while the Hotel's freshly redesigned guest rooms and rooftop Spa provide the kind of relaxed, quiet luxury that modern travellers need.
Are you as excited about Pavyllon London as we are? Sign up for the mailing list and stay in the know.
YOUR JOURNEY BEGINS HERE
Where will your journey take you next?