No matter where you happen to be in Southeast Asia, you can seamlessly combine urban and rural experiences that showcase the region's shopping, art, food, beaches and wildlife.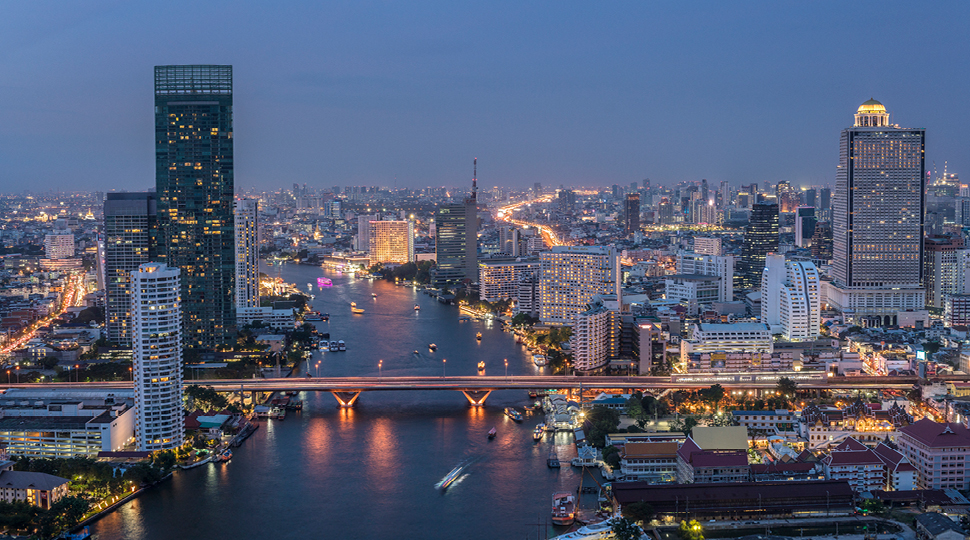 Four Seasons Hotel Bangkok at Chao Phraya River will soon begin welcoming guests in the heart of Bangkok's dynamic Creative District, channelling the area's contemporary take on tradition.
Architect Jean-Michel Gathy's forward-thinking design echoes the energy of the river, with a cascading structure of indoor-outdoor spaces arranged around green courtyards, delicate gardens and water features.
"The inspiration was urban resort," Gathy says, "bringing the soul of the landscape, the outdoors, into a sophisticated Four Seasons hotel." Many of the 299 rooms and suites have river views, and all have 4-metre [13-foot] ceilings for an airy aesthetic. Thai culture is referenced in the design details and the artwork Gathy chose.
Another aspect of Thai culture is easy to discover there. "Near the Hotel, both locals and tourists enjoy the scents and tastes of a variety of street foods," says Chief Concierge Thanart Menbangphung. "Food stalls and restaurants can be found in almost every corner of the city, especially along Yaowaraj Road."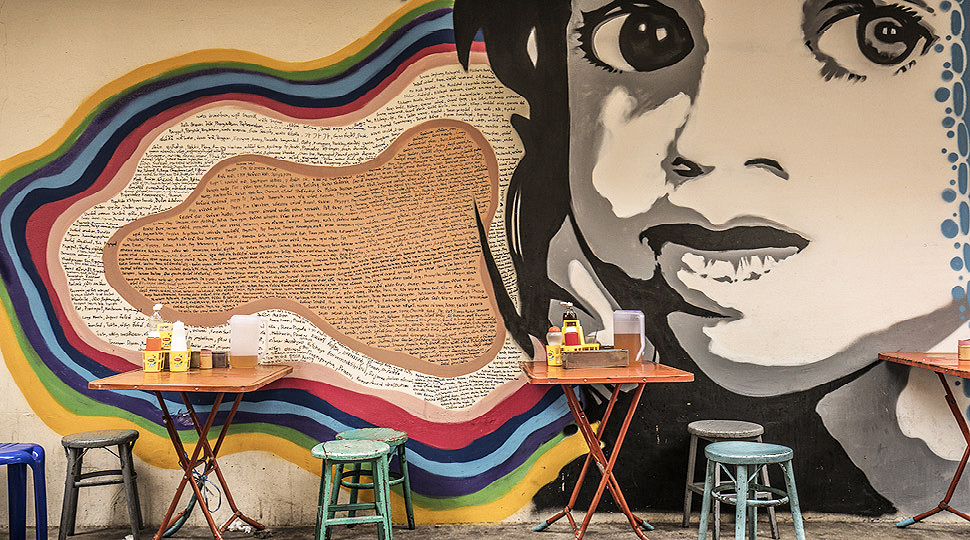 The long life of Northern Thailand's fascinating culture makes a magic blend with its natural beauty. Discover the region with bespoke tours from Four Seasons Resort Chiang Mai. The Resort team can arrange a trip to the hilltop temple that houses an important relic of the Lord Buddha, a shopping excursion for local handicrafts or a deep dive into Chiang Mai's famous coffee culture.
Learn more about the native elephants; trek past gushing waterfalls, terraced rice fields and hill tribe villages on a hike up Thailand's highest peak. And new custom art tours give guests access to some of the area's top galleries.
At the Resort, you're invited to become a rice farmer for a few hours, or learn the secrets of local plants and flowers on a guided walk through its spectacular gardens. And the Resort has recently introduced a journey of well-being for guests who seek personal renewal. Spend two to seven customized days that incorporate yoga, cupping, massage, Thai herbal steams and personalized wellness cuisine.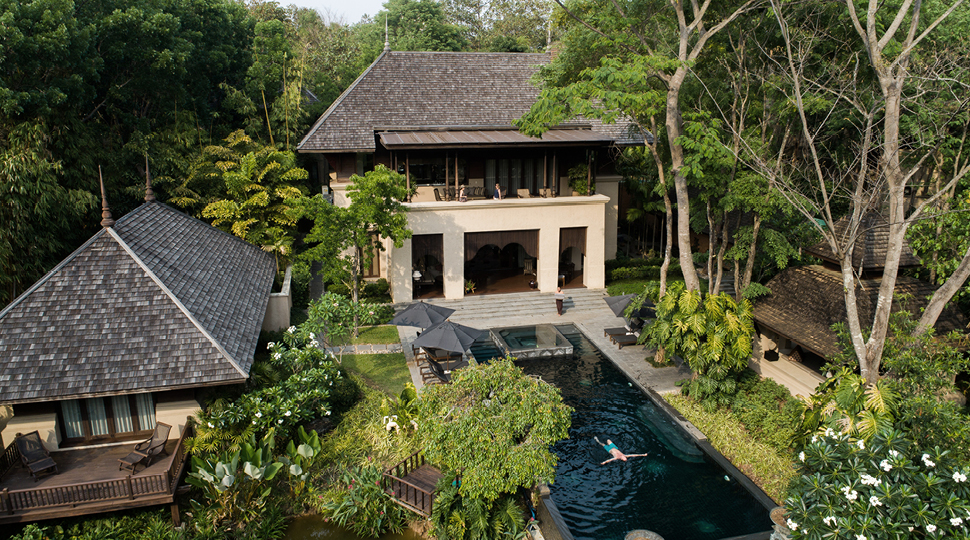 To the south lies your chance for laid-back island life at Four Seasons Resort Koh Samui. Consider a yacht trip to Angthong National Marine Park – 42 pristine and protected islands full of limestone caves, white sand beaches and colourful coral reefs. "There are many neighbouring islands around Koh Samui that you could visit for a half- or full-day trip," says the Resort's Boat Captain, Anuchit Chaisuk. "Whether your idea of the perfect holiday is to do nothing at all, anchor off a remote beach for a day of pure tropical relaxation, or head to the best snorkelling or diving spots in the Gulf of Thailand, there's something for everyone."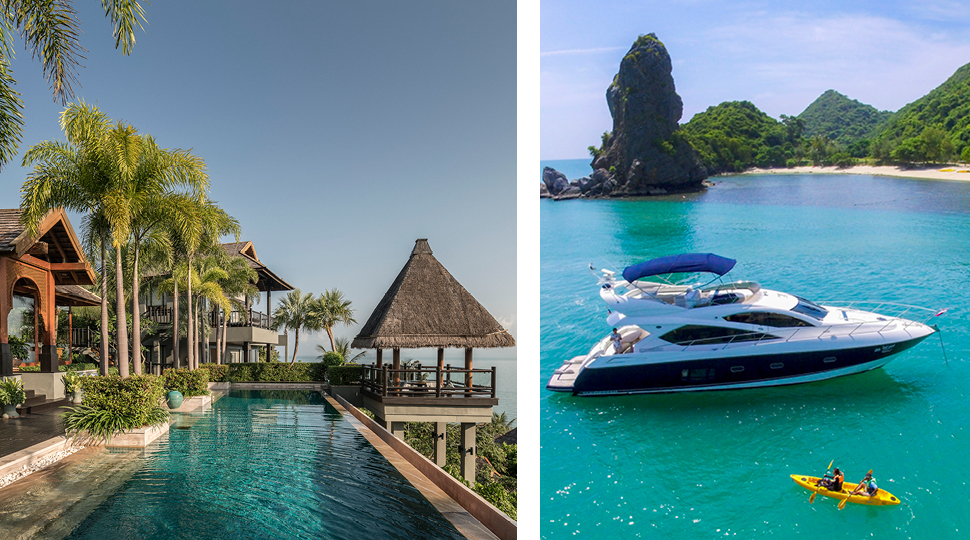 Guests can get a taste of Muay Thai – Thai kickboxing – at the Bill Bensley–designed Muay Thai "ring with a view." In a one-on-one session with the Resort's in-house expert Anuphong Deesamer (Kru An), guests can try their hand at throwing a few punches and honing the technique.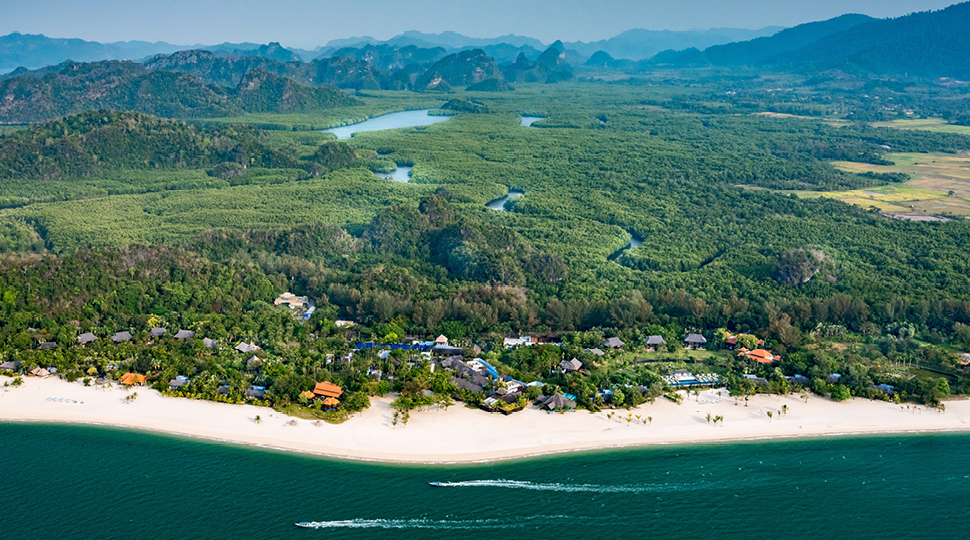 The island where Four Seasons Resort Langkawi stands is home as well to fantastically diverse wildlife and one of the world's most ancient rainforests. And there's the water.
Kayaks, catamarans and windsurfing gear are available for guests who want to explore along the island's longest stretch of beach. The Resort is next door to the Kilim Karst UNESCO Geopark, where guests and Resort naturalists take kayak tours through lush forests to spot pythons, otters, eagles and sleeping bats.
On land, sign up for a guided rainforest walk, which will be accompanied by plenty of birds. For more adventure, the Resort can arrange a guided trek to Gunung Mat Chincang, the island's second-tallest mountain, to traverse the rocky terrain near the famous Seven Wells waterfall. Or channel your inner Alex Honnold and scale a 40-foot natural limestone outcrop with the guidance of the Resort's Adventure Team.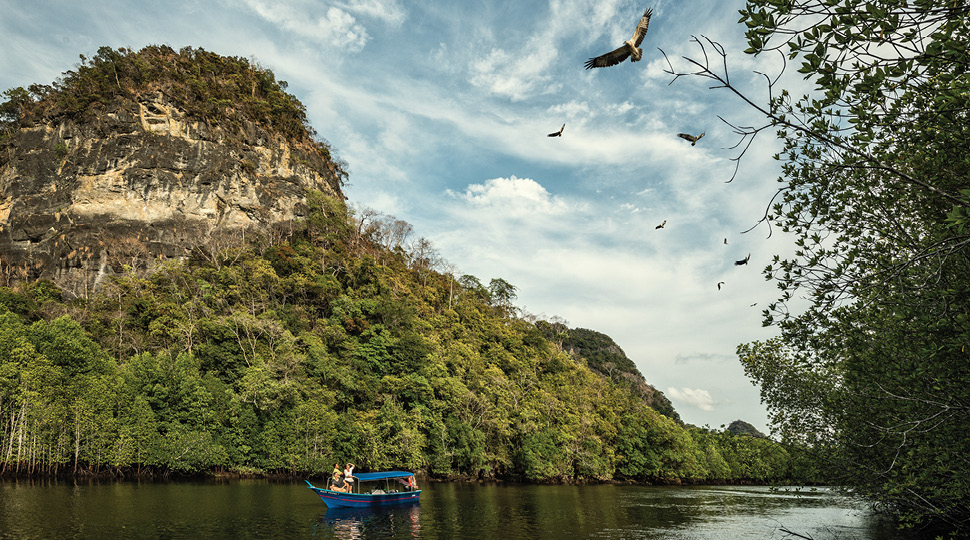 At the far end of the Resort's pristine beach, time stands still. Spend the afternoon with the Adventure Team at Rumah Ikan Fish House, a traditional fish house suspended above the Andaman Sea. Experience an old-school method of fishing, a fascinating process that involves a structure of wooden splints. Afterwards, join Pak Din, a local fisherman, as he uses his sharp eyes and fast hands to harvest the freshest lobster from the Andaman Sea. The Resort's culinary team will turn his catch into an ocean-to-table dining experience.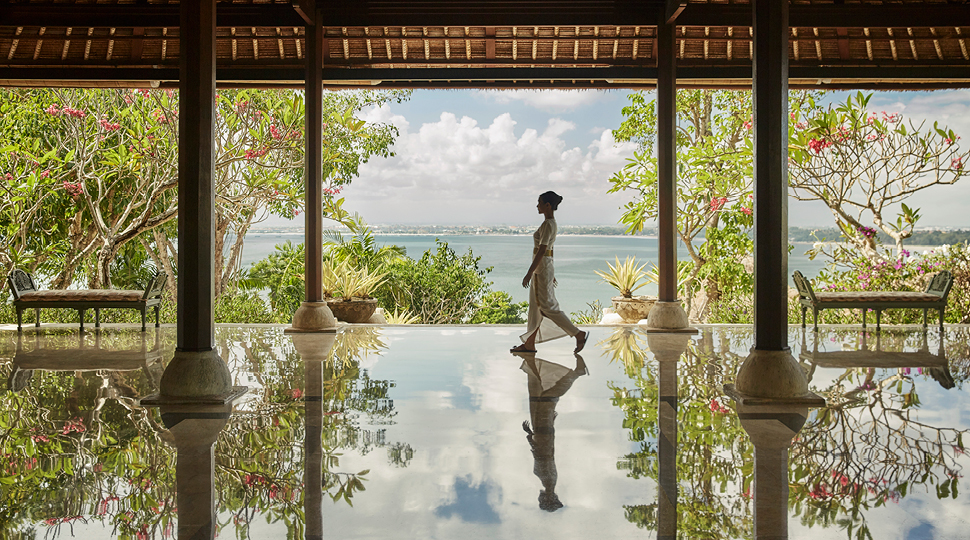 Further south at Four Seasons Resort Bali at Jimbaran Bay and Four Seasons Resort Bali at Sayan, there's no time like mealtime. "Bali has a cultural and culinary mix like nowhere else on Earth," says Executive Chef Phillip Taylor of Four Seasons Resort Bali at Jimbaran Bay. "Like other areas in Bali, including Jimbaran, Uluwatu, Seminyak and Canggu, the Ubud dining scene has evolved in the last few years and offers world-class restaurants and high-profile local chefs as well as international names who now call Bali home."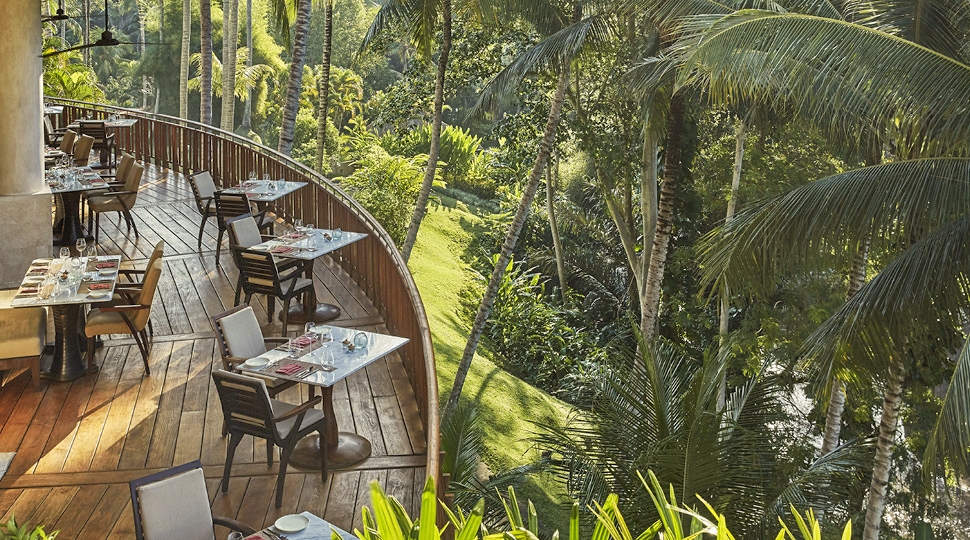 Less than two hours from Bali by plane is the bustling city of Jakarta, and within the city stands its urban oasis, Four Seasons Hotel Jakarta. "The city is full of hidden gems," says Rizky Pratama, Concierge Supervisor. He recommends visiting Taman Mini Indonesia Indah , "Indonesia's Beautiful Miniature." This green space in East Jakarta celebrates the archipelago's heritage with 34 traditional house pavilions, one for each of Indonesia's provinces, displaying its traditions.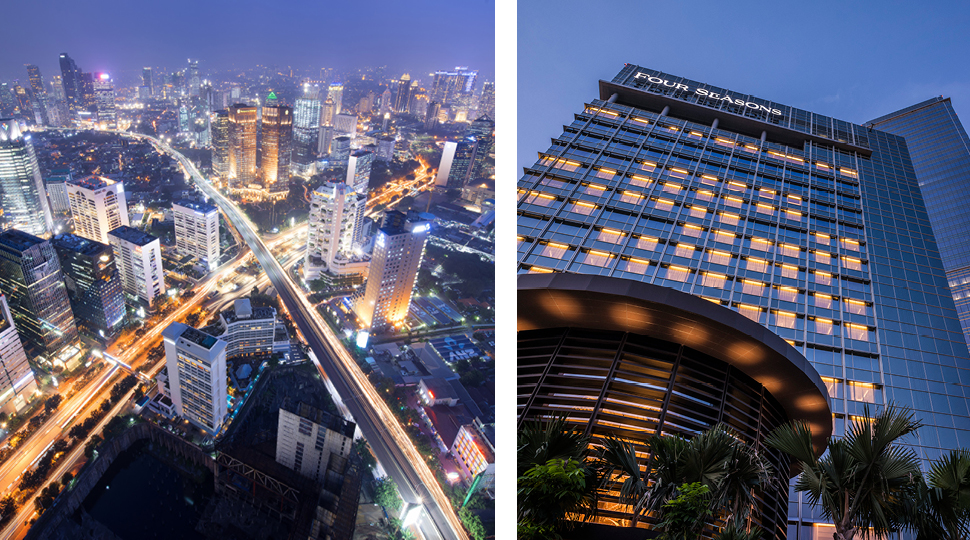 "Pay a visit to the biggest Chinatown in Indonesia," says Administrative Assistant Vera Catherine. "While you're there, don't forget to check my favourite coffee in town, Kopi Es Tak Kie at Pecinan, Glodok."
YOUR JOURNEY BEGINS HERE
Where will you go first?