In 2017, I set out to become the first black woman to visit every U.N.-recognized country in the world. As of June 2019, I have covered 176 out of 195 countries. This quest is not just about shifting the narrative about what and who a traveller or tourist looks like. It's about changing travellers' perception of places.
The Middle East, for example, is one of my favourite regions. In my experience, the hospitality there is among the best in the world.
This was especially apparent on a recent trip to Saudi Arabia, where Four Seasons Hotel Riyadh at Kingdom Centre went above (literally) and beyond. The Extraordinary Experiences curated by the Concierge are just that – extraordinary invitations to adventure. I participated in one called Journey to the Edge of the World, and I'm still pinching myself to make sure it wasn't a dream.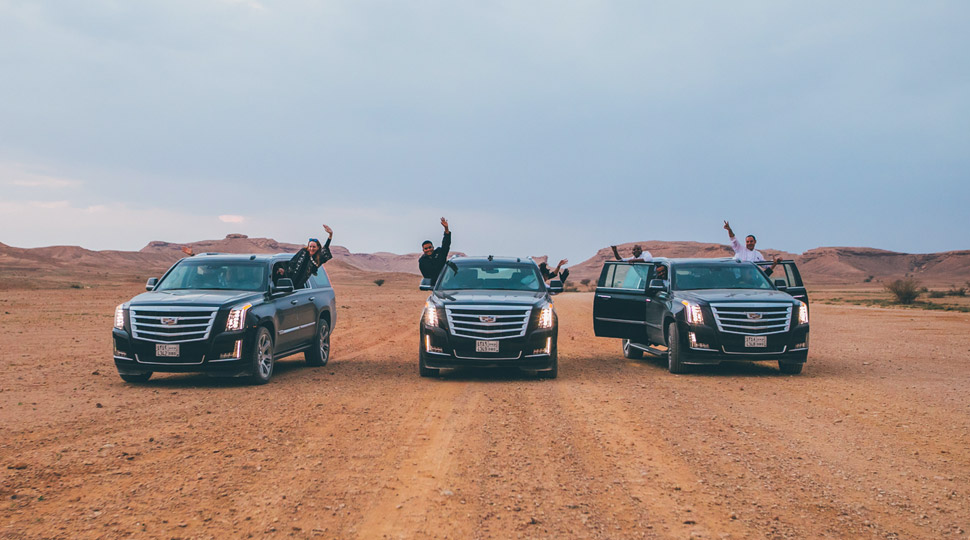 From the Hotel, we made a two-hour drive – in the comfort of a Cadillac Escalade – to the historic oasis of Ad'Diriyah, the former seat of the Saudi royal family. Along the way, we passed a herd of camels. I had to get out for a photo. Later, my guide showed me the lively market centre in Al Bujairy, where I took in the wondrous, clean-cut adobe architecture from the 15th century. It is the gateway to historic Riyadh, and it was magical. Today, restaurants, cafés and parks are mixed in. Every step of the way, my needs were fulfilled. I felt like the star in my very own movie.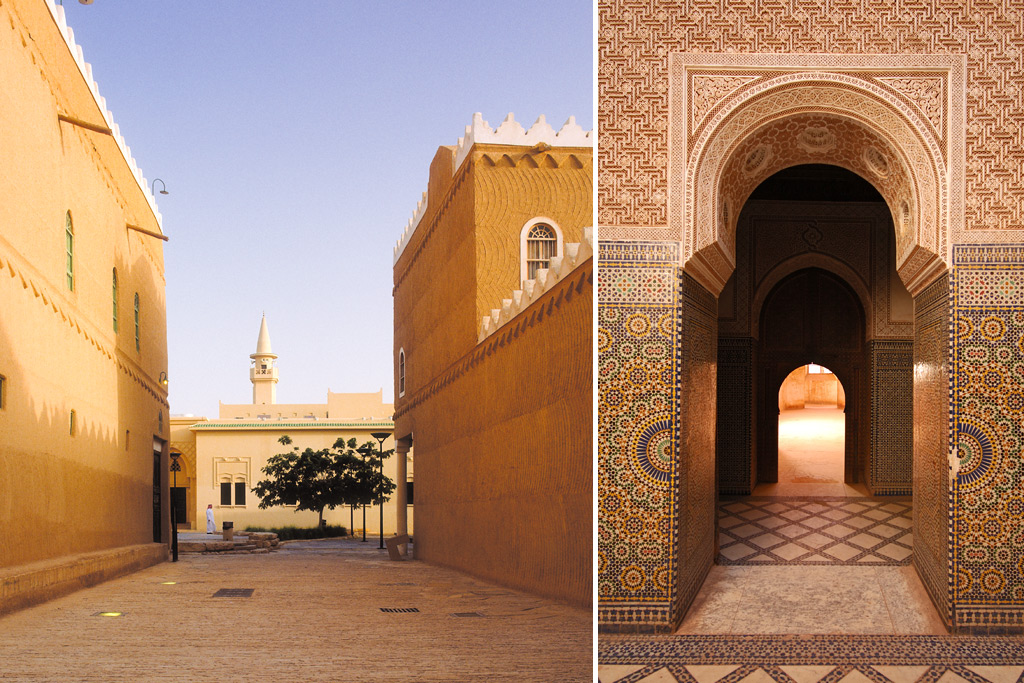 Four Seasons Hotel Riyadh at Kingdom Centre
From there, we drove deep into the Arabian desert. The landscape was alien and breathtaking. But nothing could prepare me for the main attraction, Jebel Fihrayn, a narrow escarpment nicknamed the Edge of the World.
Jebel Fihrayn is as awe-inspiring as the Grand Canyon, and somehow even more expansive and dramatic. Unlike the Grand Canyon's top sites, you may find yourself alone here. You can't help but feel connected to the canyons, the plains and the world beyond in a profound way.
I wouldn't have believed that the experience could be elevated even further. It was, though, with my bird's-eye view on a micro-light flight.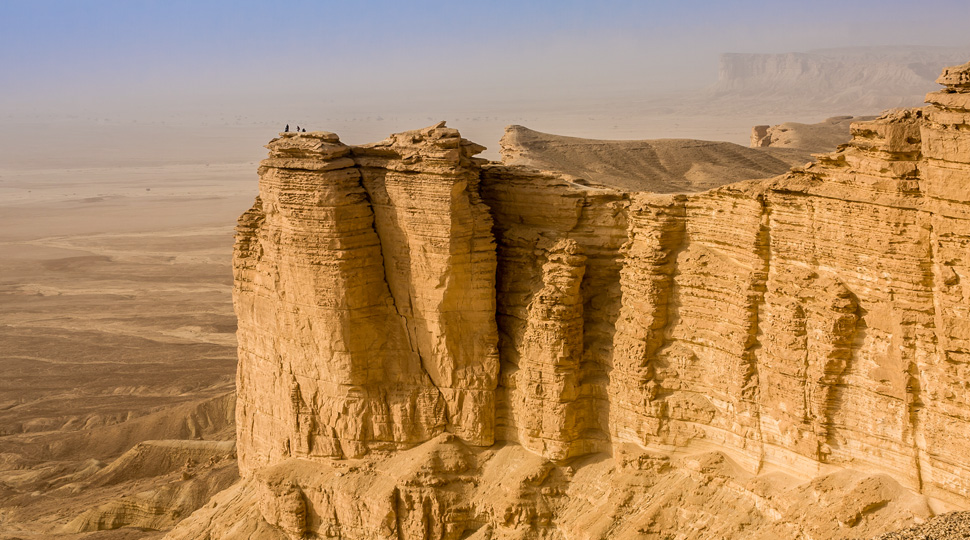 After landing, we returned to a Bedouin tent surrounded by bright carpets. It must have taken hours to set up. My guide also immediately appeared with cold hand towels and sweet, tender dates. There, we also savoured a fragrant spread of lamb chops, grilled vegetables, hummus and other dips, and tagines. 
We finished with my new favourite dessert, kanafa, made from phyllo and cheese. Seeing how much I enjoyed the feast, the pastry chef later showed me how to make it on my own.
To be almost alone in this vast environment, while treated to this level of service and food, is something I will never forget. Another is watching the landscape change colours as the sun began to set.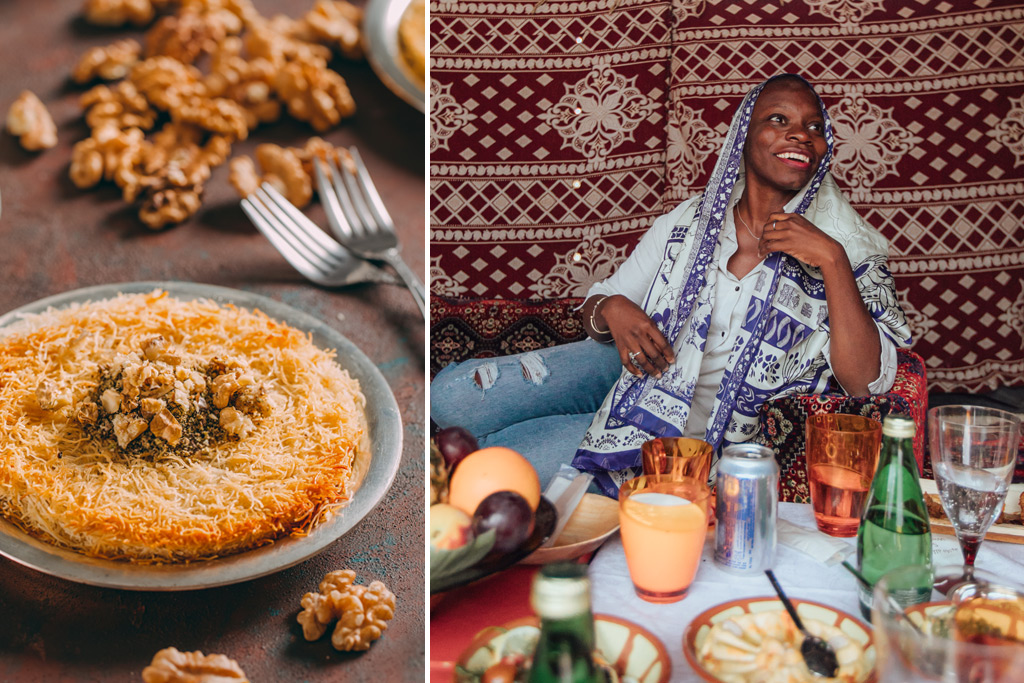 Saudi Arabia, country 146 out of 195, was a big deal for me. Western tourists have only recently begun exploring its wonders under a new visa system, and it was fascinating to get a peek at everything going on there. I was surprised to learn that women are no longer required to cover their heads in public. Most still do, and I did out of respect.
As for clothing, when I arrived, my luggage had been lost on the way. Fortunately, the team at Four Seasons Hotel Riyadh offers all of its female guests robe-like abayas throughout their stay. I was grateful for this touch and how it considered the cultural context.
The Hotel, which is set high up in Riyadh's iconic, 65-storey Kingdom Centre, also offers two women-only floors and a gym exclusively for women. I appreciated the way these touches considered the cultural context.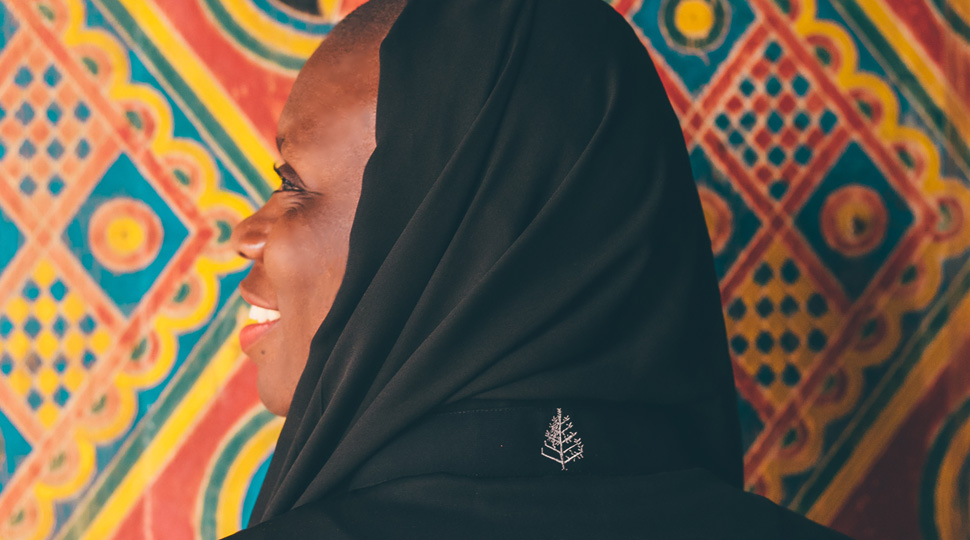 Seeing the World
With Four Seasons
During my travels I have been fortunate enough to stay at several Four Seasons hotels. Four Seasons Hotel Tunis is a game-changer. Even if you aren't staying there, you should go for dinner. The flavours of Spain, France and Italy can be tasted in the top-floor Creek Bistro Chic as you look out on blue waters. I now tell people to skip Mykonos and discover Tunis instead.
Thanks to the partnership between Four Seasons and NetJets, I flew privately from New York City to Miami for their Pop Down event, a one-night-only gala coinciding with Art Basel and held on board a custom-designed superyacht.
Just as Four Seasons allows me to discover the world in new ways, I invite you to do the same. Follow along at @thecatchmeifyoucan.
YOUR JOURNEY BEGINS HERE
What discoveries will you make?