How do you create a space that feels like home but still has an undeniable sense of place? To start, you marry local architecture and heritage with beautiful modern interiors, says Nicolas Roux, founder of celebrated London design firm Rive Gauche. Here, Roux shares how he and his team created a design narrative at Four Seasons Private Residences Bahrain Bay that tells a story about both local culture and contemporary living.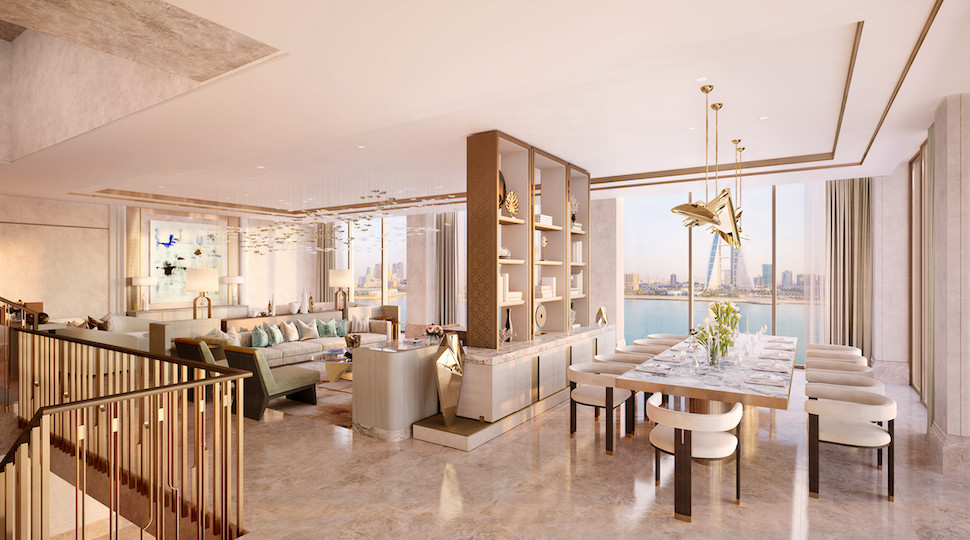 Q: Craftmanship, best-in-class materials and luxurious finishes are hallmarks of your projects. How did you use them here to create a sense of place?
A: The design truly pays homage to the exquisite craftsmanship that you find in the traditional Bahraini architecture. The ceiling, for example, was crafted from fibre plaster using a century-old technique to create very intricate details and motifs. And we brought a focus to the amazing local pearl resources famed across Bahrain by using mother-of-pearl inlay throughout the design in a variety of ways. We also used a lot of beautiful marble across the floors, walls and architraves, and a Guatemala green verde stone to reference the deeper colours from the spice markets.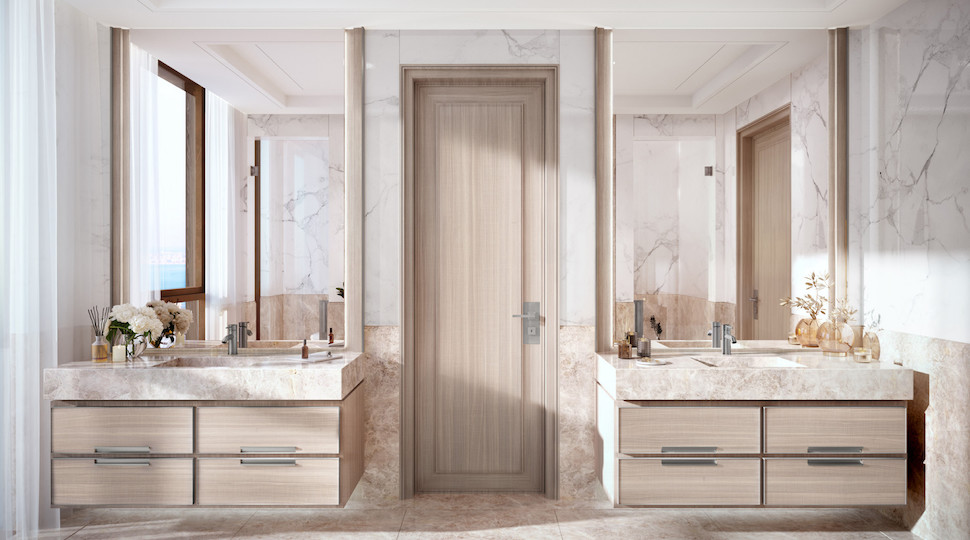 Q: Bahrain has such a rich architectural heritage. How did you incorporate elements of that into the design?
A: We brought the region's existing architectural motifs into the interior details very subtly. For instance, if you come into the main entrance and look up at the ceiling, you'll see a bespoke cornice which we reinterpreted with more traditional detailing. We also focused heavily on volume and space. Over-scaled doors and large, thick architraves, just like the traditional palaces in Bahrain and across the Middle East, remind residents where they are at every turn. Those references create another dimension to the interior and bring depth and meaning.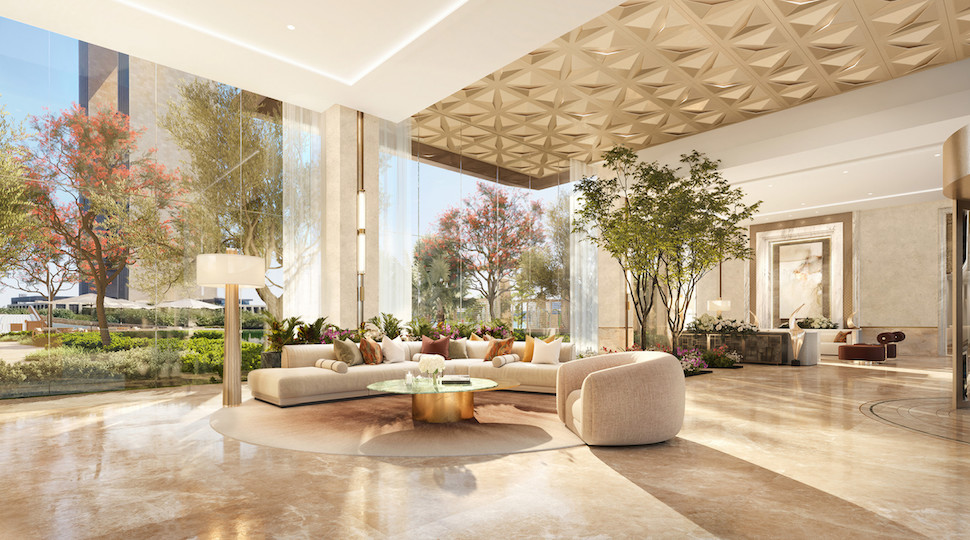 Q: How did the landscape influence the interiors?
A: The desert and milky sky of the region informed the neutral and warm base palette, which we then combined with the deep, rich blue of the sea and the red, ochre and green colours of spices from the market.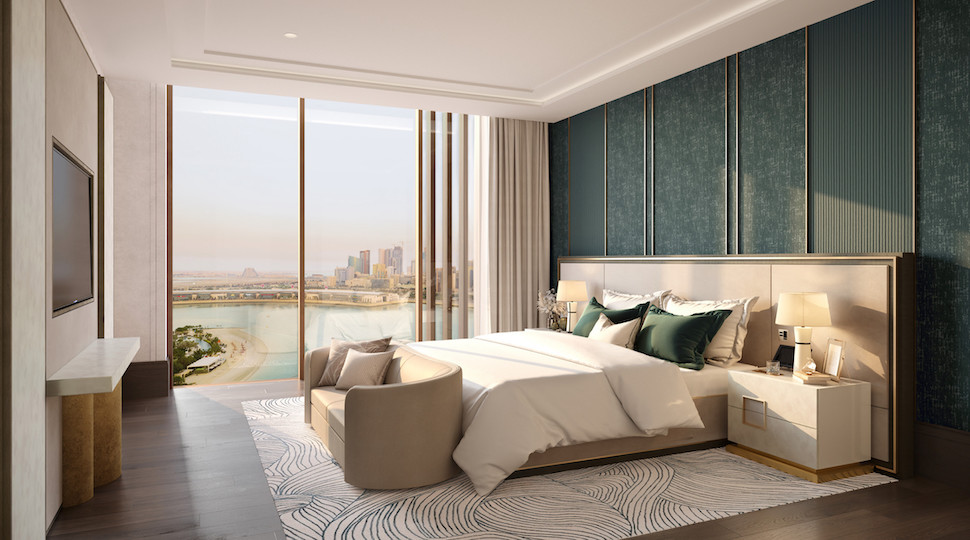 Q: This property has an oasis-like setting right on the water. How did you bring the outdoors into the design?
A: The Residences are surrounded by water, and you can arrive by boat to the jetty and enter through the lavish landscape. When we looked at the design and arrival experience of the residents, we wanted huge double-height windows across the breadth of the property so we could bring the outside in and give the full effect of being connected with nature. We wanted to incorporate a very green landscape providing a luxurious background for the residences, which would feel safe, restorative and connect back to nature.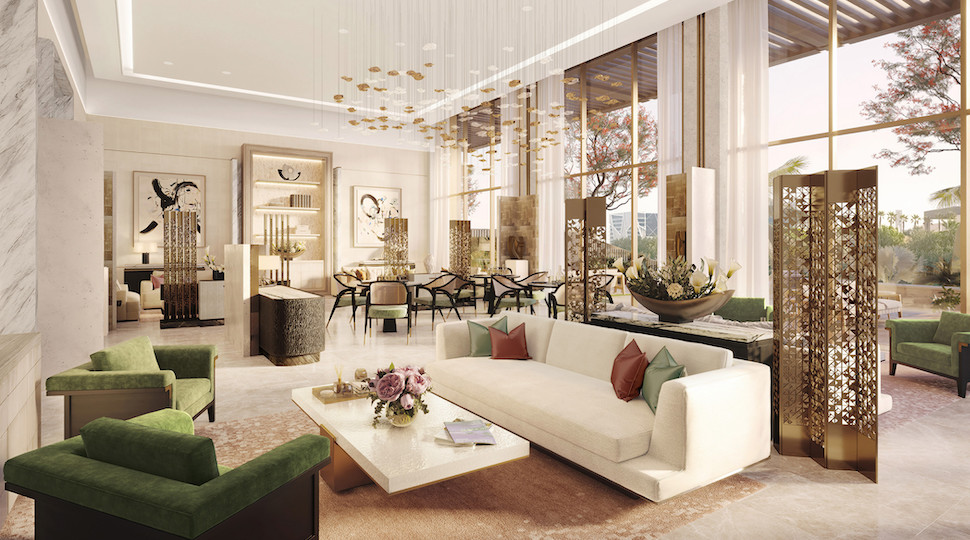 Q: What were some considerations when designing the public spaces?
A: All of the common areas, which are solely dedicated to the residents, become almost an extension of their private residence. Downstairs in the residents' public space, you have various areas: a multifunctional room for events, a cinema for parties, a lobby room for meetings, and a gym with double-height windows offering views out onto a green landscape. There's a lot of flexibility as to how residents can use the spaces. It's almost a combination of family home and a five-star hotel.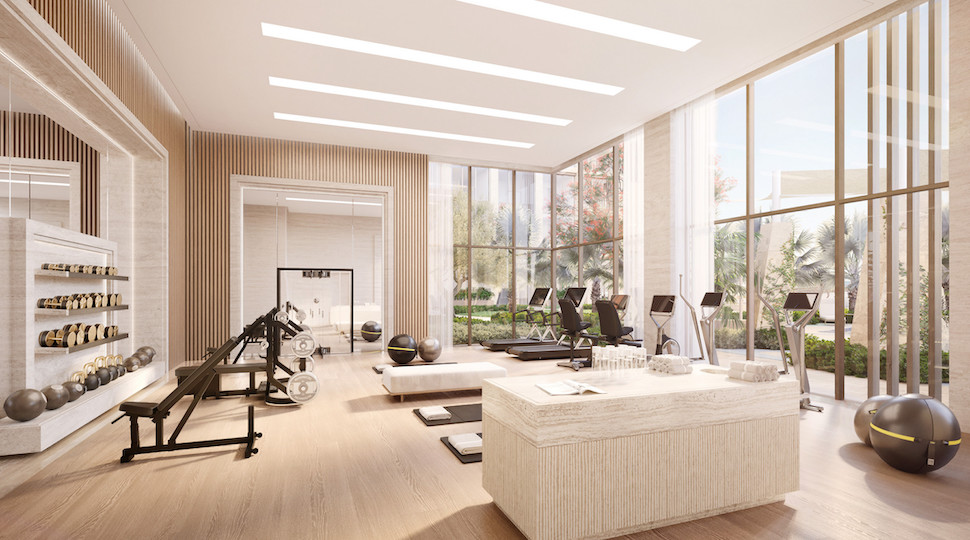 Q: You often speak about the importance of creating emotion in a residence. Can you give an example or two of how you did that at Four Seasons?
A: It's important that owners feel relaxed, that this is a space where they can feel at home. We created a big, open living area, which is not typical of homes in the Middle East. The design itself is very calm and soft, and we used bright pops of colour to evoke happiness. Overall, it's a calming, grand, luxurious space. As you walk through into the residence, the tones become warmer. We also used a lot of natural handmade plaster with a number of layers, texture and patterns, so as you walk through and get close to the walls and touch the furniture, those textures create an experience and an emotion.

Set in a private waterfront enclave in the heart of the capital city, Four Seasons Private Residences Bahrain Bay features an exclusive collection of 112 bespoke residences, including 98 spacious apartments, eight duplexes and six penthouses, all surrounded by sweeping views of Bahrain Bay, the iconic Bahrain World Trade Center and the Manama skyline. Along with access to residents-only spaces such as manicured gardens, a sunlit infinity-edge pool, a well-appointed fitness centre, an intimate residents' lounge and a private cinema, owners will also have the full spectrum of services and amenities from the neighbouring Four Seasons Hotel Bahrain Bay within easy reach.
Want to take a closer look? This virtual tour offers an exclusive peek inside.
See what it's like to live with Four Seasons