Couples' Experiences
Wellness Devotee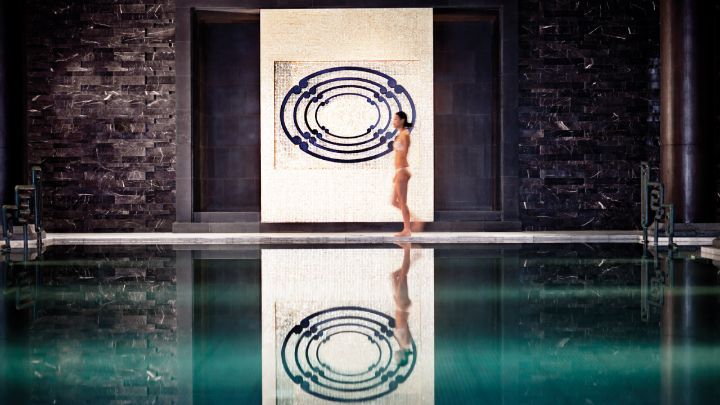 We celebrate wellness as a way of life, based on an attitude that is positive, healthy and in tune with nature. Our Four Seasons team is dedicated to helping you create a wellness program dedicated to balancing mind, body and spirit – incorporating everything from yoga and tai chi to special spa rituals.
Experience relaxation and rejuvenation in our astonishingly beautiful Spa, honoured with four stars from Forbes.
SIGNATURE RITUAL: DRAGON WELL TEA AND JADE SPRING RITUAL

This ritual begins with a green tea and black stone foot wash, followed by a bath infused with a concentration of approximately 60,000 dragon well tea leaves. Your skin is exfoliated with a dragon well tea scrub, and afterwards, nourished with a warming imperial tea wrap. The ritual finishes with a relaxing aroma massage, using an oil-infused herbal concentrate to boost circulation and restore a natural state of equilibrium.
SIGNATURE RITUAL FOR WOMEN: IMPERIAL CONSORTS RITUAL

Begin this delightfully scented journey with a perfumed bath of orange blossoms and gardenia. Afterwards, enjoy a body scrub and wrap using crushed pearls, almonds and white china clay to exfoliate and nourish your skin. Continue with the private steam to detoxify and re-energise the body, and finally experience our jade and crystal massage with traditional Tui Na techniques to release any tension.
GARDEN YOGA

Embrace the spirit of wellness with our garden yoga program. It's an opportunity to improve your balance and core strength, while enhancing your mindfulness and focus. Enjoy the experience outdoors, as you breathe in fresh air scented with the natural floral aromas of our garden.
CYCLING

One of the most bike-friendly cities in China, Hangzhou is every cycling-lover's dream. At Four Seasons, our Concierge can provide tailor-made bike routes that cater to your specific interests. If you prefer, we can arrange an experienced bike tour guide who can explain all the beautiful sights.