Hangzhou's stunning West Lake, or Xi Hu, has inspired poets, leaders and heroes whose names have been passed down in stories for generations. The city is also a destination for romance, and the setting of one of China's greatest love stories. As the ancients once said, "In the universe, there is heaven; on earth, there is Hangzhou."
The city is also a prime destination for active families, with bicycle paths, parks and plenty of cultural attractions. Base yourself in the heart of it all, at Four Seasons Hotel Hangzhou at West Lake. The Hotel is designed in traditional Chinese style, with windows framed in dark wood, snaking passageways, curving eaves, countless courtyards enclosing picturesque Chinese gardens, and an extravagant, chinoiserie-filled Spa.
Outside the Hotel, plenty of family-friendly adventures await.
Head to the parks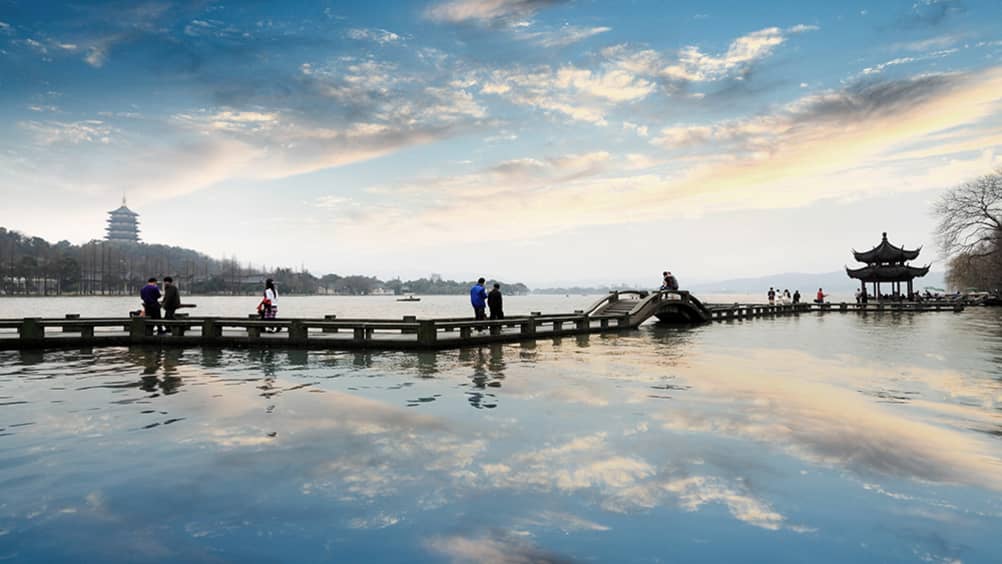 Photography Zoonar GmbH / Alamy Stock Photo
The Hotel is a five-minute walk from the beautiful parks that surround West Lake, which has been landscaped and manicured to perfection since its construction in the eighth century. Children will love exploring the meandering walkways, pavilions and half-moon bridges, while adults can watch locals practice tai chi or sip tea at a nearby café.
Within the area is Zhongshan Park—once the holiday home of Emperor Qianlong—and Quyuan Gardens, a collection of gardens spread over several islets. You can also rent bicycles from the Hotel and pedal your way around the lake.
Walk the Su and Bai Causeways
No visit to West Lake is complete without walking the famous Su and Bai Causeways, spanning a few miles each. Named after two former governors Su Dongpo and Bai Juyi, both famous poets in Chinese literature, the causeways are landscaped with plum and cherry trees, and bounded on both sides by the lake. Take an early morning stroll, ride on the electric tourist shuttle or climb into a row boat for a personal ride around the lake. Look for the stone carvings of verses left by Emperor Qianlong, expounding the ten beautiful sights of Hangzhou. To avoid a larger crowd, try to time your visit on a weekday.
Catch a performance
Enjoy the private experience at West Lake and catch Enduring Memories of Hangzhou, a superb performance directed by famous Chinese director Zhang Yimou with music by Kitaro. 45 minutes visual extravaganza highlighted the city's rich cultural legacy as well as incorporated international elements that subtly reflect the state of today's globalization. Hundreds of dancers swirl onto a stage built just below the surface of the water, with West Lake as the backdrop and dramatic lighting and hydraulics to make for
a must-see show.
The show is a five-minute walk from the Hotel, where you can get tickets from the Concierge – be sure to ask for seats on the water platform, which puts you closest to the stage.
Go back in time
If your kids want to know how it felt to live in ancient China, stroll down to Qinghefang Old Street, a historical stretch of ancient shop buildings. The 400-year-old Zhang Xiaoquan Scissors shop sells beautifully engraved kitchen knives, and Hangzhou Wangxingji Fans offers a large array of traditional Chinese fans ranging from silk to paper and feathers. This busy lane is home to plenty that will interest children, too: the rhythmic pounding of mochi with huge hammers, maltose lollipops shaped into the form of animals and sugar figurines molded by an old master.
Visit Old Hu's mansion
To learn more about ancient China, head to Hu Xueyan's mansion. Not well known to international tourists, this is the former residence of one of China's most wealthy businessmen in the Qing Dynasty. Kids can marvel at the fascinating courtyard house with its coloured glass and elaborately carved eaves, peek at rooms which seem to have been frozen in time, and explore the artificial cave system built into rockery with tunnels, nooks and corners. See the various pavilions Hu Xueyan built to house his 19 wives, then walk up to his bedroom, which overlooks it all. Keep a look out for an entry to the basement, where the master kept all of his gold and treasures.
Take a boat ride at Xixi Wetlands
Fair weather calls for a trip to Xixi Wetlands, about 15 minutes from West Lake. This nature reserve is a glorious expanse of pretty waterways, shady ponds, fields and an old fishing village. Take a boat ride through a maze of canals to the village, now converted into a museum. Walk down quiet lanes, see an old rural kitchen and tour an exhibition of silk production.
Hang at the pool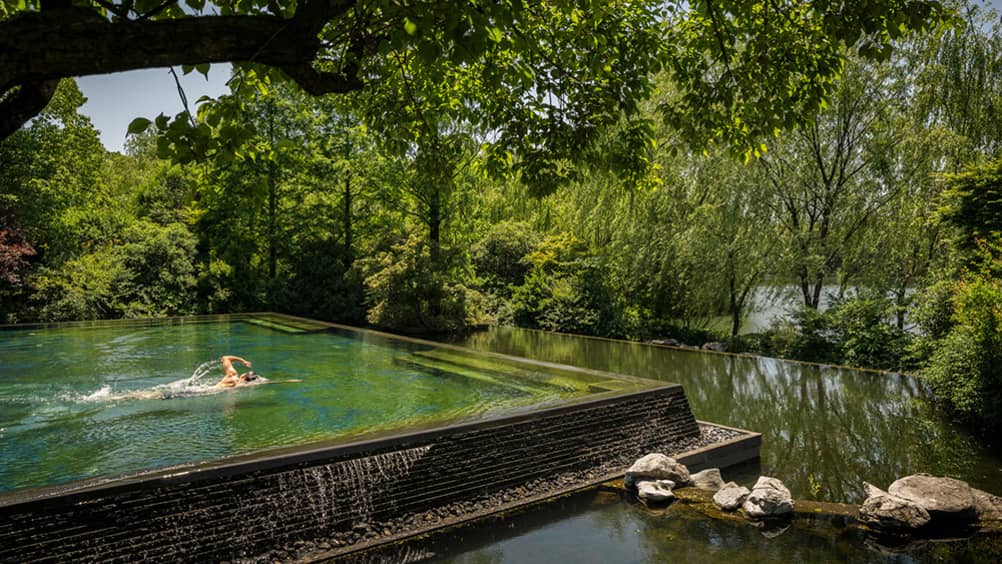 Photography Four Seasons Hotels and Resorts
While exploring Hangzhou, make time to enjoy the various amenities offered at the Hotel. Kids (and adults) have their choice of two swimming pools—one outdoors and one indoors. Duck into the cavernous steam rooms, by the indoor pool, while children play; or book a treatment at the opulent Spa.
Sample local food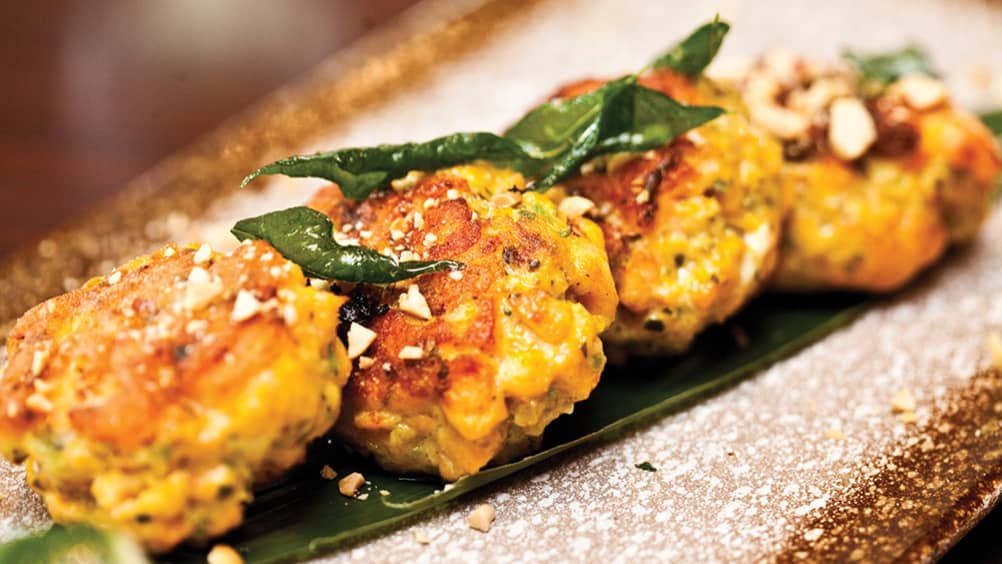 Photography Four Seasons Hotels and Resorts
Local cuisine is surprisingly kid-friendly at Jin Sha restaurant, inside the Hotel. Overlooking a landscaped pond with décor that hints of old Shanghai, the restaurant boasts 11 stunning private rooms. Tuck into regional favourites such as the famous Dongpo pork, crisp spring onion pancake, steamed pork dumplings with crab meat, crab claw with sturgeon caviar, and chilled, stewed pear with wild rice pearls.
Four Seasons Hotel Hangzhou at West Lake