Centred on West Lake and surrounded by hilly tea plantations, temples and shrines, Hangzhou enjoys a picturesque setting. The verdant landscapes historically made the area a popular retreat for Chinese painters, poets and philosophers. To help you make the most of your visit to this peaceful destination, we asked the concierge team to gather the savviest sightseeing suggestions they could find—not just their own, but also those of other local connoisseurs, including some they work with every day at Four Seasons Hotel Hangzhou at West Lake.
Cycling West Lake
Photography courtesy Four Seasons Hotels and Resorts
Inscribed onto the UNESCO World Heritage culture and landscape list in 2011,West Lake (known locally as Xi Hu) is Hangzhou's natural centrepiece. Temples, pavilions and ornamental gardens line the lake's shores, while two causeways and a handful of artificial islands add visual drama. Cycling is the best way to explore. Dotted around the city and lake are 2,000 public bicycle kiosks where bright red cycles can be rented. Jump into the saddle and head along the Su and Bai causeways, and to the poetically named Flowering Harbour, Orioles Singing in the Willows garden and Lingering Snow on Broken Bridge, a humped bridge where two unrequited lovers meet in the Lady Whitesnake fairy tale.
If the landscape leaves you thirsting for more, extend your cycle ride 4 kilometres (2.5 miles) west to the Temple of Soul's Retreat (Lingyin Si). The 800-year-old Buddhist temple features four grand halls, plus grottos and caves adorned with 400 striking Buddhist sculptures dating from the 10th century.
Holographic fairy tale
Chinese movie director Zhang Yimou's Impression West Lake water show is a captivating way to pass a warm evening. Zhang directed the 2008 Beijing Olympics Opening Ceremony, and he has created another outdoor spectacular staged on the lake near the Yue Fei Temple. A 1,800-seat waterfront amphitheatre enables you to watch an inventive show comprising holographs and animations, lasers and music that fuses the folk tales and legends of West Lake against a backdrop of silhouetted hills and, if you are lucky, moonlight. Costumed characters are projected onto the lake stage, glide across the waters, and dance on ceremonial boats and temples. Grammy Award–winning Japanese musician Kitaro wrote the musical score.
Hiking the hills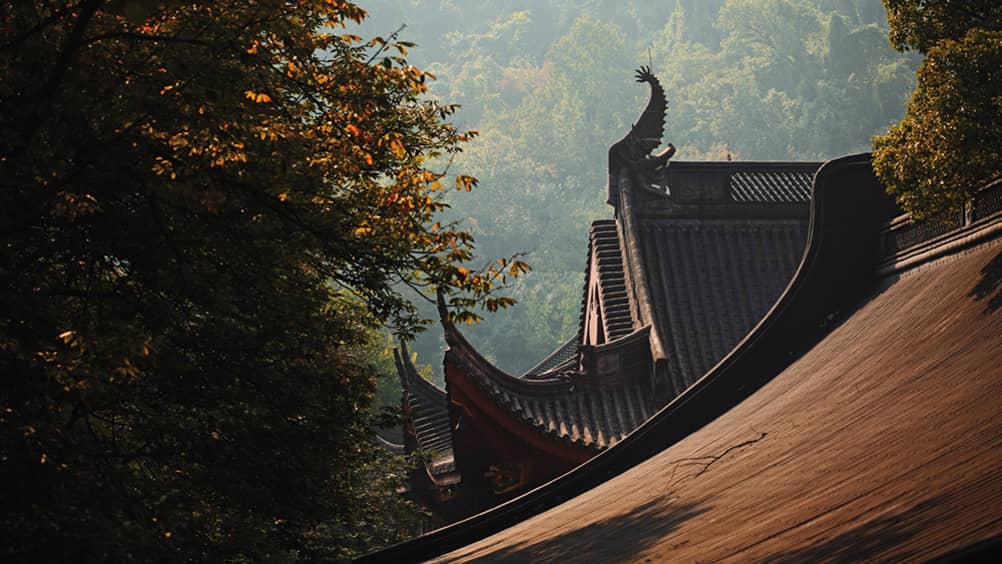 Photography courtesy Four Seasons Hotels and Resorts
Walking Hangzhou's hilly terrain affords fine panoramas over West Lake and the surrounding scenery. Ascend the forested Baoshi Hill by starting from the lakeside Yue Fei Temple. The first stop is Purple Cloud Cave, a revered cave temple. From here, a 30-minute hike uphill through bamboo glades brings you to Yellow Dragon Cave, another cave temple, where a dragon's head is reputed to have emerged magically from the rock. A steep stone path winds upwards to the obelisk-shaped Baochu Pagoda, which is visible across Hangzhou. Originally built in 963, the current 150-metre-high (500-foot) pagoda was rebuilt in the 1930s.
History museums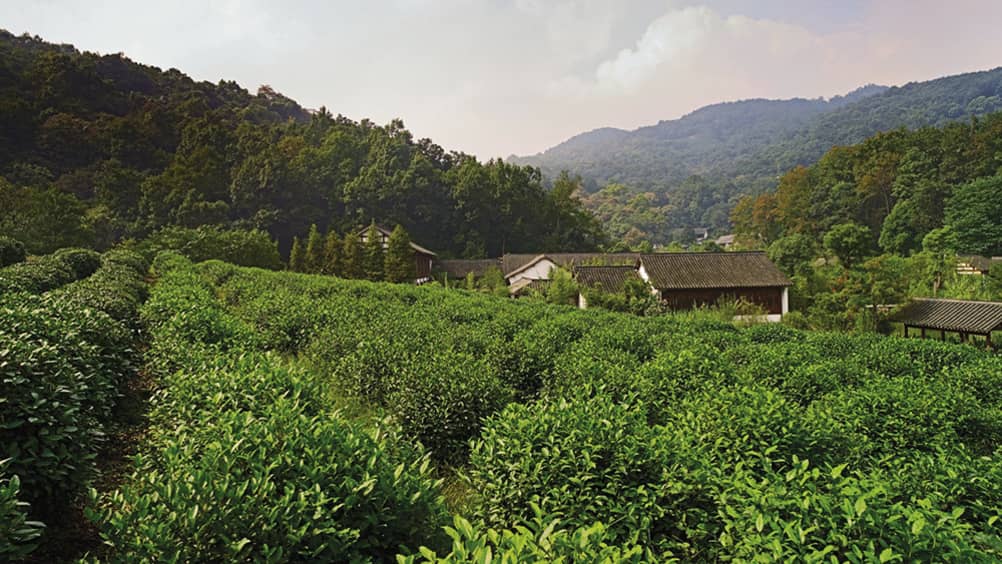 Photography courtesy Four Seasons Hotels and Resorts
Hangzhou boasts a diverse collection of museums for culture buffs. The West Lake Museum showcases the lake's cherished position in Chinese folklore. Archaeological relics and artefacts are displayed, and a 3-D movie tells the story of West Lake.
Hangzhou's Longjing, or "Dragon Well," tea has been cultivated in Longjing Village for centuries. A 30-minute cab ride south of West Lake, the China National Tea Museum is set amid a working tea plantation. The exhibition explains the intricate processes required from harvesting the crop to serving green tea into a porcelain cup. Be sure to stop into the tea house to sip the local brew.
Located in Ninetree Village, a 45-minute drive from downtown, the Liangzhu Culture Museum combines ancient archaeology with contemporary architecture. Created in cream-coloured travertine stone by architect David Chipperfield, it traces the history of the Neolithic Liangzhu people, also known as "the Jade culture," who inhabited the area during the time the pharaohs ruled Egypt. On display are priceless jade carvings, pottery and ceramics from around 3000 BC.
Shopping in ancient style
Located at the foot of Wu Hill, Hefang Old Street marketplace is alive with street food stalls, candy sculptors and caricaturists, plus tea houses, cafés and restaurants. Housed in Qing dynasty–style stone-fronted buildings, stores specialize in local Hangzhou products, notably green tea, Chinese medicine, fine silk clothing and accessories, and landscape paintings. Operating here for more than a century is Wang Xing Ji Fan Store, which sells fragrant sandalwood, decorative paper and silk fans. Zhang Xiao Quan Scissors is revered for its high-quality scissors and knives forged with hand-carved blades.
Xixi Wetlands
A picturesque alternative to West Lake is just 20 minutes by cab from downtown. The Xixi National Wetlands Park covers 11.5 square kilometres (4.5 square miles) of winding waterways and marshlands. It's home to abundant flora and fauna, including 126 species of birds. This peaceful retreat lies on the outskirts of a sprawling city, but the wetlands were first cultivated in the Han dynasty and covered up to 60 square kilometres during the Ming and Qing dynasties. It was designated as China's first national wetlands park in 2005. Thousands of visitors come annually to tour the bucolic landscapes on a wooden junk, sip tea and enjoy Hangzhou cuisine in small restaurants overlooking the marshlands.
Dragon boat racing
The colourful Duanwu Dragon Boat Festival is perhaps Hangzhou's most spectacular annual event. Held at Jiang Village in Xixi Wetlands, it attracts thousands of people from across China and around the world who beat drums, strike gongs and wave flags while cheering on competitors in the exciting riverboat races along a 1.2-kilometre (three-quarter-mile) course. Founded around 2,500 years ago, Dragon Boat Racing is a cherished aspect of Chinese culture. Held on the fifth day of the fifth month of the lunar year (usually in June or July), the races and pageantry traditionally celebrated the annual summer harvest and sparked preparations for a new agricultural cycle. In addition to the competitive races and ceremonial Dragon Boat processions, landlubbers can browse numerous stalls and kiosks selling Hangzhou handicrafts and street food.
Longjing tea and dining
The spring tea harvest (usually late March/early April) is a Hangzhou highlight. Delicious Longjing tea has been cultivated at nearby Longjing Village for centuries. Take a cab into the picturesque hills south of the city to watch tea pickers in action, and try hand-drying the leaves in a large iron wok.
From the scenic village, follow the path descending into the valley to Longjing Manor. Diners at this exclusive Chinese restaurant sit around circular tables in small private pavilions overlooking beautiful gardens. A daily changing menu features organic Hangzhou dishes, including Roast Fatty Pork (hong shao ro), and Beggar's Chicken, and Chinese yellow wine. Comfy rattan chairs placed under trees in the garden are relaxing places to sip locally grown tea after lunch or dinner. Be sure to make a reservation, as this restaurant is a perennially popular spot for both locals and tourists.
Four Seasons Hotel Hangzhou at West Lake