My Four Seasons
Food, Glorious Locally Sourced Food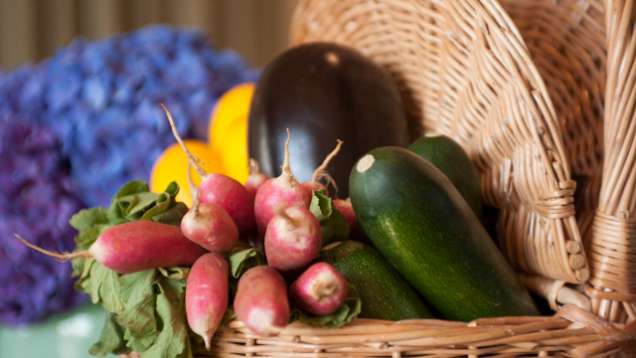 James Dugan's overriding memory of childhood was spending time in his grandparents' back garden which was filled with canes and greenhouses growing soft fruits to sugar snap peas. It was here he learnt all about growing from seed and the rewards of watching all the home-grown produce being harvested, ready for his grandmother and mother to lovingly turn into sweet jams and chutneys.

Now, years later, in his role as Executive Chef at Four Seasons Hotel Hampshire, Chef Dugan is keen to build on his childhood memories. Showcasing the "Field to Fork" concept, the Hotel has been working closely with local growers and producers since its opening in 2005. As a local lad born and bred, Chef Dugan's focus is on using the best local ingredients possible, expanding on the Hotel's livestock, educating our guests and bringing to life the Hampshire countryside experience.

Chef Dugan oversees the produce grown on the Hotel's 500-acre Estate, which includes apples and pears, honey from the Hotel's own beehives, jams and chutneys, fresh vegetables and herbs grown in the Chef's Patch and eggs from the Hotel's Dorking and Old Sussex hens. As James describes, "The Estate gives you unlimited culinary options to play with, limited only by your imagination."

Expanding the range of home-grown produce, in 2015 the culinary team partnered with local, family-run brewery Andwell's to carefully craft the Hotel's own golden ale. Named "1086" after the year in which Dogmersfield Park was first mentioned in the Domesday Book, the soft orange ale inspired by the Hampshire countryside evokes an aroma of freshly cut grass and oranges with undertones of lychees, peach and spices.

The ale itself has proved to be an inspiration for Chef Dugan who due to its versatility has utilised it in many signature dishes, such as the Ale Glazed Chicken Wings with Poached Egg and Smoked Pancetta, and the 1086 Ale Chocolate Fondant with Burnt Milk Ice Cream. Most recently, he has been focusing on producing the 1086 Dogmersfeld Goat's Cheese – a firm and creamy cheese named after the original name of the Estate during Anglo-Saxon times. The cheese is aged for seven weeks and washed in 1086 ale three times a week. In the final week, it is washed four times to give it that extra edge and to accentuate the nutty, caramel flavour of the beer.

With a selection of homemade jams and condiments in the works, Chef Dugan is proud to be part of this community of food growers and lovers, putting his local country on the culinary map.