A blend of European sophistication and Latin American excitement, the capital city of Argentina offers travellers an authentic cultural adventure. To help make the most of your next trip, we asked Chef Concierge Sandra Ferrarese of Four Seasons Hotel Buenos Aires to share her recommendations for the best things to see and experience in Buenos Aires.
Arts and culture
Widely regarded as the Paris of South America, Buenos Aires actually has strong European roots. A large volume of grain and beef exports led many Europeans to call the city home about a century ago. Today, you can see those influences throughout the city, especially on Alvear Avenue. Here, French and Italian architecture line the streets. One of the finest examples of a Beaux Arts building is La Mansión, which is part of the Hotel; for an even closer look, stay in one of its seven suites.
It isn't only architecture that's on on display here; Buenos Aires is an amazing destination for art lovers, too. Malba is a contemporary museum showcasing Latin American art from masters such as Frida Kahlo and Diego Rivera. Museo Nacional de Arte Decorativo,  is devoted to decorative arts and housed in a Neoclassical mansion that used to be home to the wealthy Errázuriz-Alvear family.
If you're looking for Argentinean art, visit the Amalia Lacroze de Fortabat museum in Puerto Madero. Museo Nacional de Bellas Artes has the world's largest display of Argentine art, as well as pieces from well-known international names such as Rodin and van Gogh.
Tango time
Photography courtesy Four Seasons Hotels and Resorts
Try a class at one of several tango schools, and show off your newly acquired steps by heading to a milonga, a tango nightclub that evokes an elegant 1930s ballroom. Some milongas also offer lessons before they open; La Viruta Tango and Salon Canning are two of the most popular with locals.
Curtain call
Whether you're an opera lover or a novice, don't miss a visit to Teatro Colón, one of the best places in the world to experience this magnificent art. The intimate opera house boasts dynamic acoustics and a visually stunning interior, with frescoed ceilings, ornate chandeliers and gilded balconies.
Argentinian cuisine in Buenos Aires
Oenophiles will enjoy pre-dinner drinks at the Hotel's Pony Line. Try the Sunny Margarita made with Mexican tequila, or a glass of Crios Torrontés wine with St-Germain elderflower liqueur from France in the Des-Coya martini.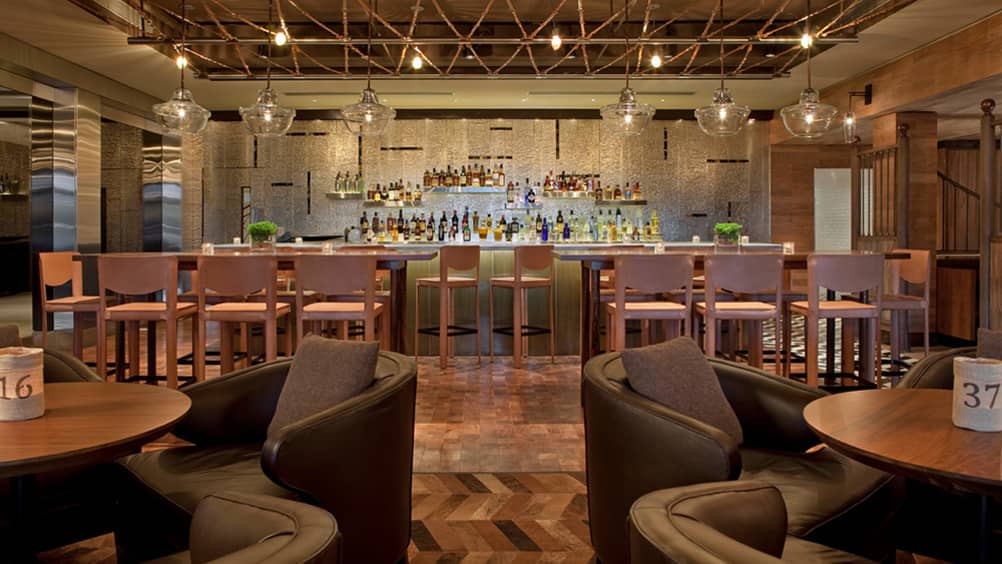 Photography courtesy Four Seasons Hotels and Resorts
Another local hot spot for drinks, Sucre has one of the most extensive and carefully selected wine list and cocktail menu in the city. You can also try its modern interpretations of classic dishes, including the ceviche, risotto and slow-braised bondiola.
Dine at the Hotel's own restaurants, Nuestro Secreto and Elena. Nuestro Secreto serves an authentic asaso, an Argentinia barbecue dinner around an outdoor fire pit. Elena, open for breakfast, lunch and dinner, is a fine dining restaurant. Try the roasted baby goat or saffron rice with shrimp, squid and chorizo. Don't miss the extensive dessert menu for a sweet after-dinner treat.
Top shopping in Buenos Aires
Many of the city's distinct neighbourhoods offer unique shopping experiences. Recoleta is rife with stores selling Argentina's famous leather goods, as well as big-name international brands such as Hermés. Eclectic San Telmo is a treasure trove of antique shops and open-air markets, while hip Palermo Soho is lined with dozens of boutiques selling clothes, jewellery and accessories by young and trendy designers.
Outdoor adventure
Take in beautiful scenery with a jog through La Reserva Ecológica Costanera Sur, whose boundaries enclose more than 200 bird species, four lakes and giant cortaderias (a large native grass plant). You can also discover Buenos Aires by bicycle; bilingual guides (fluent in English and Spanish) will introduce you to the city's best spots, from the Plaza de Mayo to the eclectic neighbourhoods of Palermo and Recoleta.
Spa delight
Thanks to a thriving wine industry, porteños (as the locals are known) have discovered the beauty benefits of using vino in spa treatments. Try it yourself at the Hotel's intimate Spa, where the signature Porteño Tango treatment uses grape oil and red wine to hydrate, relax and recharge your skin while tango music plays in the background.
Four Seasons Hotel Buenos Aires