As a culinary destination, Four Seasons Hotel at The Surf Club can provide your guests with an international dining passport, making for the perfect accompaniment to any special event or meeting. Our catering staff and chefs use their creativity and training to develop fresh and unique flavours representing everything from seafood-forward cuisine to Italian classics.
EVERYTHING YOU NEED
Add some local flavour to your meeting or event. Our Executive Chef Diego Soriano, who hails from Mexico, loves to tie in his culture with that of Miami – one of our most popular hors d'oeuvres, jicama lollipops, perfectly embodies this melding. On-site restaurant Winston's on the Beach also specializes in Floridian dishes.

Hold an intimate celebratory dinner or an executive luncheon in our private dining room that seats 12. For larger parties, you can fully privatize any of our dining outlets.

Our outdoor venue spaces range from intimate to more spacious, offering us the opportunity to make any event possible. From the pergola-shaded terrace with sweeping Atlantic vistas to poolside local cuisine at Winston's on the Beach or a social barbecue on one of our oceanfront lawns, dining al fresco is part of The Surf Club experience.
The most difficult thing to master is simplicity. To me, being able to execute something really simple, yet exceptional, for our guests and events is the most rewarding for our team.

Antonio Mermolia

Executive Chef
The Team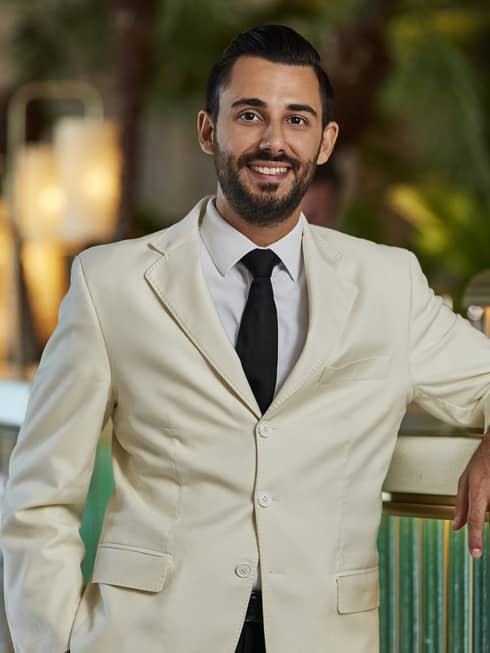 Valentino Longo
Head Bartender
A native of Rome, Head Bartender Valentino Longo has travelled the world to find inspiration and to hone his craft. His signature cocktails incorporate "edible aromas," such as honey-and-rosemary essence, a spray of basil olive oil and chocolate essence.
"When people go to a restaurant, they expect something different from the chef, not from the bartender. My goal is to surprise them."