Take in a holistic wellness experience during your stay with our 24-hour Harley Pasternak designed Fitness Centre among a variety of indoor and outdoor options at our Hotel.
Fitness Centre

Open 24 hours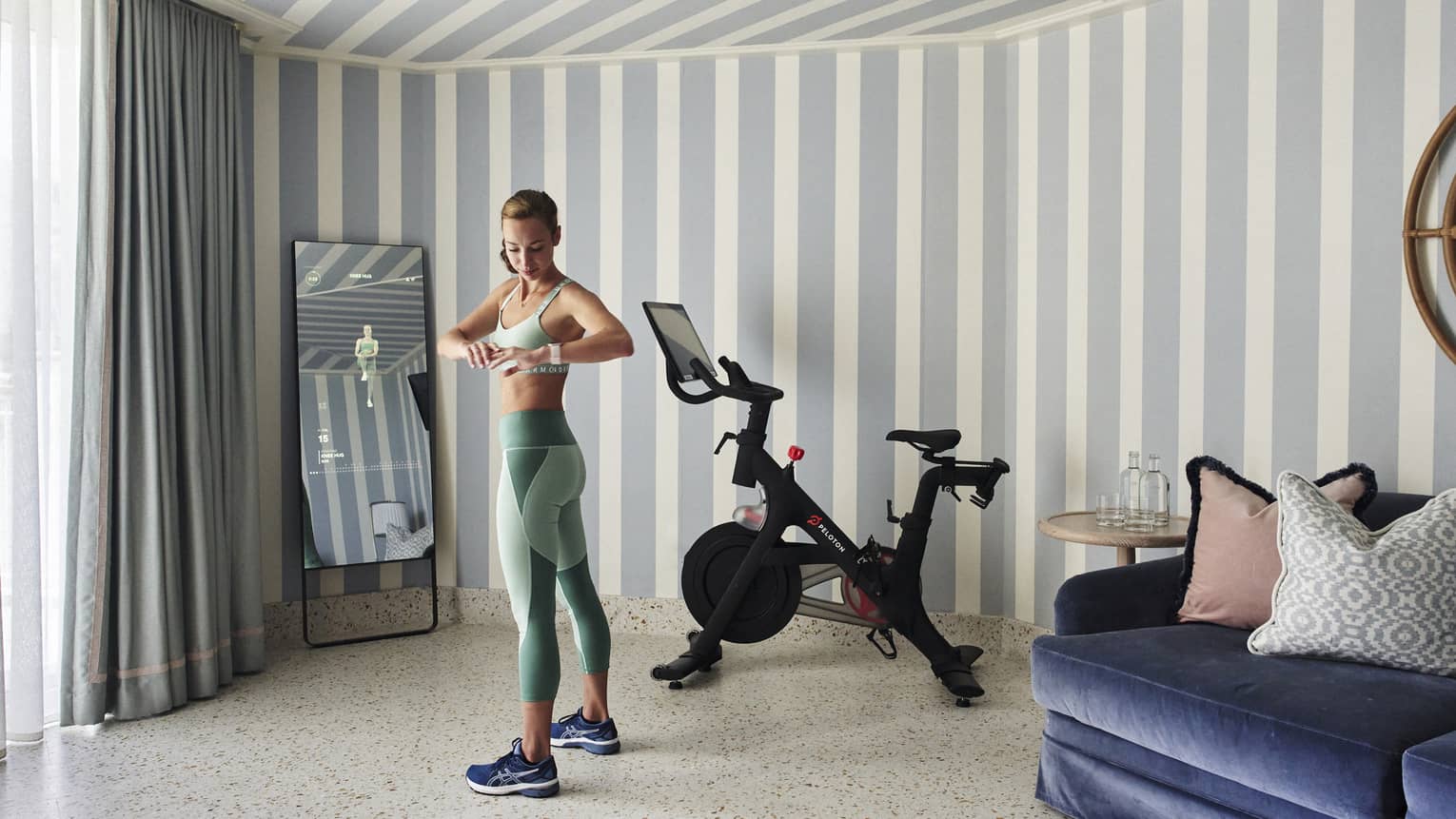 Future of Fitness with Tonal Capsules
The Tonal experience at Four Seasons Hotel Silicon Valley continues with Tonal Capsules, three private fitness studios that house the patented all-in-one intelligent dynamic weight system and virtual expert coaching machines, as well as energizing lighting and sound systems.
Facilities
Fitness Rooms Featuring Tonal

Select guest rooms feature Tonal, the all-in-one fitness system and personal trainer that allows you to take on-demand strength training, yoga, cardio classes and join hundreds of guided workouts in the comfort of your room. Peloton Bike, Streamline Treadmill, Stretch Ball, Yoga Mat and more are available for in-room use upon request.

Details

Enjoy an al fresco pool-side workout in our Fitness Cabana, featuring water-powered cardio equipment, Peloton, TRX, resistance equipment and free weights.

Work out in the privacy of our Fitness Suite, a space dedicated to wellness and health. Reserve the private suite to stay fit while traveling and have access to Tonal and state-of-the-art cardio and resistance equipment.

Stay on top of your game in our 24-hour Harley Pasternak-designed Fitness Centre, featuring state-of-the-art weight-training and cardiovascular equipment.

Swim a lap or simply soak in the Northern California sun at our outdoor pool.
Experiences
Feel the power of Tonal in an exclusive, private experience. Revolutionizing fitness, the Tonal A.I. takes the guesswork out of strength training and elevates each workout by adapting to your strength and dynamically adjusting exercises as necessary. Reserve a Tonal Capsule to realize and achieve your fitness goals while traveling

Prefer to explore the neighbourhood? We'll direct you to the area's best walking, jogging and biking paths. Take the 71-mile Gran Fondo route to take in gorgeous climbs, breathtaking descents and heart-in-your-mouth views. Or hike among the California Redwoods or on the Stanford Dish Hiking Trail, a favourite among the locals.

Immune Boosting Spa Treatments

The Spa's "West Coast Life" body treatment and "Western Healing" massage are inspired by the nearby Pacific Ocean and California Redwoods. They are designed to help reduce stress, relieve tension in the body and boost the immune system.

The Spa

Tips For a Mindfully Empowered Stay

Local author and co-founder of the Silicon Valley fitness and lifestyle company Poised, Yvonne Tally has curated a small book of her most useful tips for a mindfully empowered day. Tally's collection is featured in all the guest rooms, and guests can continue with these practical strategies at home for further well-being.
Fitness Services and Amenities
Workout equipment delivered to your room, on request
Certified trainers on request
Spa relaxation lounge
Free weights
Weight-training machines
Cardio equipment
Locker area with showers and dry sauna
Complimentary fruit and sports beverage