Destination
Recreational Activities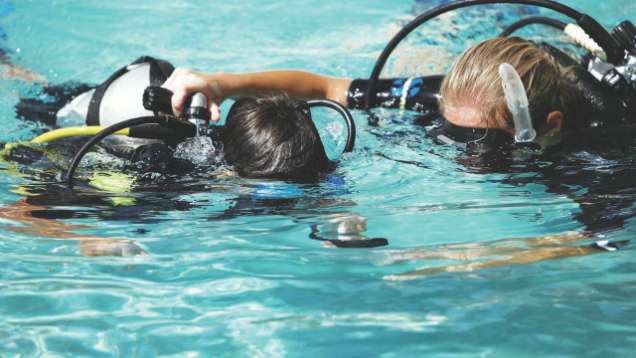 Within easy reach of your Four Seasons Resort Sharm El Sheikh guest room or suite are many options for sports or active enjoyment. For further ideas or details, our Concierge is always pleased to advise and assist you.
Water Sports
The Resort can arrange diving excursions with approved local dive operators on a half- or full-day basis. Rental equipment and lessons are available. Some excursions are guided and visit multiple dive sites; night dives can also be arranged.
Located just a few metres from the sea on the Resort's main beach, Sinai Blues Dive Centre is exclusive to Four Seasons guests and is licensed by the Professional Association of Diving Instructors (PADI). Rental equipment and lessons are available, and all diving excursions are guided by multilingual certified divers.
Under the expert guidance of the Sinai Blues team, both adults and children are offered the chance to explore and admire the breathtaking beauty of the Red Sea world with many underwater species including turtles, sharks, lion fish, rays, eels and many others. Sinai Blues is conveniently located on the beach, offering guests direct access to all the diving opportunities available here in Sharm El Sheikh, whether they are amateur or professional divers.
The Resort can also arrange excursions to some of the most exciting dive sites in the world, ranging from the uninhabited island of Tiran and the exquisite coral reefs and rare marine life of Ras Mohamed National Park to shipwreck sites such as Thistlegorm and Dunraven.
For younger guests interested in discovering all the wonders of the Red Sea, Sinai Blues offers an introduction to the basics of scuba diving. Children over the age of eight can build on this introduction by attending the PADI Bubblemaker programme, which consolidates their new skills and familiarises them with real scuba equipment. For adults keen on learning new skills and broadening their understanding of this aquatic paradise, PADI's advanced open water diving course is recommended, as well as its emergency first response course.
Land Sports
Horseback riding

Explore the varied terrain of Sharm El Sheikh on a horseback-riding excursion. A horseback-riding centre, located 20 minutes from the Resort, offers a variety of options. Ride along the beach overlooking Naama Bay and the Red Sea, or explore the desert or mountains. Overnight stays in a Bedouin tent can also be arranged. Lessons are available for children and adults. For more information or to book an excursion, please contact the Concierge.
Details
| | |
| --- | --- |
| Estimated travel time | 20 minutes drive |
| Estimated distance from Hotel | 10 kilometres/7 miles |
The Jolie Ville championship golf course's unique design features include imported Bermuda grass and 18 man-made lakes, which attract a variety of exotic and endangered bird species. Conveniently located at the southern tip of the Sinai Peninsula, the course is only a 10-minute drive from the Resort.
Details
| | |
| --- | --- |
| Estimated travel time | 10 minutes drive |
| Estimated distance from Hotel | 5 kilometres/2.3 miles |