In the forest-covered slopes of Rwanda, guest Shari Moss came face to face with the matriarch of a family of mountain gorillas. The gorilla extended her arm towards her, and their eyes locked. For Moss, this was the most compelling connection of her entire vacation.
In the Italian countryside, journalist Laura Begley Bloom went on a quest to find elusive, delicious truffles. After her treasure hunt, chefs prepared a multi-course meal using her freshly plucked ingredients. She had never, she says, tasted anything so heavenly.
Two very different moments with two things in common: They were unforgettable, and both happened thanks to the Four Seasons Private Jet.
Since 2015, hundreds of passengers have made countless life-affirming discoveries on Four Seasons Private Jet experiences around the world. And soon, in 2021, guests will create more exceptional memories with the launch of a new, custom-outfitted Airbus A321neo and two new itineraries.
Bygone Glamour for the Modern Traveller
"In designing the new Four Seasons Private Jet, we were inspired by the glamour and prestige of air travel in times past, when every flight was a special occasion," says Dana Kalczak, Four Seasons Vice President, Design. "With laser focus on comfort, functionality and beauty, our aim is to create an environment that encourages spontaneous social interaction between everyone on board."
The Jet's natural curvature invites easy interaction when you want it and quiet relaxation when you don't. A standing social area facilitates even more connection with fellow guests as well as some of the crew. Whether you're flying to vibrant Mexico City, historic Athens or the lost city of Petra, mix and mingle with a rotating selection of chefs, mixologists, wellness experts, photographers, personal shoppers, artists and more for special on-board workshops.
The honour and pleasure of travel with this type of rare access lie in the deep and transformative connections
you make. – Private Jet guest Theresa Tayler
Deeper Opportunities to Connect With the World
It's safe to say that most people never want a flight to last longer. "But being on the Four Seasons Jet is like no other flying experience," Bloom says, "even if you've flown private." Many passengers have such fond memories that they decide to take more than one trip.
On her own journey, for example, Bloom met a couple, Jean and Sal. "Jean admitted that before their first trip, she thought of it as something to do once in a lifetime," she says. "But she quickly realized there was no better way to see the world."
Others come back with new-found friends. In 2016, Moss met Carol. They were strangers – and seatmates. Three years later, they decided to travel again – this time without their families – in the same seats they had before.
With the new Four Seasons Private Jet, the overall experience – and connections made – only get better.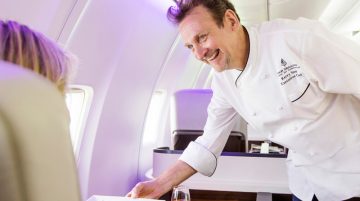 Taste of Place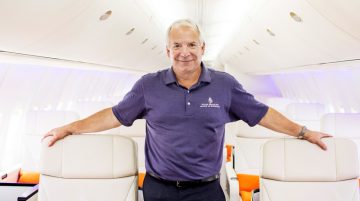 Insider Access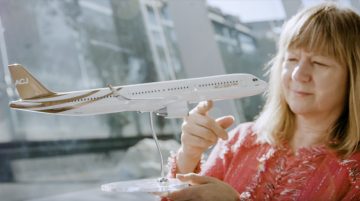 Coming Together
The new Jet will set the stage for culinary masters to showcase their craft in unprecedented ways. Explore new passions, flavours and perspectives with Executive Chef Kerry Sear, who will incorporate local ingredients to create inspiring and unforgettable meals.
All trips aboard the Jet connect you to thoughtfully selected destinations in a whole new way. Much of that is due to Javier Loureiro, Director of Experience, who has been part of the Four Seasons Private Jet since 2015. "He makes it feel like you have your own personal genie on hand," Bloom says.
The expertise extends to guests' time on the ground. On a game drive in the Serengeti or a privately chartered cruise through the Galápagos Islands, Loureiro ensures that naturalists and photographers are there, ready to offer insights on how best to spot and photograph the wild residents of these unspoiled lands. He tailors journeys to each passenger's own definition of memorable – whether that's dining with a Michelin-starred chef or surfing with a pro.
Exciting New Itineraries and a Few Guest Favourites
I quickly learned that being on the Four Seasons Private Jet is like no other flying experience. – Private Jet guest Laura Begley Bloom
In 2021, Javier and his team will debut two new itineraries: Remote Wonders and Ancient Explorer.
The inaugural journey, Remote Wonders, kicks off the new year in inimitable style at an exclusive celebration in Dubai, where you can watch a dazzling fireworks display light up the night sky over the Burj Khalifa, the world's tallest building. The trip then spans the wilds of the Serengeti and Rwanda, the lively urban spirit of Bangkok, and the tranquillity of the Seychelles, plus an exclusive stop at Angkor Wat.
Ancient Explorer allows you to experience the legendary wonders of the world as never before, from dynamic Mexico City and historic Athens to remote Easter Island and the Lost City of Petra. You'll also marvel at the splendour of the Great Barrier Reef – the largest collection of coral reefs in the world, home to thousands of species of fish, reef sharks and sea turtles – during a private cruise.
In addition to these itineraries, you may reserve a seat on two incredible returning trips, International Intrigue and Timeless Encounters.
Are you ready for an adventure?