I caught my first glimpse of Four Seasons Tented Camp Golden Triangle on Instagram. From the moment I scrolled over the wooden bathtub surrounded by abundant greenery, like a scene out of The Jungle Book, I knew this was my kind of place.
The aptly named Golden Triangle sits at the intersection of three vastly different countries – Myanmar, Laos and Thailand. I soon learned that I could easily combine my trip to this land of bamboo jungles and outdoor adventure with a journey to the nearby Four Seasons Resort Chiang Mai, where I'd have a chance to dive into Thai culture by exploring Buddhist temples and visiting artistic communities.
Unable to resist the opportunity to take a tour of Thailand, I made my way to the northernmost point of this exotic country (travelling by planes, boats, automobiles and a three-wheeled tuk-tuk) and prepared for the adventure of a lifetime.
Day 1: Arrival at the Golden Triangle
I was greeted by Four Seasons staff upon landing in Chiang Rai, the former capital of the region's Lanna Kingdom. The ride from Chiang Rai International Airport to our destination totalled an hour and a half, but it seemed much shorter given that the car was equipped with complimentary Wi-Fi – a globetrotter's best friend.
When my private car turned off-road to drop me on the banks of the Ruak River, it was clear to me that Tented Camp was unlike any location I'd travelled to before. A traditional longtail boat took me the remaining few miles as Thailand's old buildings and Myanmar's overgrown grass and shrubbery materialised on either side.
As we docked at the pier, I noticed a large gong poised at the entrance of Camp. I was handed a mallet to strike the instrument three times for good luck, health and wealth. Ringing the gong also made my presence known to the area's first inhabitants: elephants. I had officially arrived.
After check-in, I had a look at my sleeping quarters. Camping with a small tent and sleeping bag has never been my strong suit. Exotic adventures are great, but not at the expense of running water and indoor plumbing. However at Tented Camp, 15 luxury tents offer an authentic hillside stay with all the romance of a lavish safari plus modern conveniences, including handcrafted leather furniture, hardwood floors and bathtubs with a view for two.
Four Seasons Tented Camp Golden Triangle
In my air-conditioned tent, I could zip and unzip "windows" to allow more of the fresh air inside. I could rise in the morning with the best alarm clock around – the call of the wild, as elephants began to wake. Standing alone in my tent, I spotted the terrace's private hot tub and couldn't help thinking this would be the ideal honeymoon for an intrepid couple. If this is camping, let me camp forever.
Day 2: Elephant trekking through the jungle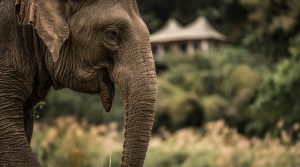 Mahouts have adopted more than 10 elephants from the street, welcoming them to the natural habitat at Tented Camp.
Photography courtesy Four Seasons Hotels and Resorts
Tented Camp shares rolling hills with an elephant rehabilitation reserve, rescuing and adopting these gentle giants from the streets of Thailand. Elephants roam free on the property, which often allows for memorable meals. One morning, I was sitting at the breakfast table when two beautiful elephants came over and greeted me. I fed them their morning greens before indulging in my own pancakes.
After watching the majestic animals during my first couple of days at Camp, I decided it was time to learn a little more about my new neighbours by participating in one of the many elephant activities on offer here.
After a basic anatomy lesson from the Camp's mahouts, we set off on a walk through the wilderness with the elephants – the best way to learn about these gentle giants is by keeping them company in their own natural habitat. As we watched them splash in the pond and enjoy their bath time, it was easy to see that each elephant had its own personality, just like human beings.
Day 3: Exploring Chiang Rai
This was the day to experience another side of Thailand – and collect a new passport stamp along the way.
With a Four Seasons guide, I made my way down to the caramel ribbons of the Ruak River to board a longtail boat. The Chiang Rai City Tour took me directly to the confluence of two rivers that form a natural boundary between the three countries, with Laos to the east of the Mekong River, Thailand to the west, and Myanmar to the north of the Ruak.
Once at the main square, the boat docked and the guide hailed a tuk-tuk – a three-wheeled vehicle common in Thailand – to take me to the culinary market. Beetles, crickets, flopping fish and snake-like creatures were for sale there. I didn't sample the local delicacies this time around, but perhaps I can handle the non-traditional items on my next visit.
To discover a new country, I simply walked over the border to Myanmar, where I rode a tuk-tuk with an expert guide who showed me markets, St Jude's Catholic Church and the Phra Jow La Keng Temple. I learned at the temple that there are Buddhas for the days of the week, and I made offerings to my Buddha (based on the day of the week I was born). Then it was back to Tented Camp.
Day 4: Journey to Chiang Mai
After a three-night escape in the bamboo jungle of Chiang Rai, I was sorry to say goodbye. But the four-hour drive south to Four Seasons Resort Chiang Mai was very comfortable as I rode in a luxury van with other guests, complete with Wi-Fi, refreshments and enough legroom to lie flat.
An hour and a half into the drive, during which I took a short nap, we came upon Wat Rong Khun, also known as the White Temple. The unconventional Buddhist temple captivates locals and foreigners alike, radiating an undeniable sense of peace and spirituality. The sun reflected on pieces of glass in the plaster of the all-white temple, making for breathtaking photos.
Four Seasons Resort Chiang Mai
During the journey to Chiang Mai, the bus also stopped at several local shops, including JJ Antique Market, which sells elaborate scarves, old-world artefacts, copper and brass pieces, and unique elephant memorabilia. It was the perfect place to buy souvenirs, and I picked up an antique globe and a hand-embroidered scarf.
The picturesque landscapes and down-to-earth charm of Thailand never failed as we rode the final miles into Chiang Mai, where I could discover the similarities and differences of the two locations. I was travelling from the land of covered bamboo jungles to that of exposed rice paddies, from luxury tents to poolside villas, and from mingling with elephants to marvelling at water buffaloes.
Day 5: Farming in Thailand's rice fields
Each week, Four Seasons Resort Chiang Mai offers an abundance of activities – two popular choices being rice planting and cooking classes. I chose rice planting since it's so authentically Thai, and I can't experience it just anywhere.
On the morning of my class, I made my way through the rice fields located directly behind the Resort, which can also be seen from the Rice Terrace Pavilions. After I put on a typical planting outfit of mahout denim, a local farmer taught me how to transplant sprouts into the mud. Thinning out the seedlings to no more than 4 inches (10 centimetres) apart, in rows 9 to 12 inches (22 to 30 centimetres) apart, produces the best results. I began to think I could call Thailand home one day.
In addition to spending a morning as a Thai rice farmer, I also tried my hand at Thai kickboxing in the Resort's Muay Thai class. And not just my hand: The technique is called the "art of eight limbs," using fists, feet, shins, knees and elbows.
After such an intense workout, recovery at the scenic pool and Spa with treatments influenced by ancient Thai ritual, such as the Royal Lanna Signature Treatment, was essential.
After that I was up for renting a bike from the Health Club to investigate Chiang Mai's most exciting attractions, including Tiger Kingdom, the Monkey Center, Measa Elephant Camp and the Queen Sirikit Botanic Garden.
Day 6: A bittersweet farewell
After five days and countless adventures, I had fallen in love with the exotic bamboo jungles of the Golden Triangle. But although I felt I could stay forever, Southern Thailand was calling for me to leave the mountains and explore a contrasting side of this country, one with tropical beaches.
If you're in the mood for a tropical escape after a journey to Four Seasons Golden Triangle and Four Seasons Chiang Mai, consider getting away to Four Seasons Resort Koh Samui, located on an island off the coast of Southern Thailand.
YOUR JOURNEY BEGINS HERE
Select a destination and start exploring