California's Napa Valley is ideally suited for Cabernet Sauvignon grapes: The region offers a sunny, warm climate; good drainage; and volcanic soils that add an earthy, rich complexity to its wines. At the new Four Seasons Resort and Residences Napa Valley, where the vineyard is protected by the Palisades mountains and oak-covered hills, world-class winemaker Thomas Rivers Brown and his team at the on-site Elusa Winery have carefully designed and planted it to intensify the grapes' flavour. Take part in the winemaking process, from harvesting grapes to blending and ageing the wine, or learn about Calistoga's unique terroir during a tasting session – the Resort provides the most complete grape-to-glass experience in Napa.
"The moment guests step foot on the property, they are welcomed into an extraordinary wine country oasis," says General Manager Mehdi Eftekari. "Awe-inspiring views of the vineyards and Palisades Mountains are an idyllic backdrop to enriching experiences at TRUSS Restaurant + Bar and Elusa Winery. In guests' suites, the vines are mere inches from their terraces and balconies."
The dramatic scenery of North America's wine capital – and the Resort, set to open later this year – also provide an idyllic background for the season's most stylish new fashions. The looks pair perfectly with the Resort's natural colour palette, rich textures and easy elegance.
Explore Napa Valley with Four Seasons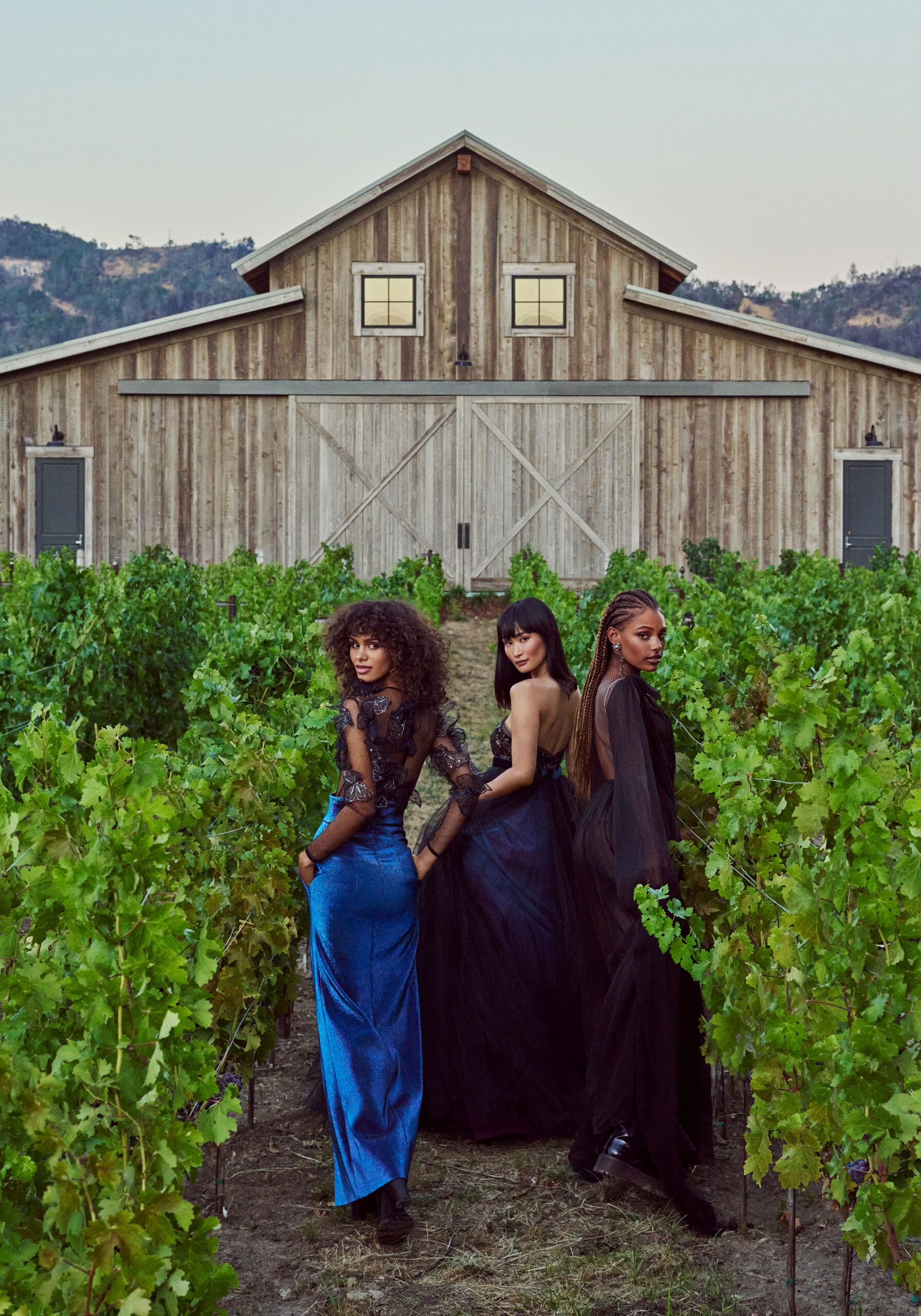 The Resort spreads across 22.5 acres (9 hectares), offering dramatic scenery and viticultural discovery at every turn. It's a natural hideaway for relaxation and indulgence, framed by picturesque forests and majestic mountains.
Left to right: On Julia: Genny top and skirt; Alexander McQueen boots. On Miki: Reem Acra dress. On Breanna: Valentino gown, Sethi Couture earrings.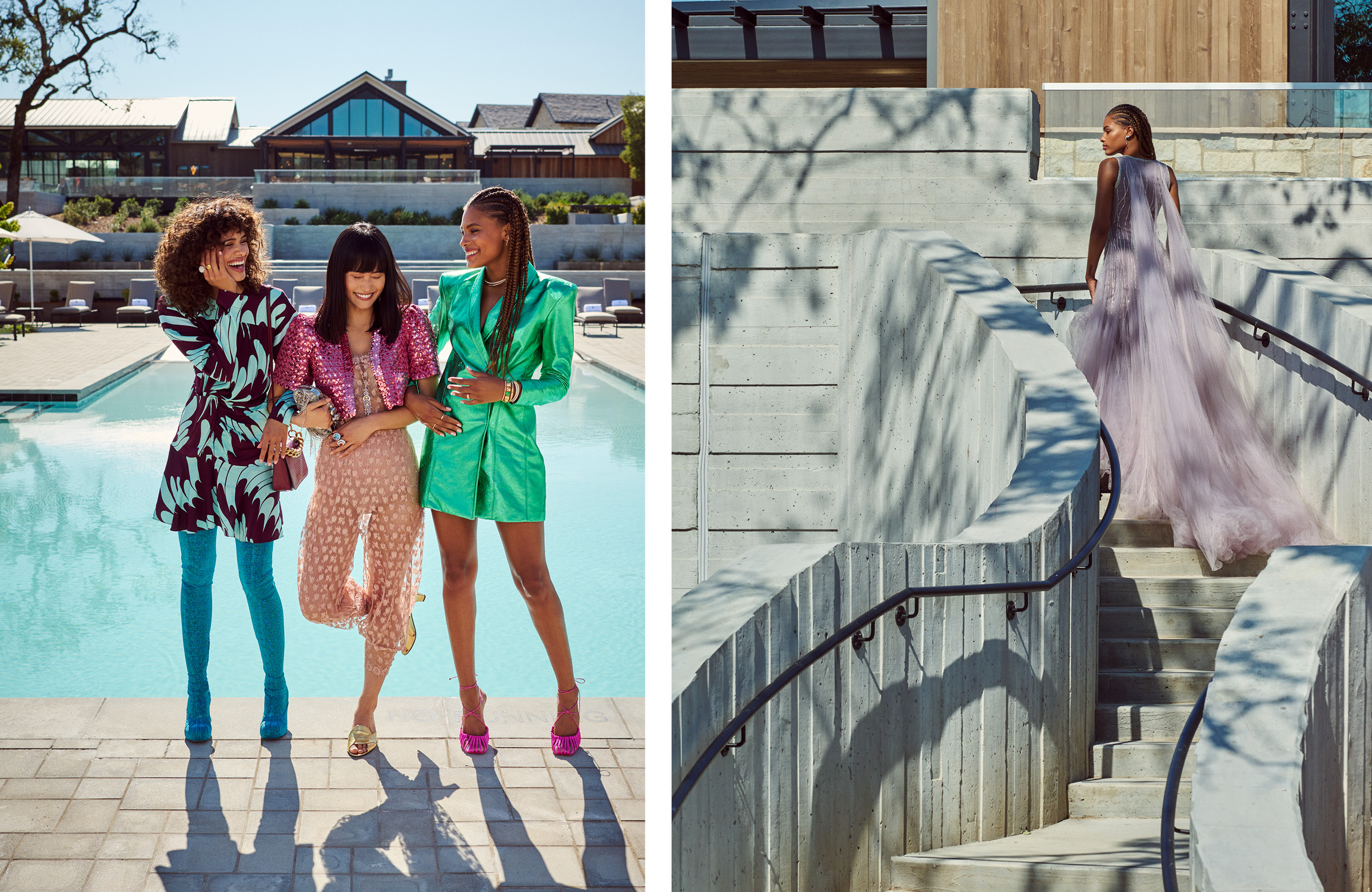 Make the most of Napa's idyllic setting with a swim in the Resort's two outdoor pools – the adults-only pool overlooks the vineyard, while the Resort Pool features shallow splashing areas that are perfect for families. Or celebrate the sunshine with elevated Napa cuisine at the modern TRUSS Restaurant + Bar or Cal-Mexican favourites at open-air Campo Poolside.
Left image, left to right: On Julia: Stella McCartney dress and boots; JYE ring (index finger); Sethi Couture ring (middle finger); Guess bag. On Miki: Gucci cardigan, jumpsuit and sandals; Wolford undergarments; Alexander McQueen clutch; Fabergé necklace and rings. On Breanna: Alyson Eastman dress; Chelsea Paris shoes; Tiffany & Co. necklace; Grace Lee ring (index finger); Katkim rings (ring fingers); Vhernier pink gold and jade bracelet; Sethi Couture bangles (near hand); JYE bangle (near sleeve). Right image: On Breanna: Reem Acra dress; JYE earrings.
Taste the Flavours of Napa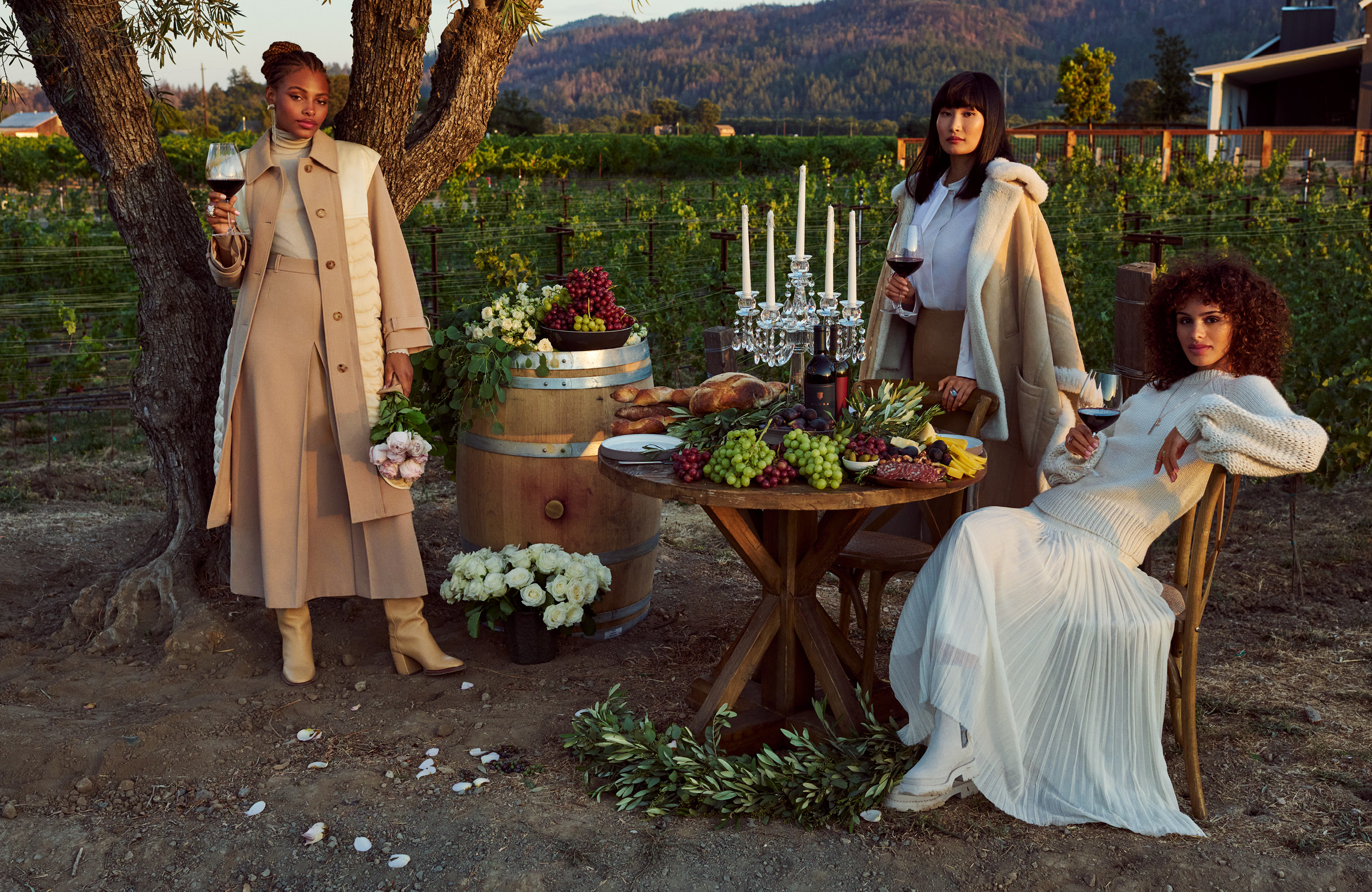 Elusa winemaker Thomas Rivers Brown is celebrated for his non-interventionalist approach, letting the vineyard's character shine. It's a style that has paid off: Renowned wine critic Robert Parker Jr. has awarded him 23 perfect 100-point scores for his Cabernet Sauvignon projects over the past decade.
Left to right: On Breanna: Chloé coat, skirt, top and boots; Adeam earrings and ring. On Miki: Chloé poncho; Partow dress; Michael Kors Collection skirt; JYE ring (right hand); Vhernier ring (left hand). On Julia: Chloé jumper and skirt; Brunello Cucinelli boots; Sethi Couture necklaces, rings and earrings.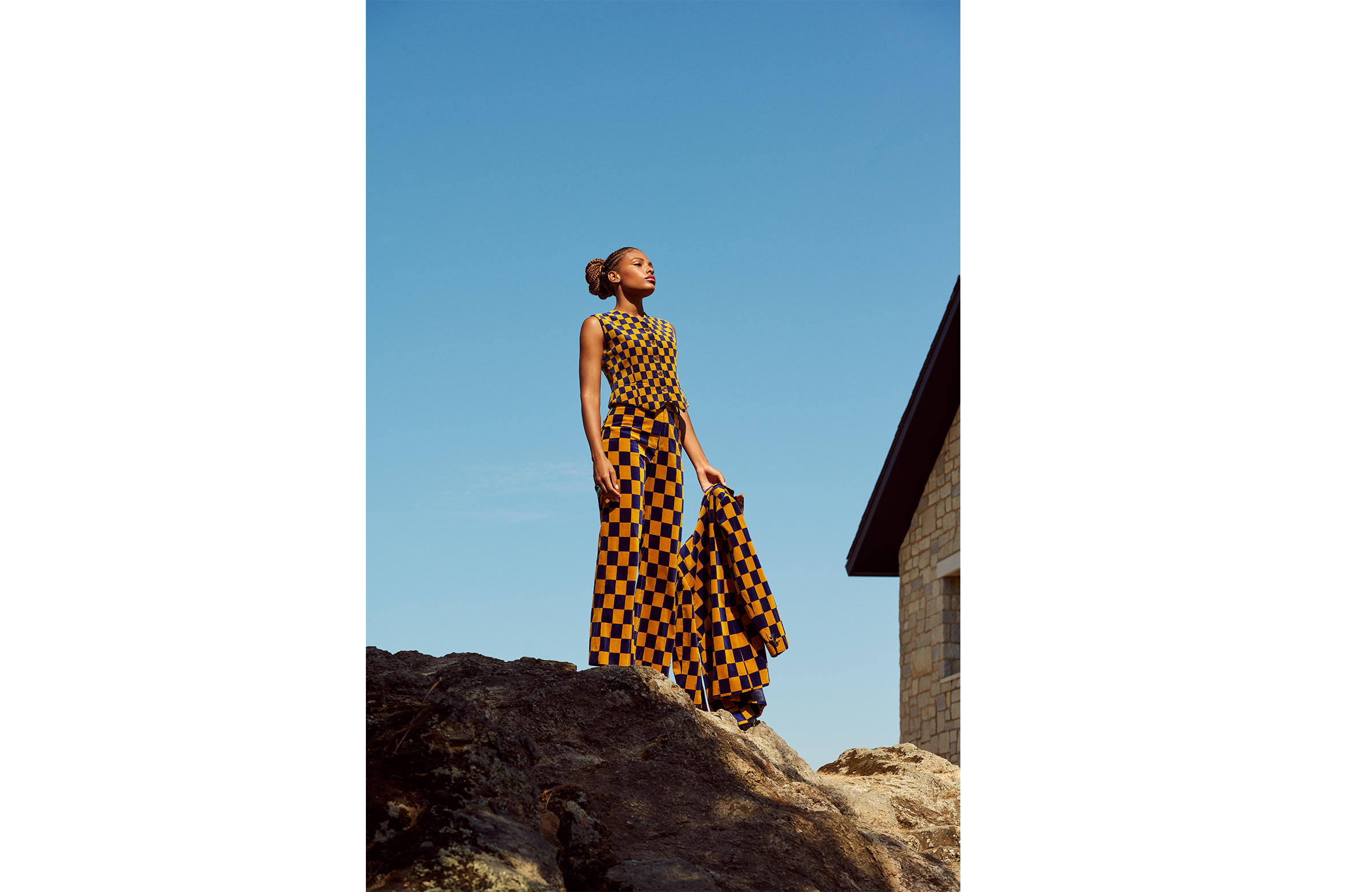 Spa Talisa celebrates Napa's rich vineyard heritage with treatments incorporating grape seeds – long recognized for their potent antioxidants and skin-pleasing polyphenols, flavonoids and anthocyanins. Try an exfoliating scrub of sugar and grape seeds to give your skin a soft, luminous glow. "Spa Talisa is rooted in Calistoga's 150-year history as a wellness destination," says Eftekari. "Guests can enjoy holistic treatments and private patios, or head to the steam decks for a locally-inspired steam experience."
On Breanna: Gucci jacket, vest and trousers; Tory Burch ring.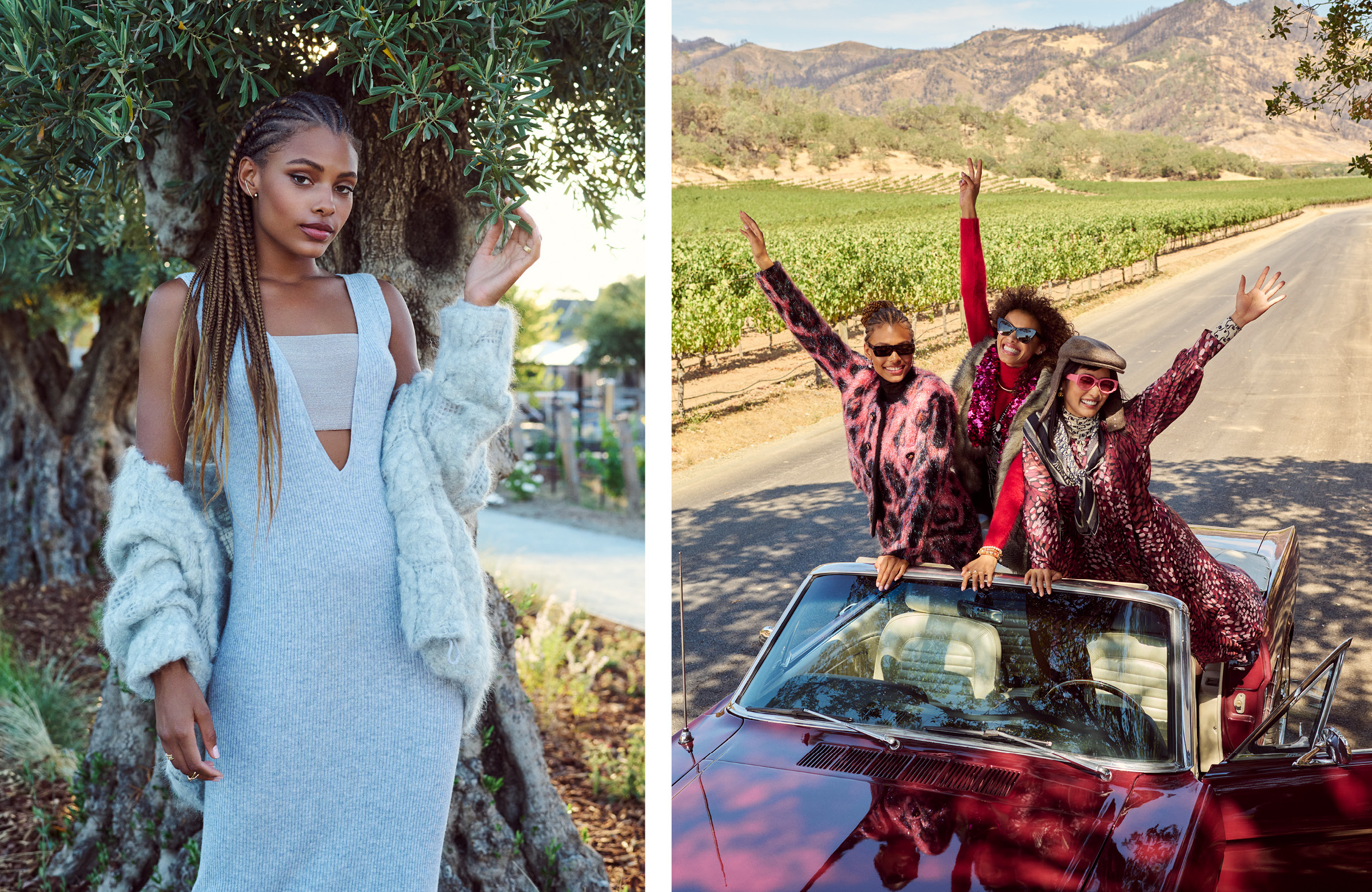 Century-old olive trees dot the Resort, adding character to the rustic yet elegant ambience indoors and out. Acres of vineyards, farmhouse-chic villas and romantic private terraces: It's California wine country at its finest.
Left image: On Breanna: Brunello Cucinelli dress and cardigan; Katkim earring; Sethi Couture band (left hand) and stacked rings (right hand); Tiffany & Co. ring (middle finger). Right image, left to right: On Breanna: Dolce & Gabbana jacket, skirt and earrings; Akris top; Dior sunglasses. On Julia: Prada dress, top and stole; Tory Burch necklace; Katkim earring and rings (index and middle fingers); Grace Lee ring (index finger); Aaron Basha ring (right hand) and beaded bracelet; Vhernier gold and carnelian bracelet; Dior pearl necklace worn as bracelet; Stella McCartney sunglasses. On Miki: Altuzarra dress; Tory Burch top; Dior scarf; Max Mara head scarf; Dolce & Gabbana earrings; Alexander McQueen sunglasses.
The Resort's Vineyard Barn – with lofty beamed ceilings and prime views of the vines – is a coveted venue for weddings and events. Say "I do" in the vineyard, or gather with friends and family for a dinner party in The Cork Room, with floor-to-ceiling windows overlooking the winery.
Left image: On Miki: Chanel coat, boots and earrings; Grace Lee ring (index finger); Sethi Couture rings (middle finger). Right image: On Julia: Harry Winston earrings, necklace, brooch, ring and cuff; Marina Moscone pajama shirt.
Photographer: Eric Ray Davidson
Stylist: Julie Matos
Assistant Stylists: Alyson Eastman and Johanna Houska
Makeup: Karina Moore
Hair: James Harris Jr.
YOUR JOURNEY BEGINS HERE
Where will you explore next?