After a subdued year at home, we're discovering that our ideas about living have changed. We're no longer satisfied with traditional spaces and experiences. We crave artfully designed, meticulous service, a personalized approach and a curated lifestyle – nothing short of extraordinary living.
"We know the world is changing, and we know that your life as a resident is changing," says Reed Kandalaft, general manager at Four Seasons Hotel and Private Residences One Dalton Street, Boston. "We can work around that – it's what we do so well. We offer peace of mind, so you don't have to worry."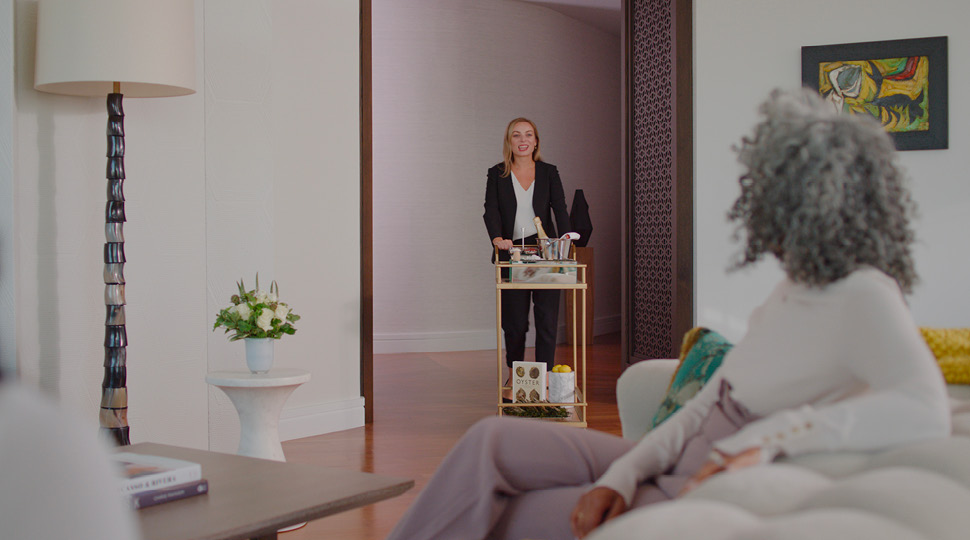 Whether you're looking to make your home in an iconic city or a pristine island community, Four Seasons Private Residences offer world-class amenities and an effortless ownership experience. Your dedicated Concierge gets to know you, anticipating your every need while building a lasting relationship so you can confidently entrust your home to their care. That leaves you free to focus on what really matters: spending time with friends and family and creating lifelong memories. Gather with loved ones for a meal prepared by a Michelin-starred chef in your private kitchen, or have a Four Seasons expert plan a once-in-a-lifetime outing for you and your guests – you'll enjoy exclusive access to experiences that connect you more deeply to the people and places around you.
When you make your home with Four Seasons, exceptional services and amenities become an extension of your home, to be enjoyed as often as you choose so that every moment is memorable.
Find Yourself in a Cultural Hub in San Francisco
Your address has global appeal: In the heart of the fashionable Yerba Buena District, the new Four Seasons Private Residences at 706 Mission, San Francisco is part of a thriving cultural landscape just steps from the world-renowned Museum of Modern Art, the Contemporary Jewish Museum and the Yerba Buena Center for the Arts. Your home itself is a community landmark: The restored Aronson Building was built in 1903 and is recognized as an elaborate example of the Chicago School of design. Connected to the glass-and-masonry residential tower, the new Four Seasons property creates an expression of alternating bands of light and dark to complement the linear landscaping of the Jessie Square outdoor plaza.
At this standalone residential property, your home is the centre of attention. An on-site Director of Residences is on hand to assist with services like security monitoring, valet parking, housekeeping and maintenance, and your dedicated concierge team is a quick chat away using the Four Seasons App. Even your car has an elevator of its own. Every detail of your home has been designed with your comfort and fulfilment in mind, with Four Seasons experts offering legendary anticipatory service – always looking ahead to meet your every need.
Head to The Club to discover a full floor of exceptional amenities for the exclusive use of residents and their guests. Practise your golf swing with the Sports Simulator in the game room, take a quiet moment in the library or unwind on the grand terrace overlooking the city. Join your guests in the main dining room for an intimate meal, or attend an exclusive wine tasting with the wine program director – who would also be happy to arrange a three-day weekend in nearby Napa Valley for a more in-depth wine experience. Closer to home, head to the full-service bar for a signature cocktail; the bartender might even name a drink in your honour.
Discover Urban Appeal in Minneapolis
The spirited character of Minneapolis comes to life downtown, home to a thriving community of artists, musicians, chefs and entertainers – and, thanks to the new Four Seasons Private Residences Minneapolis, the experts at Four Seasons.
From your Private Residence high above the city, you'll discover a new perspective and a new connection to the world around you. Every moment you spend at home is intended to enhance your experience and bring you joy, from the doorman who knows your name and the barista who prepares your coffee just as you like it to the bespoke design of your private space.
You'll also find joy in your location: Your home base puts you in the centre of downtown, near the riverfront and some of the city's most popular dining, shopping, sports and entertainment destinations. Make your way down Nicollet Avenue for a lively meal with friends and family at The Dakota Jazz Club, gather at one of the city's artisanal breweries to raise a glass and celebrate your time together, or keep up with the latest exhibits at the internationally renowned Walker Art Center. After a night on the town, return home for a nightcap on your expansive balcony as you gaze at the city lights twinkling below – your private terrace includes ceiling-mounted heaters for year-round use.
Enjoy the Finest Waterfront Living in Bangkok
Known as the River of Kings, the Chao Phraya is the lifeblood of Bangkok – riverboats and ferries ply its waters carrying people and goods; shops, restaurants and parks line the riverbanks. You're just steps away from the action at Four Seasons Private Residences Bangkok at Chao Phraya River.
From your private terrace in the 73-storey residential tower, you'll take in unobstructed views of the river and surrounding city. Toast the watercolour sunset before moving indoors for a relaxing night in – your thoughtfully designed home was created with urban living in mind and evokes a sense of comfort and scope, with tall ceilings, soothing neutral colours and open-concept living spaces.
Expecting visitors? Your dedicated concierge team can grant discreet access via the private waterfront entrance created just for residents. Gather with friends and relatives in the Four Seasons Club, offering exclusive facilities and contemporary entertainment programs, or head to the Amenities Deck to unwind by the riverfront infinity pool in a private cabana. However you choose to spend your time, you'll enjoy the Hotel-inspired amenities, efficiency and glamour you've come to expect from Four Seasons.
Embrace Beach Glamour in Fort Lauderdale
Discover an elevated lifestyle on the beach: Ideally positioned on the Atlantic Ocean and Intracoastal Waterway, Four Seasons Private Residences Fort Lauderdale offers easy access to prestigious deepwater marinas, lively shops and restaurants on palm-lined Las Olas Boulevard, and pristine beaches where a Four Seasons Beach Butler is standing by to offer a towel or refreshing drink.
International developer Nadim Ashi of Fort Partners assembled a world-class team to create your Private Residence: British designer Tara Bernerd's signature aesthetic of texture and colour creates a welcoming sense of warmth, while Martin Brudnizki wove Fort Lauderdale's rich yachting traditions into two on-site restaurants. Celebrated landscape designer Fernando Wong created an oasis right on your doorstep, providing a seamless visual connection between the beach and the oceanfront pool deck.
The inspired design is complemented by exceptional amenities, the ideal backdrop for legendary Four Seasons service – you'll notice thoughtful touches at the pool, on the beach and in your home. Your dedicated Concierge is available to arrange housekeeping services, stock your refrigerator before you arrive home, and maintain your property whether you're at home or away. Enjoy a restorative treatment at the Spa, order room service or arrange for a Four Seasons chef to prepare a meal in your fully equipped kitchen – it all adds up to effortless living at its best.
Find your perfect home with Four Seasons