An indoor winter wonderland designed by Jeff Leatham in Philadelphia, windows into magic worlds in Paris, a fiery display in Langkawi: The celebration of the season is in full swing at Four Seasons destinations worldwide. Here, we share some of the photo-worthy experiences and activities that will ensure this joyous time of year is merry and bright.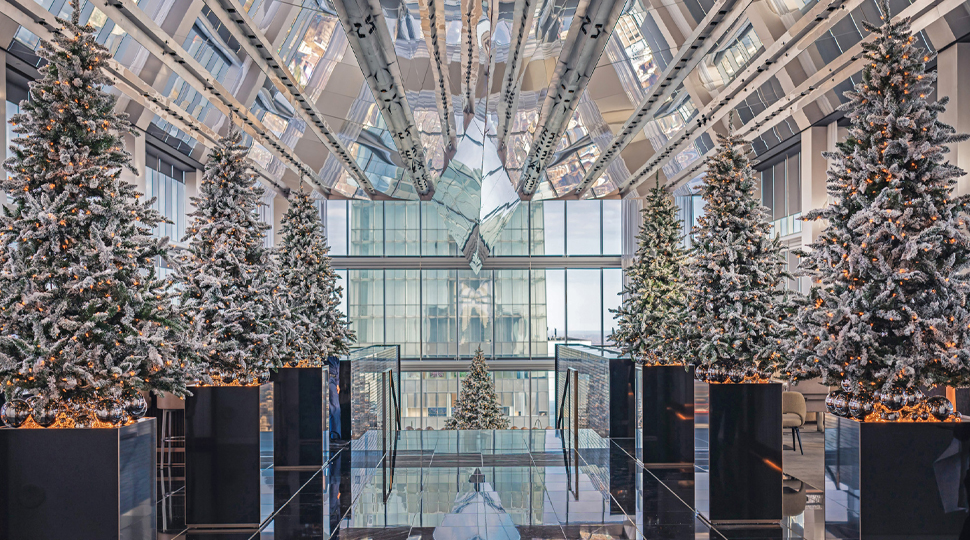 Arctic artistry in Philadelphia
The City of Brotherly Love looks more like the North Pole at Four Seasons Hotel Philadelphia at Comcast Center, where Artistic Director Jeff Leatham has created a modern festive display. Flocked Christmas trees and festive florals are adorned with warm twinkling lights, while a life-size reflective reindeer keeps watch over the merrymaking. Don't miss the most coveted ticket in town at the New Year's Eve celebration. The iconic Hotel will play host to an extravagant event featuring ice sculptures, sumptuous food stations, passed hors d'oeuvres, awe-inspiring entertainment and live musical performances as well as a front-row seat for the city's magnificent fireworks.
Holiday happenings in Philadelphia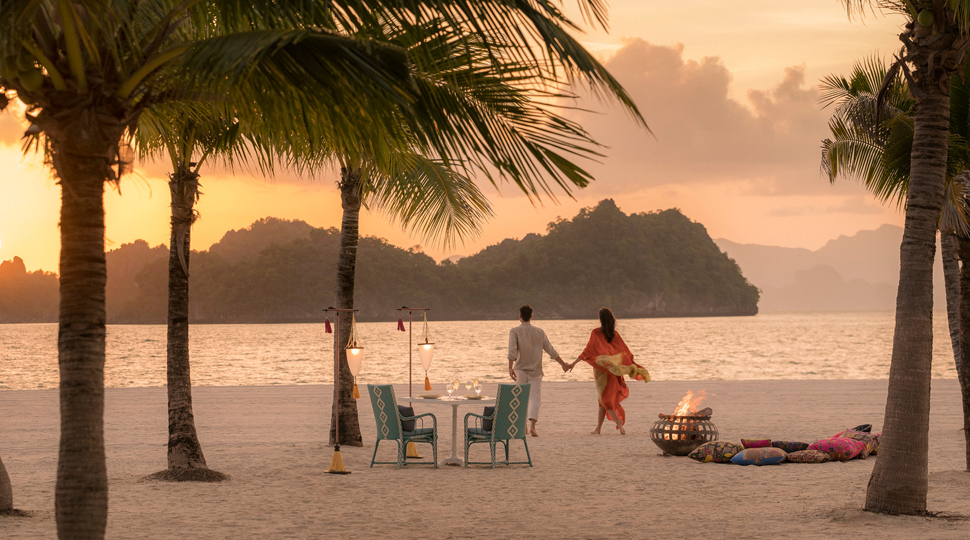 Dream by the fire in Langkawi
Hike through the jungle, cruise through the mangroves, explore the coastline by kayak. After a day of adventure in this island playground, a sunset picnic on the beach is a cozy way to unwind in the evening. Gather under a canopy of stars and raise a glass to your time together at Four Seasons Resort Langkawi. The festive revelry really heats up on New Year's Eve with a fireworks display and traditional Malaysian fire dancers, who put on a glowing performance as you enjoy a merry feast to welcome the new year.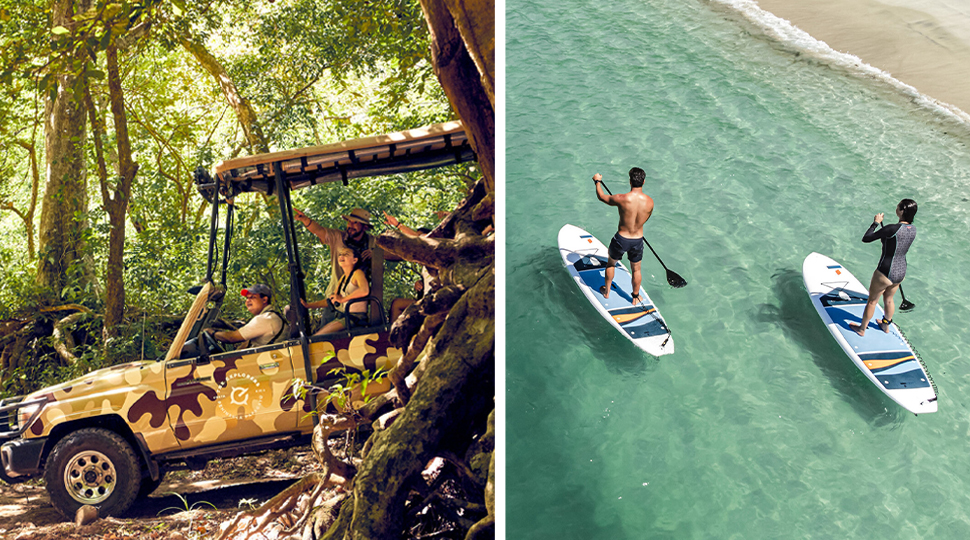 A special visitor in Costa Rica
Can you blame St. Nick for soaking up a little sun before making the trek back to the North Pole? This year, join the man in red himself – plus the jolliest bunch of elves and even a grinch – at Santa's Annual Beach Party at Four Seasons Resort Peninsula Papagayo, Costa Rica. In addition to the unforgettable Christmas Day bash, the family-friendly Resort offers a variety of activities and events throughout the festive season. Experience the flavours of a Latin American asado at Nemare, or immerse yourself in Costa Rican culture while picking up gifts at the Papagayo Street Fair. Want to explore even further? Set out on a journey into the Nicoya Peninsula – Costa Rica's famed blue zone, one of only five places in the world where residents live exceptionally long, healthy lives – and visit traditional villages to experience the country from a local perspective. Families will also find plenty of adventure close by, with zip-lining, surfing, night hikes, coral snorkelling and loads of water sports available in and around the Resort grounds.
Plan your visit to Costa Rica
The City of Lights exudes charm year round, but during the festive season it becomes even more enchanting. Make the most of this special time with help from the experts at Four Seasons Hotel George V, Paris, where the concierge team can tailor an itinerary of unforgettable experiences. Glide across the ice at a skating rink overlooking landmarks like the Eiffel Tower and Hotel de Ville, or stroll through picturesque Christmas markets. You'll be dazzled by Parisian traditions like the fantastical scenes filling les vitrines de Noel – elaborately decorated windows at the city's iconic department stores. Our favourite? The can't-miss display at Le Bon Marché Rive Gauche. As for the Hotel itself, thanks to Artistic Director Jeff Leatham's breathtaking holiday decorations, you'll feel as though it's been transformed into your own personal vitrine de Noel. Lose yourself in the vibrant hues and intricately crafted compositions adorning the Hotel's common areas and celebrated Marble Courtyard. Take a seat for Executive Pastry Chef Michael Bartocetti's Signature Tea Time at Le Cinq on December 17, or enjoy an immersive holiday dinner at one of the Hotel's Michelin-starred restaurants. The entire month of December will be filled with glittering events combining some of the world's finest gastronomy with all the magic of the season.
Spend the season in Paris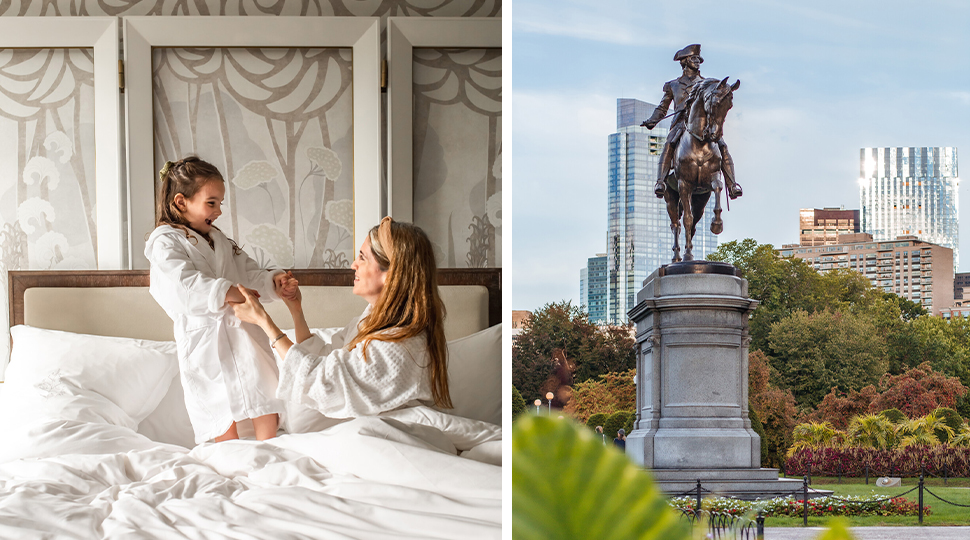 Traditions with a twist in Boston
Many families celebrate the holidays with their own time-honoured traditions – a comforting meal, treasured decorations, special activities. Start a new family tradition at Four Seasons Hotel Boston, where the new Very Important Kid Package will delight young guests (and their parents) with an in-room enchanted tent setup, a personalized amenity and a Hotel scavenger hunt. In addition to the magical accommodations, you'll find festive surprises throughout the Hotel, such as themed vaults and mystery closets for kids to explore, along with seasonal coffee specials at Sottovento that adults will love. Our favourite this year is the Boston Fog, a creamy tea latte made with a blend similar to the tea tossed into the Boston Harbor in 1773, served in honour of the 250th anniversary of the Boston Tea Party. Have the Coffee Concierge deliver it to your room in the morning before you head out to explore the city's historic sites or do some holiday shopping.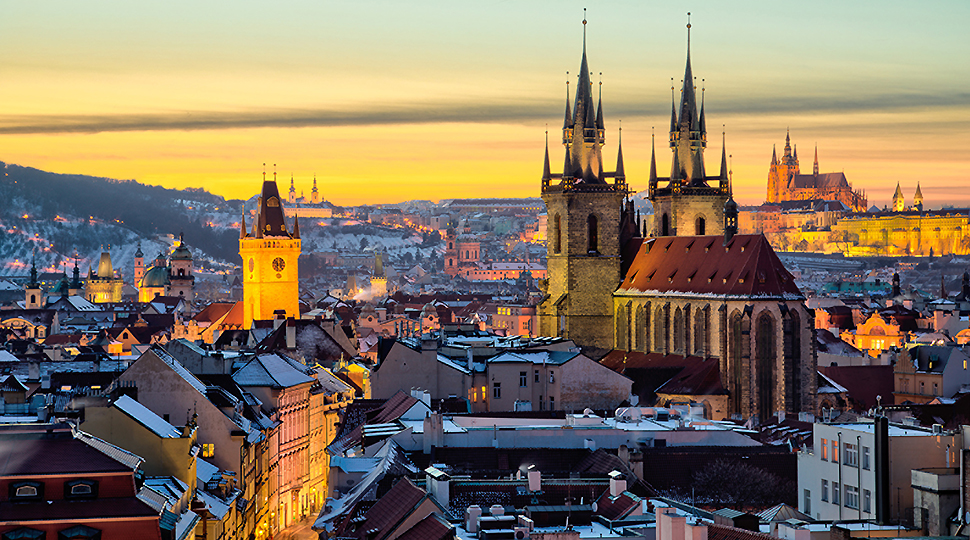 Handcrafted gifts in Prague
In wintertime, it's easy to see Prague's hilltop castle, narrow cobbled streets and towering spires as a setting straight from a fairy tale. Experience the city's old-world charm during a stay at Four Seasons Hotel Prague, where the attentive concierge team is eager to share local traditions, ensuring you don't miss any hidden gems. Browse the traditional Christmas market stalls in nearby Old Town Square for handcrafted ceramics, jewellery, wooden toys, clothing and seasonal treats, then stay a little longer to hear choirs singing carols in the late afternoon. Grab a warm cup of mulled wine or hot chocolate from one of the stalls to make this outdoor shopping experience all the sweeter. Afterwards, climb the stairs of Old Town Bridge Tower and take in the twilight scene of twinkling lights – a picture-perfect holiday moment.
A winter wonderland in Prague
YOUR JOURNEY BEGINS HERE
Come celebrate festive with us.