Meet us at The Bar at Evelyn's, the centerpiece of beverage exploration and storytelling as memorable as the food. Enjoy eastern Mediterranean-inspired cocktails, wines from around the world, and a selection of rare and vintage champagnes in a conversation-inspiring atmosphere designed for social connection.
Signature Cocktails
Ketel One, Mr. Black, Vanilla, Cardamom and Espresso

Plantation Xaymaca, Rangpur Lime and Za'atar-Maple Syrup

Bombay Sapphire, Strawberry-Infused Campari and Carpano Antica Formula

Belvedere, Date Molasses, Rose Water and Pine Nuts
Meet the Team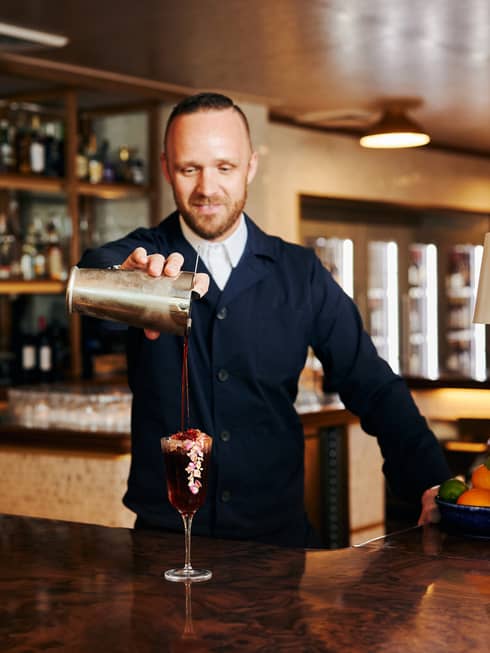 Matthew Dress
Lead Mixologist
A graduate of Le Cordon Bleu in Pittsburgh, PA, Matthew Dress channels his culinary expertise, always thinking about how ingredients will work together in the glass. He mixes his own house-made ingredients, fashioning shrubs, infusions, bitters and garnishes that can't be found anywhere else to serve guests unique experiences they will remember. Matthew joined Four Seasons Resort Palm Beach in 2007, where he created a garden-inspired cocktail menu for the signature bar at Florie's. At Evelyn's Fort Lauderdale, he is inspired by its namesake's passion for gardening, the late local luminary Evelyn Fortune Lilly Bartlett, and creating inventive combinations based on the food and destination.
"I always encourage the bar team to share the special stories, origin, and ingredients behind our cocktails. Engaging the guests in the meaning of the mixology makes the cocktail and their experience more memorable."