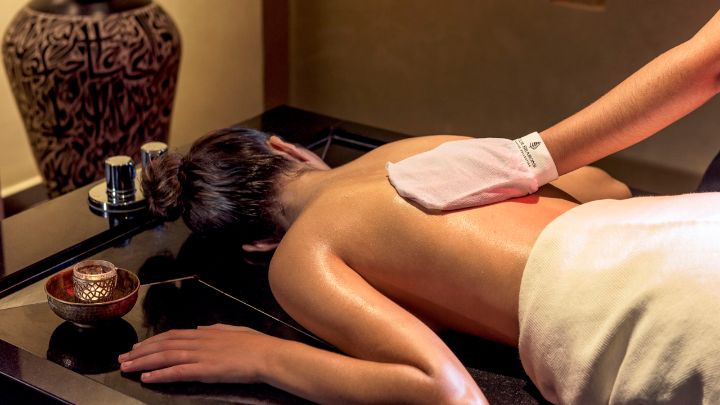 Embark to a luxurious olfactory journey and rediscover Moroccan hammam at The Spa. An ultra-purifying exfoliation paying tribute to hammam tradition and that leaves your skin fully detoxified, rejuvenated and soft.
TRADITIONAL MOROCCAN HAMMAM
Experience our Traditional Hammam that includes a black soap application to deeply cleanse and purify, followed by a full body exfoliation with kessa gloves and Miel d'Ambre body scrub. Feel renewed with a gentle exfoliation for the face and conclude the experience with a traditional stretching ritual leaving you feeling completely revitalized.
60 Minutes - 65 BHD
60 Minutes
BHD 65
Call (973) 1711 5000
SIGNATURE MOROCCAN HAMMAM
Enhance your Traditional Hammam with a luxurious hair treatment using products that will leave your hair nourished and revitalized along with a purifying mask application for the face. Conclude your signature experience with a traditional stretching ritual that will leave you feeling cleansed from head to toe, followed by a cocooning application of body moisturizer to hydrate the skin.
90 Minutes - 85 BHD
90 Minutes
BHD 85
Call (973) 1711 5000
INDULGENT HAMMAM
Pamper yourself with our Signature Hammam followed by the Ceremonial massage drawing on the Moroccan rituals including an application of heat packs to relax muscular tension, stretching to ease aches and a combination of massage techniques using Ougent d'Argan which will melt in to the skin to nourish and leave you feeling deeply relaxed.
120 Minutes - 130 BHD
120 Minutes
BHD 130
Call (973) 1711 5000
To book, please contact the Spa Team at 973 17 115000.