The curated art collection at our Hotel presents you with an opportunity for visual exploration and powerful connections. Included artwork is from both national and international artists, and encompasses a wide range of styles, forms and mediums. Significant to the collection are works by Andy Warhol, Helen Frankenthaler and Fernando Botero, all iconic artists recognized for their character and contributions to the landscape of art history.
Highlights
By Andy Warhol

"Indian Head Nickel" (1986)

A leading figure in the pop art movement of the 1960s, Warhol's work spans a variety of media, including painting, silk-screening, photography, film and sculpture. Located in our centre lobby, this piece is from one of his most desired series, "Cowboys and Indians," which he created at arguably his most prolific period during the mid-1980s. Warhol portrays a popular romanticized version of the American West, thus creating a commentary on mass media and how contrived imagery can affect how we understand history.

By Fernando Botero

"Circus Woman" (2007)

Colombian artist and sculptor Botero's iconic "Boterismo" style depicts people and objects in exaggerated proportions and volumes using flat and bright colours, with a subtle sensuality. Trips to the circus were said to be one of his greatest childhood pleasures – lending a playfulness to his work revolving around this theme. "Circus Woman," inspired by a chance encounter with a travelling circus in Mexico in 2006, masterfully transcends you into his fantastical world where improbably corpulent figures perform perilous stunts. Admire this piece on your walk from the centre lobby to the Bourbon Steak patio.

By Roni Stretch

"Julia, Sara, Gary, Tiffany, Fabiana" (2019)

Located immediately to your left as you enter our lobby, these portraits evoke the essential composition of America and feature five faces, each with a unique appearance: Julia the American Indian, Sara the all-American, Gary the English-Irish, Tiffany the French-Russian and Fabiana the Mexican. Using oil on canvas, the portraits are painted in black and white, then covered in layers of opaque paint. The precise execution of this technique results in ghostly suggestions of figures that emerge through a monochromatic void of colour.

By Helen Frankenthaler

"Bilbao" (1998)

Abstract expressionist painter Frankenthaler's invention of the "soak-stain" technique, in which thinned paint is poured directly onto a raw, unprimed canvas laid on a studio floor, is intricately displayed in this piece hanging behind our check-in desk. Her innovative technique creates floating fields of translucent colour, creating a beautiful example of artistry with vivid colours, organic forms and lyrical gestures.

By Jim Dine

"Tin Snips" (2009)

American multimedia artist Dine has been connected to many art movements during his career, including Neo-Dadism, abstract expressionism and pop art. At the center of his art now is an exploration and reflection on autobiographical details, a relentless exploration and criticism of himself. Dine believes that tools like scissors provide a link to our past. Tools are featured in many of his works, most notably this piece, which can be seen in our business centre as a symbol of artistic creation and craftsmanship.

By Robert Mangold

"Curved Plane / Figure I" (1994)

Minimalist artist Mangold is most well known for incorporating classical compositional elements into his non-objective works, including this piece in our centre lobby, through his use of subtle colour and curvilinear abstract forms. Since the 1960s, he has developed an artistic vocabulary derived from the idea of geometry and asymmetry in shape and form, making him one of the most pre-eminent artists of his generation.

By Tanya Davis

"Red Pears" (2010)

Featuring intricate brushstrokes, beautifully blended colour and perfectly cropped compositions, Northern Virginia–based painter Davis's hyper-realistic watercolour paintings are profound. In this piece, she uses vivid colours and a technical approach to capture the pears at their prime. She balances a playful fluidity of the medium within the fruit alongside tightly rendered lines of definition. "Red Pears" is tucked away in the alcove off our centre lobby for maximum private appreciation.

By Paul Chojnowski

"Windows" (2010)

Throughout Chojnowski's career, a distinguishing characteristic has been the use of untraditional media and tools in his art making. He has been burning images into wood and paper as a means for drawing for over two decades. Using propane torches, he burns, scorches, re-burns and sands the surface to create his unique drawings. This piece, located in the alcove just off the centre lobby, is from is part of his ongoing "Nocturne Series," inspired by walking at night in various American cities.

By Ron Richmond

"Pool and Palms" (2005)

Contemporary painter Richmond's still life paintings speak a symbolic language that offers layers of meaning through allegory and metaphor. Take in this this piece as you descend the grand staircase on your way to the lower lobby, as it portrays a message of hope, peace and contemplation, and is symbolic both in subject matter and form. Richmond strives to connect with his viewers and evoke a feeling within them of what should come next in the human experience.
Meet the Curator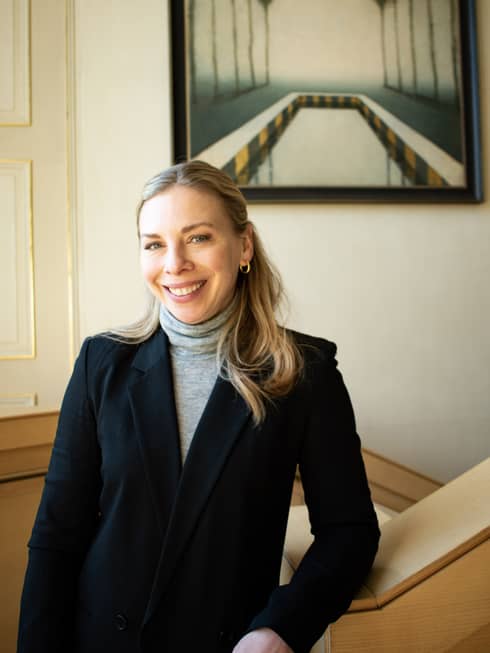 Jennie Buehler
Director at DTR Modern Galleries
Jennie has a vast understanding of both the gallery and museum worlds, having received her Master's Degree in Exhibition Design from the Corcoran College of Art + Design. She enjoys working closely with collectors in order to guide and help them create a collection specifically tailored to their tastes. She also has an avid interest in interior design, thoroughly enjoying the process of pairing fine art and design elements.